If you haven't been following these star players who are representing their countries in World Cup 2018, it's time to hit 'Follow' and bring on the football frenzy. Here are 10 more Footballers' Instagrams to follow.
Kevin De Bruyne (@kevindebruyne)
The 26-year-old Belgian midfielder was ranked the fourth-best footballer in 2017, and fans and the media will be keeping a watchful eye for his incredible skills on the World Cup field. Amongst professionally taken football shots on his Instagram page are pictures of his adorable son and beautiful wife. He frequently posts epic videos for Manchester City or videos that give us a peek into his celebrity-footballer life. He has already earned more than 50 caps for his country, so let's see how much further he can bring Belgium.
Cristiano Ronaldo (@cristiano)
It goes without saying that Cristiano Ronaldo is synonymous with football. He boasts 124 million followers on Instagram, partly attributed to his mega-watt smile and washboard abs, and more importantly to his highly respected football track record for Real Madrid and the Portugal national team. He scored a total of 447 goals for Real Madrid, helping them to string together three Champions League titles, and he will most likely bring the same honour to his home country. Stay updated with Team Portugal and Ronaldo's performance on the third-most followed Instagram account in the world.
Shinji Kagawa (@sk23.10)
South Korea and Japan are the only Asian countries in this year's World Cup, and we cannot be more proud. Under new coach Borussia Dortmund, Shinji Kagawa has never played better, making a major comeback from a disappointing start of the year with several matches as an unused substitute. With close to 90 appearances for Japan, he is one of the country's most valued and promising player. Unlike under footballers' Instagram, Shinji avoids being intense in pictures and is always seen smiling and having a good time on the field or with his athletic friends. Give him a follow and keep up with team Japan on his Instagram.
Isco Alarcon Suarez (@iscoalarcon)
Isco seems to have it all: being one of the best attacking midfielders in the world, the second top scorer in Spain, great back-to-back matches in Real Madrid, Golden Boy award in 2012, and a beautiful wife and an adorable son. In March, he thrilled everyone with his 6-1 win against Argentina, making him the first Spanish footballer to score three goals against a former World Cup champion team, which is no easy feat. Let's see what other tricks he is going to pull out of his hat to surprise his opponents this World Cup.
Dele Alli (@dele)
The Tottenham Hotspur midfielder has been igniting tension among England's fans as his placing in the team is at risk. The 21-year-old talented athlete might be one of our favourites whom we want to see in the World Cup stadium, but his coach thinks that he is losing focus and might not be the best person to send to Russia. His Instagram page might reveal his progress, and he recently started a Twitch channel this month to stream himself playing Fortnite. Let's see if he finds he gets back on track in time to make the cut for team England.
Gabriel Jesus (@dejesusofficial)
Jesus is another 21-year-old footballer who plays forward for Manchester City, and you can often see him having the time of his life in his jersey on his Instagram feed. His story is beautiful as well; he was a young street artist who exhibited excellence and pure talent in his school's football team, and was signed in Brazil's second division at a raw age of 15. He is definitely someone many aspiring footballers look up to, and the rest of the world can't wait to see more scores by him this World Cup.
Kylian Mbappé (@k.mbappe29)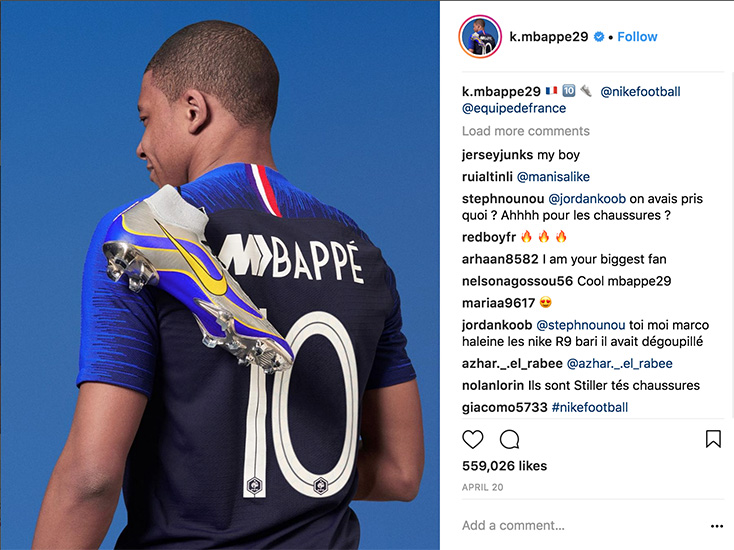 The youngest of the list is no other than Kylian Mbappé who's only 19-year-old but already representing France in World Cup and is the second-most expensive Association Football transfer. That is a whopping £128 million from Monaco to Paris Saint-Germain this year and is making even Neymar envious. If you can't wait to see more of this high-flyer, keep a lookout for his Instagram feed where he posts about his life out of football as well.
Eden Hazard (@hazardeden_10)
World Cup 2018 means a lot to Eden Hazard, and you know that's for sure when he declared that he won't be extending his contract with Chelsea until the matches in Russia are over. This is a true patriotic footballer in team Belgium, and you can feel his enthusiasm in the collages he posts featuring his football action, with occasional cute emojis pasted on them. He is also very confident about the team's standing in the World Cup. He said, "Four years ago it was the first World Cup for most of the players. Now we have experience. We know what to do to be ready. We have one target, which is to reach the final." We'll find out whether Hazard and his teammates can reach their target soon enough!
Paulo Dybala (@paulodybala)
The fetching footballer, nicknamed The Jewel, doesn't just impresses us with his striking good looks when we scroll through our Instagram feed, but also impressed all of us when he scored a goal in March. It was a goal he scored in a seated position with a larger opponent's weight on him and while he was still in the midst of recovering from an injury. This miraculous shot displayed the grit Dybala has for football. Football fans and critics are also saying that he is following the footsteps of Lionel Messi and will probably fill the gap when Messi retires. Let's see if Dybala has the potential to become the next Messi and bring team Argentina to greater heights.
Marcus Rashford (@marcusrashford)
Scroll through his feed and you can tell that Rashford is a team player, often posting pictures with his teammates instead of keeping the spotlight on himself. And he is also one of Ronaldo's favourites. Ronaldo might not be in team England, but he still gave Rashford his signed jersey and wrote, "To Marcus, keep up the good work." The Manchester United player was already on the team since the age of seven, won the Golden Boy award, and also won his first Premier League against Liverpool at the start of the year. Despite his young age, he has made a mark in England's football and we are looking forward to seeing another milestone for him in the World Cup.