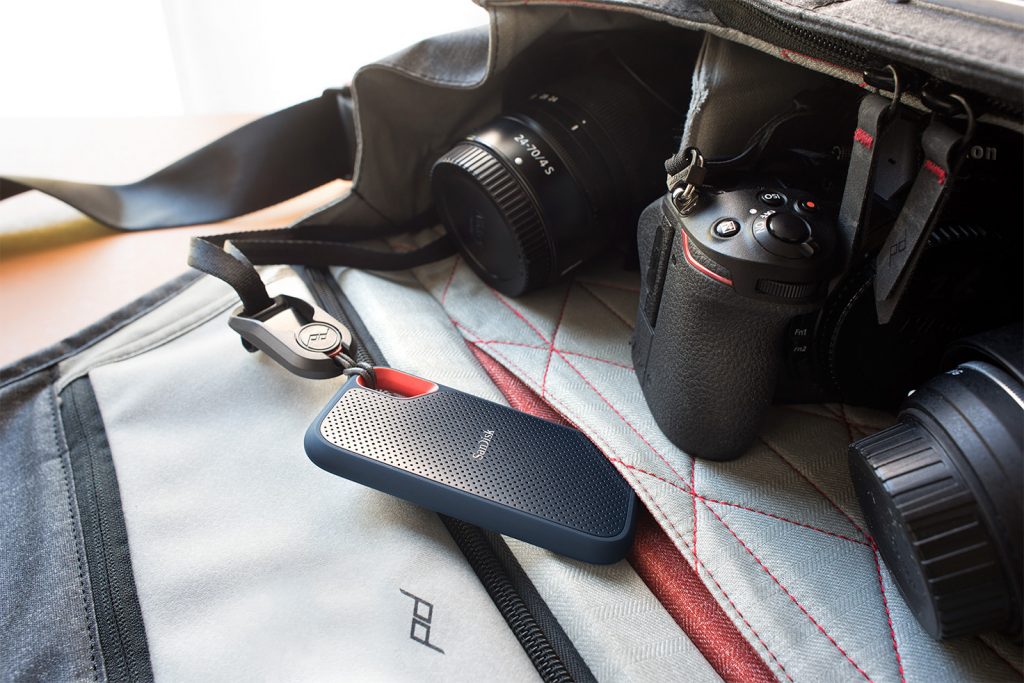 The newest version of the SanDisk Extreme Portable SSD doubles the speed of the last-gen SATA model due to its newly equipped NVMe technology and USB 3.2 Type-C support.
This mid-level portable drive is ideal for design professionals who need a storage solution that can handle directly editing high-res photos and videos while in the field.
It's also a viable device for adding extra gaming storage on newer PCs or game consoles as well as an option for those who simply need a speedy offline alternative to the cloud.
The SanDisk Extreme Portable SSD is a rugged, pocket-sized drive that connects to new and old USB ports and exploits the size, speed and robustness of solid state storage. It works with Macs and PCs.
Performance-wise, SanDisk quotes the Extreme with speeds up to 1,050MB/s read and 1,000 MB/s write, which is more or less the standard for all mid-level portable NVMe drives.
On testing, this drive is capable of supporting read speeds of up to 550MB/s. That's not cutting edge fast, but it will move your data pretty quickly. Copying a 10GB movie file from a MacBook Air over a USB 3.0 port takes just under 20 seconds.
For the best performance you will need to connect it to a port that supports USB 3.1 Gen 2, such as the USB C ports on a modern Mac.
Users also have some peace of mind as far as security is concerned with the option to password-protect their files and leverage the built-in 256-bit AES hardware encryption.
Though physically small, the SanDisk Extreme Portable SSD is a tough device and comes with an IP55 rating, the International Protection Rating system that classifies degrees of protection against elements that might intrude into the drive.
The specific IP-55 rating of the SanDisk drive means that offers protection against dust and potential liquid damage such as the rain and accidental spills. The SSD can also survive drops up to 2 metres. All of these are must-haves for those working outside or those on the go who simply always have the portable drive on them.
If you want a compact and zippy, high-capacity portable SSD for sneaker-netting your files, the SanDisk Extreme portable SSD makes a pretty compelling choice. It's also very well suited for those who spend a lot of time outdoors and need access to rugged external storage.
Out with the old (SATA) and in with the new (NVMe), the SanDisk Extreme Portable SSD sets the new standard for mainstream portable drives. Its highly-compact design, bar-setting performance, and the inline price tag make the SanDisk Extreme Portable SSD is a perfect solution for photographers, videographers and prosumers.
Technical Specifications
Available Capacities: 2TB, 1TB
Dimensions: 110 x 57 x 10mm
Operating Temperature: 0ºC to 45 ºC
Storage Temperature: -20ºC to 85ºC
Interface: USB 3.2Gen 2×2 (20Gb/s)
Price: S$339