Given the restrictions of the current situation, it's not the best thing to have your birthday fall within this season. Birthday boys and girls either have to celebrate over Zoom or hang out with less than five friends. Recently, a lot of my friends were celebrating their birthdays, and I wanted to level up my gifts on top of sending them food.
I have always been a fan of handmade cards. They hold a lot of sentimental value, and it represents the amount of thought and effort someone puts in. I may not be the most creative person, especially with handicraft, but I was fortunate to have the help of a simple device. 
It's the Canon Selphy Square QX10. The palm-size photo printer is a lifesaver, especially because I don't have to leave my house to get a photo printed at a shop! 
Memories for a Lifetime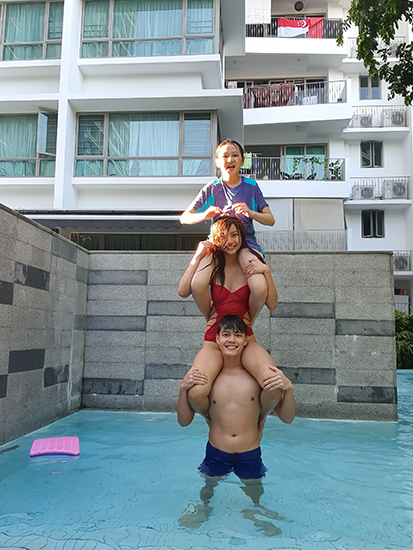 Last week, three of my good friends' birthdays were only a few days apart, and I was frantically making card after card. With the Canon Selphy, I printed high-quality photos that are dirt-proof and water-resistant, to attach it to the cards to add more sentimental value. For such a small printer, I did not expect much out of the print quality. But guess what? The prints go up to 256 gradations/dot and they last up to 100 years. This means that the memories literally last a lifetime! There's an excellent overcoat layer that not only maintains the print quality for ages, but also give a glossy finish.
I connected the companion app and connected to the printer via Bluetooth, and edited the photo directly on the app, with some simple cropping and brightening. You can choose to print a single photo in a print or choose a photo layout to make a collage. I'm a bigger fan of the former option. Turns out, there was not much editing work to be done when the printer eliminates graininess and maintains high colour saturation.
The Most Compact Printing Shop
Lately, I've been staying at my grandma's house as well and decided to pack light. I brought along the printer, together with the charging cable and a spare pack of papers. I really appreciate the small form of the Canon Selphy which feels like I'm basically fitting a printing shop in my palm!
When I gave the birthday boy an exploding box with a photo of him cutting cake only a few hours ago, he immediately said, "How did you do that?" I chuckled and replied, "Magic."
Big happy birthday to all the July babies, and thank you Canon Selphy Square QX10 for helping me in card-making, which my friends absolutely loved!
The petite printer comes in black (the one I used), white, and a cute white and pink version.