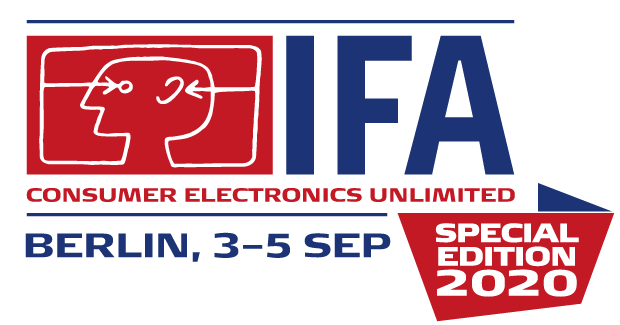 The abbreviation IFA actually stands for Internationale Funkausstellung Berlin, or Berlin Radio Show, and is the longest-running consumer technology show in the world. As with many large public events in the current Covid-19 pandemic, IFA had to adapt to new social distancing conditions, and where 300,000 visitors used to throng the extensive Berlin show grounds annually in early September, for 2020 the show was restricted to just 4,000 guests.
Adapting to the new conditions, the show, which is the first major international consumer tech exhibition to take place during the pandemic – CES took place before the pandemic reached the US, and Computex in Taiwan, CE China and CES China were all canceled this year, used a hybrid method for important keynote presentations, some of which were in-person while other's were conducted with telepresence. LG also created a virtual exhibit of its products that could be viewed online from anywhere in the world.
Schneider Electric Keynote
Schneider Electric is a big global player in digital solutions for energy management in homes, buildings, infrastructure and industries. At its IFA 2020 hybrid keynote address, Manish Pant, CEO & EVP Home & Distribution of Schneider Electric presented his company's blueprint for the Sustainable Home of the Future in the next ten years, with a range of new smart home energy solutions with three smart sustainable products under its Wiser brand. 
"Homes are more than just a roof over our heads. They are the place we spend time with loved ones. But their carbon footprint is growing. Demand for electricity is set to double over the coming decades. Creating sustainable homes will be crucial to reducing global warming and achieving a net-zero future."
Schneider Electric's Sustainable Home of the Future concept will connect digitally manage the electrical power of every device in the home so that you can control each device easily through an app, and the system will anticipate and adapt to energy requirements, for light, cooking and air conditioning.
Qualcomm Keynote
Mobile chipmaker Qualcomm had 5G connectivity on their mind for their IFA Keynote address, where the company made three announcements.
At IFA 2020 the Qualcomm unveiled the Snapdragon 8cx Gen 2 5G compute platform, the company's second-generation ARM processor for Windows notebook PCs. The 8cx Gen 2 not delivers 50% better performance than its predecessor, it also incorporates 5G connectivity as well as integrated support for WiFi 6 and Bluetooth 5.1, utilises Qualcomm's Aqstic echo cancellation and noise suppression (ECNS) technology and Spectra ISP mobile camera technology, has Qualcomm's AI Engine, and boast an all-day battery life and the ability to support dual external 4K displays. We expect the first Snapdragon 8cx Gen 2 5G powered device to go on the market before the end of the year.
The second announcement addressed the affordability of 5G devices, with Qualcomm revealing that they are accelerating the implementation of 5G into its lower-tier Snapdragon 4-series processors in early 2021.
Finally, the company launched an Adaptive Active Noise Cancellation (ANC) technology designed to deliver improved user experience for earbuds with integrated ANC. 
Sennheiser CX 400BT True Wireless
The new Sennheiser CX 400BT True Wireless earbuds promise to be awesome sounding everyday devices as they incorporate the same 7mm dynamic drivers from the brand's acclaimed Momentum True Wireless 2 premium earbuds. These minimalist buds feature Bluetooth 5.1, 7 hours of battery and up to 20 hours with charging case and smart assistant compatibility.
€199 (about S$322)
Panasonic Lumix S5
With the Lumix S5, Panasonic has finally added an affordable and compact mainstream mirrorless camera to its S-series. Built around a 24.2-megapixel full-frame sensor, the Lumix S5 an attractive choice for capturing 10-bit 4K/60 videos, especially as it has 5 stop in-body stabilization, Dual Native ISO technology for enhanced video performance and fast AF with Real-Time Detection Technology.
US$1,999 (about S$2,330) (body only)
LG Keynote
LG took the hybrid show theory to a new level by delivering an IFA Keynote where LG's presenters, including Chief Technology Officer Dr. I.P. Park, appeared as holograms. Presenting the company's 'Life's Good From Home' vision, LG future vision maximizes the three core home values of care, convenience and entertainment.
Said Dr. Park. "LG believes this presents a unique opportunity to make real change in the world by realizing a new potential for the home. As a leading lifestyle innovator, we've doubled-down on our commitment to developing new and improved products and services that provide a good life for consumers the world over."
LG continues to evolve the LG ThinQ AI platform and app, which now includes a recently updated AI-based Proactive Customer Care (PCC) that analyzes the operational status of appliances and even provides maintenance or repair advice. The Korean company also showcased the use of its CLIOi ServeBots in commercial service and LG ThinkQ Home concept, of an ideal future residence designed to deliver a safer, more convenient lifestyle through the company's latest appliances and IT technologies.
Realme Keynote
Realme considers itself to be the world's fastest-growing smartphone brand, and at its first-ever IFA keynote unveiled its new brand strategy, under the twin mottos 'Dare to Expand' and 'Dare to Thrive'. Sky Li, Founder and CEO of realme, shared, "realme insists on bringing high-quality products with leap-forward performance and trendsetting design and creating the trendsetting smart life."
At their keynote, realme announced that it is committed to building high-quality smartphones and AIoT products with leap-forward performance and trendsetting designs for the young at a more affordable price, under the strategy 'Smartphone + AIoT'. The Chinese tech company now has a full product portfolio, from entry-level 4G products to affordable feature devices such as the new realme 7 series smartphones with 64MP Quad cameras. Realme also the 5G-enabled 'trendsetting' X7 and  X7 Pro devices as well as new IoT devices such as the Watch S Pro and the company's first 55-inch Smart TV with wide colour gamut.
Honor Watch GS Pro
While Huawei delivered a rather muted Keynote address at IFA 2020, its Honor sub-brand, on the other hand, under the theme 'Expand Your Smart Live' unleashed three new PC notebooks and two smartwatches, the Watch ES for fitness enthusiasts, and the Watch GS Pro for adventure lovers. The Watch GS, in particular, features a 25-day battery life, dual satellite positioning systems and supports over 100 sports and workout modes including mountain climbing and skiing.
€250 (about S$405)
www.hihonor.com/sg
Harmon Kardon Citation 200
Harman International launched their latest Fall 2020 lineup of audio devices, including the newest edition to Harman Kardon's Citation speaker series, the Citation 200 portable smart speaker, which has Scandinavian design touches like its Kvadrat fabric and leather carry strap.  The Citation 200 has Google Assistant, compatibility with Chromecast and Apple AirPlay, and delivers omnidirectional sound via a tweeter, midrange driver and dual passive radiators. 
€349 (about S$565)
sg.harmankardon.com