Happy 2020! Sadly, that means vacation is over. On the bright side, I am finally back from the "harsh" weather in China. I almost froze my nose off! My days in China included a lot of long days, eating, sight-seeing and cold weather. I survived my time there while managing to look fly thanks to the lovely folks at CabinZero who sent be their latest crossbody bag, the Flipside 3L.
The Flipside 3L has made my life a breeze. It is amazing how something so lightweight and seemingly small, can contain so many things – just like Doraemon's pocket.
Packing More than Your Average Bag
When travelling, some essentials to have in my bag include:
Portable charger (and wire)
Make up
Lip balm
Bottled water
Tissue
Money
If it is cold, a beanie and mask.
More often than not, I usually can't fit all these things into my classy "going-out" bag; they always look like they are going to explode… However, during this trip, I literally carried one bag – the CabinZero Flipside 3L – everywhere.
Unlike my other itsy-bitsy bags that can barely hold my phone and wallet, the CabinZero Flipside 3L was able to fit all my necessities and made it so easy to keep track of everything I own with its many compartments.
Travelling with Ease
This handy crossbody bag has multiple zip compartments, including an RFID-blocking pocket which allows the safekeeping of your phone, passport, camera, wallet, and whatever valuables you have with ease. It even has a secret compartment! Sightseeing is so much easier when you don't have to worry so much about pickpockets and losing your belongings. Travelling from Shantou to Guilin and then to Nanning was so convenient. Everything was so organised – finding my little pair of earphones have never been easier!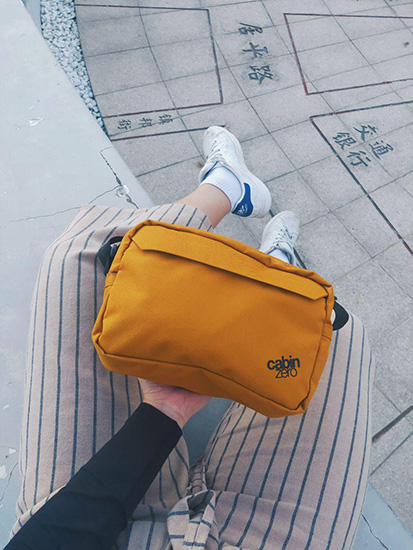 A Different Style
This may not be a fancy bag to wear to highbrow events, but it is a stylish companion bag that completes the streetwear vibe you'll be going for in unknown streets in foreign lands. This bag accompanied me as I strolled along the busy yet beautiful streets of China. Its adjustable strap makes it easy to set it to a length that is comfortable for you as well. If Orange Chill is not your color, CabinZero has this bag in two other colors that will fit any wardrobe: Black and Navy blue.
Retailing at $49, you can get yours at black-tactical.com and their Adelphi outlets today!