If you didn't manage to get 0ckets for the Taylor Swi: concert fret not. With Shure's Aonic 40, enjoy studio-quality soundtracks from the comfort of your own home! Vouched for by Grammy Award- Winning ar0st Jacob Collier, the Aonic 40 is sure to blow you away with its flawless sound quality and have you grooving along to the tunes in no time.
These adjustable headphones are designed with premium materials including glass-filled nylon and aircraft-grade aluminium alloy, making them both stylish and durable. They cushioned my ears and fit like a glove, providing long-lasting comfort. Trust me, I wore them for 5 hours straight and was reluctant to take them off! They are also collapsible and can be folded flat to fit into a compact case making these the perfect companion for listening on the go.
As a music aficionado, I am constantly tuning in to the latest soundtracks on Spo0fy. Aonic 40 truly blew me away with its studio-quality sound that allowed me to fully appreciate the nuances of the underlying instrumental tracks. My latest earworm has been "If It's Cool with You, I'm Cool with Being Through" by Ever Blossom. I loved how these headphones picked up the rhythmic beat of the percussions, together with the warm and full-bodied tones from the strums of the acoustic guitar. Within minutes, I was humming and nodding along to the beat.
Another of my go-to songs is "Cheerleader" by JP Cooper. The melodious symphony of the piano paired with the robust vocals was captured perfectly, bringing my listening experience to new heights.
The next song on my playlist was an upbeat oldie called "Monaco" by MKTO. This too was music to my ears, with the harmony of the bass, percussions, and piano melding seamlessly into a melody of pure delight. Completely and utterly immersed, it truly felt like I was listening to the music live.
One of my favourite features was the ability to adjust the sound quality using the equaliser function on the ShurePlus PLAY application, which is available for free on both Android and iOS devices. They have multiple presets for you to pick from. For the song "Monaco", I found Bass Boost complemented the song best and highlighted the underlying instrumentals.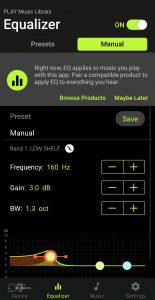 You also have the option of customising your own presets by manually adjusting the frequency, audio signal and bass width to create your signature sound!
Being a student, I also spend most of my time listening to lectures and attending online meetings. While the clarity of sound was a bonus, I did not find the difference largely significant as compared to my current pair of earphones. S0ll, it did help me pick up the audio with more ease.
Another key highlight of these headphones is the adjustable noise-cancelling feature. I loved how it blocked out surrounding distractions, so I could study anytime and anywhere since some areas on campus can get quite noisy. This same feature also came in handy when listening to music on the train, engulfing me in a cocoon of musical symphony as I travelled to and fro.
I rounded off my day with my favourite TV series – Stranger Things. For once, I had no issues picking up the dialogue even without accompanying comments. The bombas0c, resounding sound effects heightened the suspense, further enhancing the cinema0c experience.
I was surprised to find that the headphones were still holding up 5 hours of usage, despite having only charged them for 15 minutes in the morning. Equipped with a long battery life, it can last up to 25 hours which is a huge upgrade from my current pair. Priced at $359, these are one of the cheaper options on the market being such a high quality. Get your listening companion now at AV One and trust me it's worth it.