Hands-Free Vacuum Robot
Latest robot floor cleaner now auto refills the water tank and drains soiled water
The DreameBot L20 Ultra is a self-sustaining home cleaning system that can vacuum and mop your house maintenance-free for months. Using LDS technology, the robot creates a floor map of your house and with that, you can define a cleaning pattern for each area, or leave it to the new L20 Ultra with its CleanGenius mode that will clean high-dirt areas repeatedly.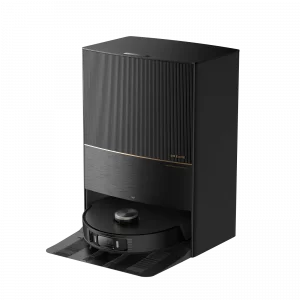 With an optional water hookup kit, the base station can be connected directly to a tap (inlet) and drain (outlet) which can auto-refill the water tank and discharge soiled water. Even without the optional kit, the L20 Ultra comes with a much bigger water tank of 4.5L compared to 2.5L on the previous generation. This means you can replace water less frequently than the L10 series.
Dreame Technology is the first to design extendable mop pads on the robot vacuum that can now reach the floor corners and edges. When mopping the corners, the right mop pad extends outwards so that even the corners can get cleaned by the robot vacuum. After returning to the base station, the mop pads go through a cleaning cycle with water and hot air to get rid of bacteria and odour. The mop pads will be automatically detached from the robot when doing vacuum-only tasks.
In front of the L20 Ultra robot is an RGB camera with an LED that improves the robot's vacuum obstacle detection so that it can intelligently avoid them even in low light. But it also functions as a home surveillance camera on wheels which you can remotely navigate from the app. During cleaning tasks, when the robot encounters obstacles, it takes snapshots and marks the obstacle on the map with images. The robot can store up to 200MB of video and images which can be downloaded to your smartphone.
Rating: 4.5/5
We Say: The DreameBot L20 Ultra is the ultimate hands-free robot vacuum system, adding new features for better cleaning performance, identifying obstacles and auto-refilling the water tank.
S$ 1,799
dreame.sg
Technical Specifications
Mapping Sensor LDS, 3D Structured Light + AI, Auto LED Light Illumination
Suction Power 7,000 Pa
Dust Bag Capacity 3.2L
Water Tank Capacity 4.5L (clean), 4.0L (used)
Battery Capacity 6,400 mAh
Battery Life 260 mins (Vacuuming/Mopping in Quiet Mode)
Noise Level 63 dB
Robot Vacuum Dimensions 350 x 350 x 104 mm
Base Station Dimensions 607 x 426 x 499 mm