Elevating Productivity
The Lenovo ThinkPad X1 Carbon Gen 11 is a gateway to a future of enhanced productivity and success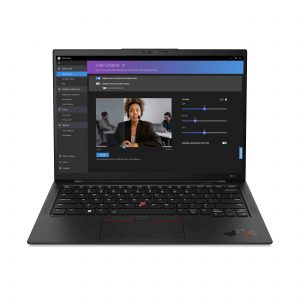 In my fast-paced world of business and deadlines, having a laptop that keeps up with my demands is crucial. Enter the Lenovo ThinkPad X1 Carbon Gen 11 – a device that promises to seamlessly blend cutting-edge technology into my professional life. Join me on a journey as I dive into real-life scenarios and share my firsthand experiences with the features that make this laptop a game-changer for productivity.
Picture this: I'm at my favourite cafe, finalising a critical presentation, and effortlessly connecting to a lightning-fast 5G network with the Lenovo ThinkPad X1 Carbon Gen 11. No more frustrations with sluggish internet; the 5G sub-6 (CAT20) connectivity, backed by both eSIM and physical nano-SIM options, ensures I'm always connected, no matter where I am. Collaborating with colleagues globally is a breeze as I share files and join video conferences with zero hiccups.
But the connectivity options don't end there. Thanks to Intel® Wi-Fi 6E (requires Windows 11) and 4G LTE (CAT16) options, I can work on the move without worrying about losing connection speed or reliability. Whether I'm on a flight, attending a conference, or working from a serene mountain retreat, the ThinkPad X1 Carbon Gen 11 keeps me seamlessly connected, agile, and ready to conquer any challenge.
As someone who deals with sensitive data daily, data security is a top priority. Enter ThinkShield, Lenovo's robust security suite. With Intel vPro® security, firmware shield, and the dTPM 2.0 chip, my valuable information remains safe from cyber threats. What's more, the MoC Power-on Touch Fingerprint Reader IR Hybrid camera, webcam privacy shutter, and Privacy Guard display option ensure that my data remains strictly for my eyes, regardless of where I work.
Business efficiency is all about seamless connectivity. The ThinkPad X1 Carbon Gen 11 nails this aspect perfectly. With two ThunderboltTM 4 ports, two USB 3.2 Type-A Gen 1 ports, and an HDMI 2.0b port, connecting to external monitors, peripherals, and storage devices is a breeze. ThunderboltTM 4's rapid 5Gbps data transfer speeds mean I can transfer large files in the blink of an eye, boosting my workflow efficiency significantly.
Rating: 4.5/5
We say: The Lenovo ThinkPad X1 Carbon Gen 11 has become my trusty ally in the quest for productivity. Its seamless 5G connectivity, ironclad security features, and versatile connectivity options have seamlessly integrated into my work life. As someone who's always on the move, this laptop ensures that I can stay connected, secure, and efficient, no matter where my work takes me.
S$4,499
www.lenovo.com
Technical Specifications
Processor Intel vPro®, an Intel® EvoTM Design with 13th Gen Intel® CoreTM i7 processor and Core i5 processor P series
Operating System Up to Windows 11 Pro, Linux Ubuntu, or Fedora Windows 10 Pro preinstalled through downgrade rights in Windows 11 Pro
Graphics Intel® Iris® Xe Graphics
Camera FHD RGB or FHD IR Hybrid camera with webcam privacy shutter, FHD + IR MIPI camera with webcam privacy shutter and Computer Vision
Memory Up to 64GB LPDDR5
Storage Up to 2TB Gen 4 performance PCIe NVMe SSD
Battery 57 Whr battery (97% PCC recycled plastic)
Power Up to Type-C 65W supports Rapid Charge (90% PCC recycled plastic)
Audio Dolby® Atmos®, Dolby® Voice, 4x 360-degree Quad-Array Microphones
Security Intel vPro® security, Firmware Shield, MoC Power-on Touch Fingerprint Reader IR Hybrid camera, Privacy Guard display option PrivacyAlert with Glance App, dTPM 2.0 chip, Webcam privacy shutter, Nano Kensington Lock slot, Lock on leave with presence detection
Display 14" WUXGA 16:10 (1920×1200) IPS LP AG (400nit, 100% sRGB, Eyesafe®)
Dimensions (W X D X H) 14.96 mm (HD camera) or 315.6 x 222.50 x 15.36 mm (FHD camera) 0.59 inches (HD camera) or 12.42 x 8.76 x 0.60 inches (FHD camera)
Weight Starting at 2.48 lb/1.12 kg