Ultimate Productivity
Lenovo ThinkPad T14s Gen 4 empowers you to work anywhere
someone who lives on the go, finding the perfect laptop that seamlessly integrates into my lifestyle is an ongoing quest. Enter the Lenovo ThinkPad T14s Gen 4, a laptop that claims to redefine productivity with its cutting-edge features. Having had the chance to put it through its paces, I can confidently say it doesn't disappoint.
One of the standout features of the Lenovo ThinkPad T14s Gen 4 is its ability to turn any location into a functional workspace. Whether I'm at home, in a coffee shop, or on the road, this laptop is my reliable partner. With its sleek and lightweight design, it effortlessly fits into my backpack, making it easy to carry wherever I go.
But it's not just about portability; it's about performance too. The ThinkPad T14s Gen 4 boasts next-generation AMD Ryzen PRO processors with 20W thermal design power. This means it's not only lightweight and portable but also powerful enough to handle demanding tasks. Whether I'm crunching numbers, editing documents, or running complex simulations, this laptop keeps up with my pace.
Connectivity is king in the digital age, and the ThinkPad T14s Gen 4 reigns supreme. The 5G connectivity option ensures that I'm never left waiting for files to download or video calls to buffer. It's like having a high-speed internet connection in your pocket, and it's a game-changer for anyone who relies on a stable internet connection for work or play.
But it's not just about the speed; it's about reliability too. The ThinkPad T14s Gen 4 is equipped with Wi-Fi 6E and LTE (CAT16) with eSIM. This means that even in areas with spotty or congested Wi-Fi networks, I can switch seamlessly to cellular data without missing a beat. It's the kind of connectivity versatility that professionals need in today's world.
When I say this laptop is easy to carry, I mean it. It's remarkably thin and light, making it a breeze to slip into my bag and take on the go. Whether I'm running to catch a train or navigating a bustling airport, the ThinkPad T14s Gen 4 doesn't weigh me down. It's the perfect travel companion for professionals who need to stay connected and productive no matter where they are.
But it's not just about being lightweight; it's about durability too. The laptop meets MIL-SPEC 810H standards, which means it can withstand some rough handling. So, even if I accidentally drop it or subject it to less-than-ideal conditions during my travels, I know it can take it.
Security is non-negotiable in today's world, and the ThinkPad T14s Gen 4 offers a peace of mind that's hard to come by. ThinkShield, Lenovo's comprehensive security suite, goes above and beyond to protect my data and privacy.
One of my favourite security features is the Power-On Touch Fingerprint Reader. It's not only incredibly secure but also incredibly convenient. With just a touch, I can unlock my laptop, making it a breeze to get to work quickly.
Privacy is another area where this laptop excels. The webcam privacy shutter is a simple yet effective solution to protect my privacy. When it's closed, I know that no one can access my camera without my knowledge. It's a small feature, but it provides a big sense of security.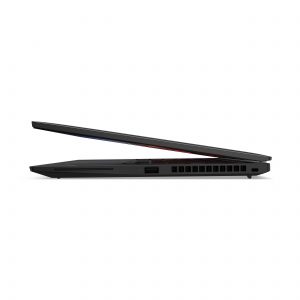 In an age of remote work and virtual meetings, the quality of video calls can make or break your day. The ThinkPad T14s Gen 4 shines in this department. The combination of its high-quality camera and Dolby Voice technology ensures that my video calls are crystal clear. It's like having a face-to-face meeting, even when you're miles apart.
But it's not just about the hardware; it's about the software too. The laptop comes with Lenovo Commercial Vantage and Lenovo View, which are preloaded apps designed to enhance the overall user experience. They make it easy to manage settings, updates, and diagnostics, ensuring that my laptop is always in top shape for those important video calls.
For everyday work tasks like word processing, creating spreadsheets, or managing emails, this laptop is a reliable partner. Its processing power, paired with the responsive keyboard and trackpad, ensures that I can breeze through my tasks efficiently. It's a laptop that understands the needs of a professional who values both speed and precision.
Rating: 4.5/5
We say: The Lenovo ThinkPad T14s Gen 4 is more than a laptop; it's a tool that empowers you to work and play anywhere, without compromise. Whether you're a digital nomad, a remote worker, or someone who simply demands the best from their technology, this laptop delivers.
S$2,899
www.lenovo.com
Technical specifications
Operating System Windows® 11 Pro, English
Processor Intel® Core™ i7-1355U, 10C (2P + 8E) / 12T, P-core 1.7 / 5.0GHz, E-core 1.2 / 3.7GHz, 12MB
Graphics Integrated Intel® Iris® Xe Graphics
Memory 16GB Soldered LPDDR5x-4800
Storage 512GB SSD M.2 2280 PCIe® 4.0×4 Performance NVMe® Opal 2.0, One drive, up to 2TB M.2 2280 SSD
Battery Integrated 57Wh
Display 14″ WUXGA (1920×1200) IPS 500nits Anti-glare, 100% sRGB, ThinkPad® Privacy Guard, Touch
Dimensions (WxDxH): 317.5 x 226.9 x 16.9 mm
Weight Starting at 1.25 kg
WLAN + Bluetooth: Intel® Wi-Fi® 6E AX211, 11ax 2×2 + BT5.1
WWAN Fibocom FM350-GL, 5G Sub-6 GHz, with Embedded eSIM
Standard Ports 1x USB 3.2 Gen 1, 1x USB 3.2 Gen 1 (Always On), 2x Thunderbolt™ 4 / USB4® 40Gbps (support data transfer, Power Delivery 3.0 and DisplayPort™ 2.0), 1x HDMI® 2.1, up to 4K/60Hz, 1x Headphone / microphone combo jack (3.5mm)