Xiaomi has launched its latest flagship smartphone lineup, the Xiaomi 13 series, in Singapore. The dual flagship models, the Xiaomi 13 and Xiaomi 13 Pro are co-engineered with Leica, providing pro-grade camera systems and an authentic Leica experience to users.
The smartphones feature the latest Snapdragon 8 Gen 2 and Xiaomi's own Surge battery management system, ensuring powerful performance. The camera system, created in collaboration with Leica, includes a triple camera setup featuring Leica optical lenses.
The Leica Vario-Summicron camera system on the Xiaomi 13 Pro comprises a 23mm wide-angle main camera with an ultra-large 1-inch IMX989 sensor, a 75mm floating telephoto camera, and a 14mm ultra-wide-angle camera.
Meanwhile, the Xiaomi 13 has an optical zoom range of 0.6x to 3.2x and a 75mm telephoto lens. Both smartphones offer great image optimization, allowing for manual adjustment of shooting parameters in pro mode. Xiaomi 13 Pro supports a 10-Bit RAW DNG Camera and Color Profiles created by Adobe, leaving professionals a greater post-editing room on Adobe Photoshop and Adobe Lightroom.
Both smartphones also excel at shooting video, with the ability to "Create in Dolby Vision" and capture 4K Ultra Night Videos. The devices are powered by the Snapdragon 8 Gen 2 mobile platform and offer Wi-Fi 7 support. The Xiaomi 13 and Xiaomi 13 Pro are equipped with the Xiaomi Surge battery management system, utilizing Xiaomi's self-developed Surge charging chip for longer service life and upgraded experience.
Available in classic and captivating colours of Black, White and Flora Green, Xiaomi 13 adopts a stylish flat screen design with flat edges and a 2.5D curved back design. Both attractive and comfortable to hold, Xiaomi 13 features an incredible screen-to-body ratio of 93.3% and 1.61mm ultra-thin bezels and chin,4 which delivers an incredible viewing experience, especially for a device this size. Equipped with a large 6.36″ FHD+ AMOLED display, Xiaomi 13 ensures content is displayed in top-notch colour accuracy and brightness with the E6 AMOLED material at lower power consumption.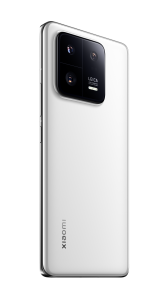 Xiaomi 13 Pro, on the other hand, features a 3D-curved ceramic body for a uniform look that transitions smoothly, especially into the camera mode. It comes in two colours, Ceramic White and Ceramic Black and is also pleasant to hold. Sporting a 120Hz WQHD+ AMOLED display, this larger 6.73″ screen is a true marvel. Thanks to the same E6 material, it is capable of achieving 1,200 nits full-screen brightness and 1,900 nits peak brightness, as well as displaying accurate colours with its TrueColor display. With Dolby Vision®, HDR10+, HDR10, HLG, as well as Dolby Atmos® support, the device delivers a truly immersive audiovisual experience.
The Xiaomi 13 Pro comes in two colours: Ceramic Black, and Ceramic White, with 2 storage variants. 12GB+256GB – priced at SGD1,599, and 12GB+512GB – priced at SGD1,699.
Xiaomi 13 comes in three colours: Black, White, Flora Green, 12GB+256GB – priced at SGD1,199. It is available for pre-orders in Singapore from 4 – 10 March 2023 via Xiaomi Stores and partner stores, so head on over to a store near you to place your pre-orders.