Thanks to the COVID-19 pandemic, many businesses are encouraging their
employees to work from home. This new way of working has become surprisingly
effective, but does require workers to source the best laptop for working from
home. Choosing a good work laptop depends on many factors. One of these is the
type of job you do.
Those with creative jobs, such as graphic designers, will need a powerful processor,
whereas remote workers who teach or attend many virtual meetings may want to
consider the webcam quality. Regardless of what type of work you do, or where you
do your work, it's important to find a suitable laptop that meets your demands.
And that is where the new Lenovo ThinkPad Z Series comes in. These devices are
ThinkPad through and through is built on the same core pillars of trusted quality,
purposeful design, and relentless innovation. But they're so much more than that.
Lenovo's new ThinkPad laptop line boasts forward-thinking designs and introduces new colours and materials to its premium business notebook range. The ThinkPad Z13 and Z16 use a modern design concept aimed at a particular business user population.
The new design represents the brand's evolving ideas regarding technology, its environmental effect, and the sources of raw materials. Not only is the design intended to deliver unique luxury colour accents like bronze and arctic grey, but it also incorporates more sustainable materials like recycled aluminium and recycled black vegan leather. The packaging is constructed of 100% renewable bamboo and sugarcane, while the AC power adapter has 90% post-consumer content (PCC).
ThinkPad Z13 and Z16 will be among the first laptops to use the most recent AMD Ryzen™ PRO 6000 Series processors for mobility in conjunction with the Microsoft Pluton security processor. Performance and security features are inextricably linked, and Lenovo's secure-by-design technique has been increased via collaboration with AMD and Microsoft. The AMD Ryzen™ 6000 Series are the first x86 processors that include the Microsoft Pluton security processor for robust security from chip to cloud on Windows 11 PCs, building on AMD PRO security's tiered approach. Microsoft built and updated the Microsoft Pluton Security Processor, which hardens new Windows 11 PCs with security for user identity, data, and apps.
Furthermore, Lenovo and AMD have worked together to create a cutting-edge platform architecture that streamlines all areas of the system, from silicon to hardware to software. The ThinkPad Z13, in conjunction with the special AMD Ryzen™ 7 PRO 6860Z CPU, provides an exceptional collaboration experience. The CPU has been optimised to provide flawless audio and video performance, maximise responsiveness, and provide exceptional battery life in programs such as Teams and Zoom.
The ThinkPad Z16 may also be equipped with the latest AMD Radeon RX 6500M discrete graphics, which includes AMD smart technologies to increase productivity, enable sophisticated content production, and provide casual entertainment. When used in conjunction with Ryzen™ CPUs, AMD SmartShift MAX technology provides an immediate power increase for both the CPU and GPU, while Smart Shift Eco is intended to maximise battery economy.
To improve the unique user experience, key design and technological aspects have been integrated into the ThinkPad Z series. Minimalism is both intentional and desired. Ultra-narrow bezels and productive 16:10 aspect ratios have been optimised for displays.
A redesigned Communications Bar incorporates a superior FHD webcam with a bigger 1.4m sensor and dual-array microphones, enhancing audio and video conferencing. For quick and easy input, a bigger 120mm glass haptic ForcePad that flows perfectly with the all-glass palm rest is added, and those acquainted with the famous red TrackPoint will notice additional features. Furthermore, the Z13 and Z16 have been tested against MIL-Spec 810H requirements and are subjected to the same severe quality inspections as other ThinkPad computers.
A Writer's Dream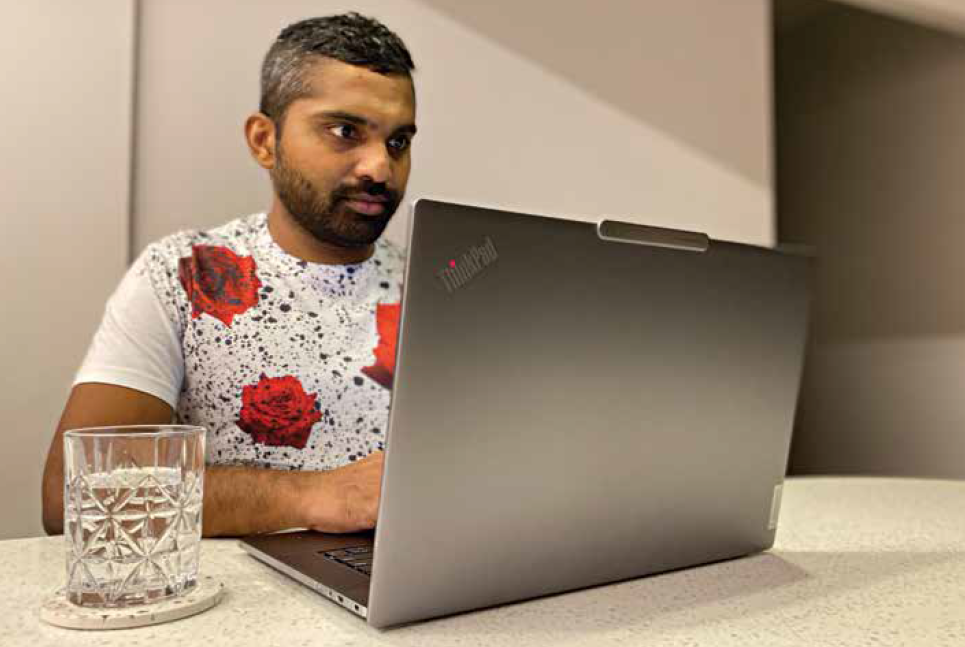 As a journalist, a laptop is a must for me. The ideal laptop for writers doesn't need to be particularly powerful, however, as an all-rounded content creator who sometimes overlaps roles with the likes of photographers, graphic designers, and video editors, I require power in my notebook to see me through an entire day's work.
However, as a baseline, it still needs to tick a few items on my list of must-haves. After all, writers need just as much focus on their creative process as other creative professionals, and nothing should get in the way of that – except perhaps the occasional cat cuddles.
To do so, writers need the right tools, including a laptop that caters to their needs. But, what exactly makes a great laptop for writers? For one, it needs to have an excellent display with the amount of brightness and blue light filter – just the ticket for making staring at that laptop screen for hours a more pleasant activity. A comfortable and satisfying keyboard is even more important, as is a responsive and accurate trackpad because they are what a writer uses the most. Of course, it also doesn't hurt to have a thin and light design, an all-day battery life, and a superb camera, especially if they're working remotely or doing fieldwork.
With all these in mind, opening up the ThinkPad Z16 made me feel like a child in a candy store. What caught my attention first was its sleek aluminium chassis. As someone who is always out and about – especially for meetings and press events – this aesthetic helps me maintain a level of professionalism in and out of the office. Moreover, anything with the "ThinkPad" emblem speaks volumes in the corporate world.
Running on the latest Windows 11 OS, firing up the laptop was lightning fast. The next hot feature for me was the large 16" display with a super-narrow bezel design and 92+% screen-to-body ratio. This is an eye-saver for a nomadic worker like myself – as I don't always have access to an external display on the go. Opening multiple windows without squinting my eyes is a joy and I'm sure many writers can vouch for that.
Launching Microsoft Teams to connect with my colleagues at work was a treat too. Built with a premium FHD RGB + IR camera for a higher-resolution picture, along with the massive user-facing speakers powered by the premium Dolby Atmos Speaker System, the ThinkPad Z16 delivers an awe-inspiring communication experience. My video output was crystal clear and while I usually connect my headphones during video calls, I didn't have to do that thanks to the superior sound quality emitted by the built-in speakers. This made working from home extra enjoyable as I was able to pump up the music as I got into my groove of writing.
With several Microsoft applications open – Word, Powerpoint and Teams – I was also able to launch Adobe Premiere Pro to edit videos of an interview I had done. The transferring of raw files was a breeze, thanks to the built-in SD card reader – and it was fast too. While video rendering was not the fastest, it still, however, got done a lot quicker than expected. This can be attributed to the AMD Ryzen™ PRO H-Series Processor. Now, what impressed me more was the fact that the Z16 didn't slow down even though I had many of my productivity software open.
To add to that, despite all the work I was doing, I didn't have to charge the 70Whr battery – it kept me going from 9 am to 6 pm – and that includes the music I was playing throughout the day. With 20% left, I simply had to charge it for 60 minutes in the morning and that got me to a full charge to get on with the new day without a charger.
Overall, the ThinkPad Z16 is more just a laptop for professionals – or content creators. It has the power to get anything work done, and if you need to let off some steam, this PC can entertain you as well as power your productivity.
ThinkPad Z13: From S$2,323.76
ThinkPad Z16: From S$2,664.63
techtoday.lenovo.com/sg/en/thinkpad-z-series