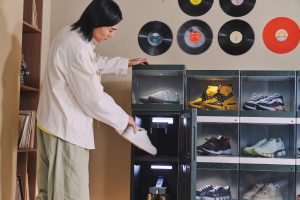 Throughout IFA 2022, LG has presented their newest smart home solutions with LG StylerTM ShoeCase and ShoeCare, LG's bottom-freezer fridge and LG WashTowerTM Compact to elevate the daily experiences of their consumers. In addition, LG Electronics (LG) has been named to the Board of Directors of the Home Connectivity Alliance (HCA), an organisation dedicated to delivering better smart home experiences through open collaboration and innovation.
Elevate the Shoe Management Experience, From Care to Storage
With the launch of LG StylerTM ShoeCase and ShoeCare at IFA 2022, LG Electronics (LG) is revolutionizing the at-home shoe care experience. The LG comprehensive shoe care solution offers innovative, customized shoe management, display, and storage to improve daily living. It is equipped with the company's hygienic TrueSteamTM technology.
As the MZ generation—Millennials and Gen Z—develops a culture of collecting pricey designer, luxury, and limited-edition sneakers, LG's internal research determined that these "sneakerheads" would greatly benefit from a solution that not only made their prized shoes stand out more but also gave them the best care.
A space-efficient option for storing and displaying shoes is the transparent LG StylerTM ShowCase. The StylerTM ShowCase is a fantastic way for shoe enthusiasts to display their favourite pairs, offering interior features like a 360-degree rotating turntable and a modular design that makes it possible to stack up to four cases on top of one another. It also protects against humidity and fabric-discolouring UV light, which creates the ideal environment for storing shoes.
Like many of LG's cutting-edge household appliances, including dishwashers and the Styler, a steam-powered clothing care system, the LG StylerTM ShoeCare debuts at IFA and uses the business's tried-and-true TrueSteamTM technology to provide a "refreshing" shoe management experience. Additionally, it makes use of the zeolite's absorbent qualities in the Zeo-Dry filter to absorb moisture and aid in the deodorization of footwear, making them more pleasant to wear and keep around.
Additionally, with its 10 distinct courses, the new LG StylerTM ShoeCare solution optimizes the maintenance of a variety of shoe kinds, including leather, suede, and sports footwear. It uses TrueSteamTM to refresh the shoe in a clever manner that is controlled by the kind and fabric of the shoe. Furthermore, LG's ground-breaking device offers a quiet and effective operation by functioning at just 35 decibels while refreshing up to four pairs of shoes in just 37 minutes (standard course).
The practical LG StylerTM ShoeCare also has LG's exclusive numerous Moving NozzlesTM, which dry out the interiors of the refurbished shoes and are easily adjustable by each pair's height. Additionally, users can simultaneously clean two different shoe types (each requiring a different level of fabric care) thanks to the Dual Care System feature.
Users can access a variety of services for the LG StylerTM ShoeCase and ShoeCare as well as through the ThinQ app for a more convenient shoe care experience. LG is working with many lifestyle brands to provide additional features and functionalities to its shoe care appliances, which will be made available via the company's user-friendly app. LG's StylerTM ShoeCase and ShoeCare can be remotely controlled and monitored using the ThinQ apps' Upgrade Center.
"LG's new StylerTM ShoeCase and ShoeCare form a total shoe care solution for hygienically cleansing, storing and displaying one's footwear," said Lyu Jae-cheol, president of LG Electronics Home Appliance & Air Solution Company. "Utilising our latest technologies and offering convenient control and design, these ground-breaking products are ideal for consumers looking for a better, more enjoyable way to manage their shoe collection. We will continue to deliver innovative solutions for a better life at home."
With Freshness-Enhancing Technologies, and Efficiency with LG's bottom freezer fridge
At IFA 2022, LG Electronics (LG) will introduce its newest bottom-freezer refrigerator for the European market. With LG's energy-saving Inverter Linear CompressorTM, an improved interior compartment, and the brand's cutting-edge "freshness" innovations, including LinearCoolingTM and DoorCooling+TM, the new model creates a kitchen that is more environmentally friendly.
The tight system of energy criteria used by the European Commission yielded an energy rating of "A" for LG's bottom-freezer refrigerator, which is the highest rating attainable. In order to obtain the "A" certification, LG modified the airflow path and the condenser and heat exchanger's structural integrity to provide a more effective and uniform distribution of cold air throughout the refrigerator.
Additionally, the exceptionally effective and long-lasting Inverter Linear Compressor is used in LG's new refrigerator. The bottom freezer offers a 10% reduction in annual energy consumption compared to other LG refrigerator models with an A energy rating, which enables customers to reduce their household's energy footprint and save money on electricity bills. This is made possible by the company's remarkable compressor.
The high-performance new model also has LG's DoorCooling+ and LinearCooling+ technologies, which enhance freshness. While LinearCooling avoids temperature swings to help keep food products fresher for longer, DoorCooling+ blows cool air from the top of the refrigerator compartment to hard-to-reach areas like the front door basket.
With the LG ThinQTM app for smartphones, the new bottom freezer refrigerator can be remotely controlled and monitored for a more pleasant user experience. Users can modify settings and check the operational status from almost anywhere.
The refrigerator's two-step folding shelf and wine rack, which can each hold up to five bottles of wine simultaneously and can fold away to accommodate larger goods as needed, add to its convenience. By applying LG's Metal FreshTM finish to its interior, the new model offers an instant design improvement.
"The new bottom freezer fridge leverages LG's state-of-the-art technologies to keep food market-fresh while also delivering superb energy efficiency and a host of user-friendly features," said Lyu Jae-cheol, president of the LG Electronics Home Appliance & Air Solution Company.
"Designed with sustainability in mind, and to provide a better kitchen experience, our new refrigerator offers the performance, convenience and style that the European market demands."
Delivers Exceptional User Experiences with LG'S Space-saving Washtower Compact
At IFA 2022, LG Electronics (LG) announced its brand-new WashTowerTM Compact laundry solution. In order to provide greater convenience, the new WashTower is a fully integrated two-in-one that combines a separate washer and dryer, an all-in-one control panel, and cutting-edge AI in a single, space-saving appliance.
The new WashTower improves space efficiency in the home and is the perfect laundry solution for a one- or two-person household. Its width and depth have been lowered by 100 and 170 millimetres, respectively, compared to the larger 2019 WashTower, whose washer has a generous 13-kilogram capacity and a 10-kilogram capacity for its dryer. The product's lower height, which was reduced by 235 millimetres, enables faster filter maintenance, more comfortable access to the dryer located on the upper half of the appliance, and the installation of WashTower Compact in spaces with lower ceilings. Requiring less installation space than a stackable or side-by-side washer and dryer pair of the same laundry capacity, the relatively small model frees up space in the kitchen or laundry room for other uses, such as the convenient storage of detergents, fabric softeners, and linen.
The flat, unibody design of LG's new integrated laundry solution offers the best laundry performance and adds a subtle, minimalist appearance to the home. The Center ControlTM, which is situated on the front of the appliance between the washer and dryer, enables customers to conveniently control all settings and features. Customers may easily build a home atmosphere that properly represents their personal interests by integrating WashTower Compact with any form of interior design or décor.
Furthermore, using the company's cutting-edge laundry technology, the revolutionary, new WashTower concept elevates the user experience and laundry results. The washer uses the Artificial Intelligence Direct DriveTM (AI DDTM) to determine the best washing pattern (drum motions, water temperature, and wash cycle length) for each load, minimizing fabric damage and extending the life of clothing. By synchronizing the dryer and washing and choosing the most effective drying cycle depending on the settings for the washer load, the Smart PairingTM feature, meanwhile, saves users' time and effort. Excellent all-around performer, LG WashTower Compact also reduces drying periods with Prepare to Dry preheating and washing times with TurboWash 360.
"Boasting a more space-friendly design, and equipped with LG's latest AI-based laundry technologies, WashTower Compact delivers an exceptionally convenient user experience," said Lyu Jae-cheol, president of LG Electronics Home Appliance & Air Solution Company. "We will continue to listen to consumers and meet their diverse and changing needs by developing smart, tech- and design-forward appliances for a better life at home."
Bringing Greater Interconnectivity, Safety and Security to Customers
The Home Connectivity Alliance (HCA), a group committed to delivering improved smart home experiences through open collaboration and innovation, has named LG Electronics (LG) to its board of directors.
The partnership, which was established in 2022, intends to offer a safe, secure, and interoperable connected home ecosystem. About 13 other international brands, in addition to LG, are members of this group, including Samsung, Arçelik, Electrolux, Haier, GE Appliances, and Trane Technologies. The alliance has created and is putting into practice principles for Cloud-to-Cloud (C2C) interoperability in an effort to facilitate seamless compatibility of various devices and services from various vendors.
As a board member of the alliance, LG will soon provide its consumers with the ease of being able to manage and observe the smart home solutions of other alliance members using the LG ThinQTM app.
"We're happy to have LG join our Board of the alliance. As the industry leader, LG understands that interoperability is essential to a truly seamless smart home experience and we are thrilled to have them join the alliance," said Yoon Ho Choi, President of Home Connectivity Alliance. "Leveraging the collective insights and experiences of our global board members, we will continue to advance the evolution of the connected home and provide consumers with an easier, smarter way of living.
During IFA 2022 in September, LG and other alliance members exhibiting in Berlin will offer visitors a first look at the cross-brand interoperability of their latest smart home solutions.
For more information on LG products and visit here.