The goal of street photography is to document people's lives as authentically and profoundly as possible. Street photography frequently serves as a mirror to society, whether in a hilarious, perceptive, or critical way.
The Leica D-Lux 7 "A BATHING APE X STASH" is a tightly limited, special edition compact camera that combines all three artistic disciplines. It comes in two finishes: a black version that Leica retails and a silver version that is only sold by A BATHING APE. The limited edition sports the brand's iconic APE HEAD and ABC CAMO aesthetic from the streetwear line BAPE.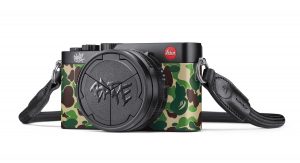 The Leica D-Lux 7 "A BATHING APE" X STASH" has the same technological features as the model that is produced in large quantities. This features the large Micro Four Thirds sensor and the quick zoom lens with optical image stabilisation, which has an aperture range of f/1.7-2.8 and covers focal lengths from 24-75mm (equivalent to a 35mm camera). The lens makes use of the center of the sensor, which has a total resolution of nearly 21 million pixels, to produce an effective resolution of 17 megapixels, producing even better image quality. The sensor produces high-definition photos as well as 4K 30fps and full-HD 60fps films.
With its cutting-edge designs, the streetwear brand BAPE (A BATHING APE) popularized Tokyo's urban street style over the world. It perfectly captures the youthful energy of a generation.
The black Leica D-Lux 7 "A BATHING APE X STASH" has a suggested retail price of S$2230. It includes a second carrying strap, a pocket made specifically for a camera, and an automatic lens cap that opens and closes as the lens retracts and extends.