This year's IFA Global Press Conference took place on the slightly chill shores of Andalucia in the South of Spain, and our NXT Guru was on hand to sit through the various power briefings and presentations to update you on the latest in consumer trends and products that were showcased.
The Consumer Electronic Trends at IFA 2019
What does the rest of 2019 and beyond hold for consumer technology? At the IFA GPC Hans-Joachim Kamp, Chairman of the supervisory board gfu Consumer & Home Electronics, the corporation supporting consumer electronics in Germany, gives us a glimpse of what to expect at IFA 2019 in Berlin, 6th to 11 September 2019
In 2018 the global market of Technical Consumer Goods (TGC) generated a turnover of more than one trillion Euros for the first time, an increase of 3.3%. For 2019 we again expect an increase in turnover of 1% up to €1.052tn. Especially Europe, North America, Middle East and Africa are growth markets. For consumer electronics, we forecast a stable development, while home appliances are expected to grow again.
This year artificial intelligence (AI) will be setting the tone for exciting trends: many types of devices make use of self-teaching digital systems and are able to improve their performance over time. Voice-controlled systems for example can continually upgrade their performance. AI is built into the latest generation of 8k screens so that they can perfectly adapt today's image resolutions to the new, ultra-sharp pixel grid. It also helps make the sound as good as the images: intelligent software can recognize whether the sound comes from a football stadium, a newsroom or a concert hall and make corresponding adjustments.
5G, the technology for tomorrow's superfast communication networks, is the dominant feature of other innovative trends. The first market-ready 5G smartphones will be on show at IFA 2019, with other mobile devices to follow soon.
Innovative screen technology continues to set the tone in spectacular fashion at IFA – flexible OLED screens for instance: visitors to IFA can look forward to large TVs that can be rolled up and stowed away in a neat cabinet as well as tablets that can be folded in half to make a handy smartphone. Prototypes will offer a foretaste of the mobile phone of the future, looking like a large bracelet adorning one's wrist. Other prototype screens are able to switch to 'transparent mode', if desired, and resemble a clear window pane until the device software puts colorful images onto the screen again.
Micro LEDs, also known as Crystal LEDs, represent another type of screen technology with good prospects. These displays create images using color crystal LEDs – and are already spawning an entire new range of products: IFA will be showing Micro LED displays which can be transformed into tiles of varying shapes and sizes.
A new generation of projectors is now capable of screening mega-sized images. The ones made for convenient home use can project images from a very short distance close to the screen. Other fascinating models that can be easily installed in any location come in slim, high-sided, portable cabinets. They project light upwards onto folding mirrors, so that images can be positioned precisely onto a screen without complicated adjustments. New projectors that make use of separate red, green and blue laser beams as their light source promise spectacularly colorful images.
The wide range of soundbars that can create a home movie atmosphere with 3D sound formats are a perfect match for these large images. But that is not all: the latest trend is 360-degree sound. Loudspeakers that acoustically cover the farthest corner of the room give the term surround sound a whole new meaning.
Wireless speakers continue to be among the most popular consumer electronics items. Many of them can be connected up in multi-room systems, and they are all competing for the consumer's attention with a growing range of streaming services – including those offering hi-fi quality music over the internet.
IFA GPC Brand Showcase
Philips
Philips believes there's a way to help people achieve balanced, energetic and healthy lives. Presented my Marlies Gebetsberger, Personal Health Leader, Philips, the brand presented demographic developments that empower it to develop personal healthcare devices such as its SmartSleep suite of solutions and DreamWear masks for healthier sleep as well as the latest smart shaver, air purifier and smart pregnancy monitoring solutions.
Skyworth Metz
At IFA 2019 Global Press Conference premium German TV manufacturer Metz presented its global brand strategy and the expansion of its new international brand Metz blue. Created in collaboration with parent company Skyworth, Metz Blue TVs will feature Android 8.0 and access to Google Play Store and Google Assistant.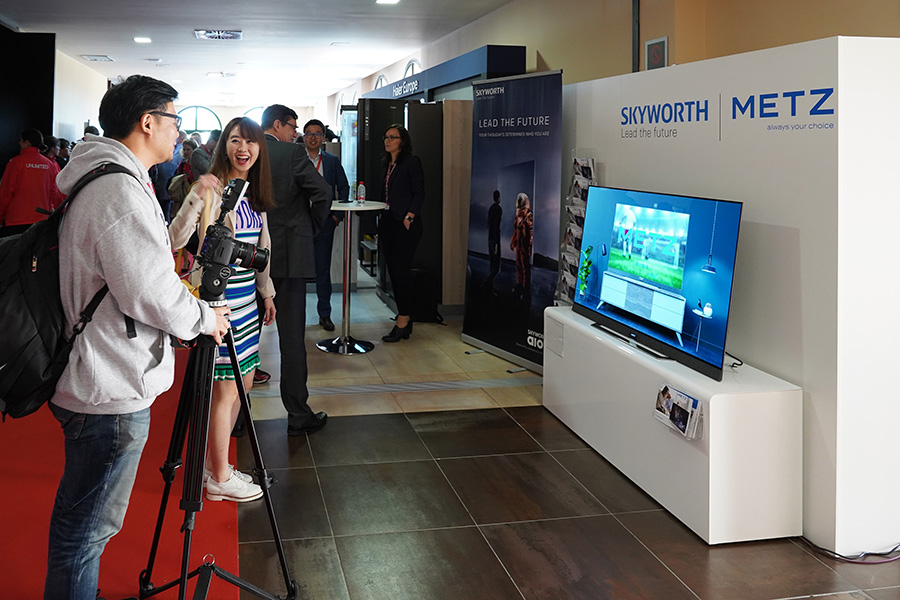 Metz blue – a German brand on its way to the global TV market. METZ blue is the result of the combination of the strength of SKYWORTH, a global player in the TV business and 80 years of experience of traditional German manufacturer Metz.
Plugsurfing
Plugsurfing is Europe's largest electric car charging network and enables European Union drivers to seamlessly access 110,000 charging points in 33 countries. The Plugsurfing App and RFID charging key facilitate transparent and easy charging information and payment solutions for over 100,000 users.
At the IFA GPC 2019 Plugsurfing announced the expansion of its partnership with Spain's EasyCharger to expansion the networks current 333 charging points in Spain with a further 100 by the end of 2019.
www.plugsurfing.com
Headline: Gearing up for IFA 2019
At the IFA GPC 2019 main press conference, IFA announced its plans to showcase connectivity, artificial intelligence, voice control and 5G as the big drivers of technology innovation and presented a host of global events across the world in 2019 to showcase the very latest in consumer electronics.
IFA Next, the innovation hub at IFA Berlin, continues its success with strong growth. This year, IFA Next announced Japan as its first official Global Innovation Partner. Keita Nishiyama, the Director-General of the Commerce and Information Policy Bureau at Japan's Ministry of Economy, Trade and Industry (METI), spoke of key issues at stake heading into the future, in particular when it comes to new data governance models. He was accompanied by Genichiro Shimada, Director Cross Value Innovation Project External Relations Department, Panasonic Corporation, and Takashi Sato, Managing Director, Unipos Europe.
With more than 2.5 quintillion bytes of digital information circulating each day, Mr Nishiyama called for the establishment of "DFFT" – or Data Free Flow with Trust, for non-personal data. He said that while personal data and intellectual property need to remain under careful protection, on the other hand, the free flow of medical, industrial, traffic and other highly useful non-personal data must be allowed to flow freely across borders.
The result will, he says, be "Society 5.0", which this fourth industrial revolution will bring about, thanks, in part to new collaboration between entities such as the OECD, WEF and G20.
IFA also released the names of its first two keynote speakers at IFA Berlin 2019: Richard Yu, the Chief Executive Officer of Huawei will deliver the IFA opening keynote 2019 and will take place on Friday, 6 September 2019. Huawei CEO Yu is set to take the IFA keynote stage to share Huawei's exploration on future connectivity and strategy in AI, 5G, IoT and new smart devices.
"Huawei is committed to turning smart devices into intelligent devices by building end-to- end capabilities that support coordinated development of devices. The ultimate goal is to provide a full scenario intelligent solution and offer a better user experience to consumers in the future intelligent world." says Yu in anticipation of his opening keynote at IFA in Berlin in September.
Qualcomm President Cristiano Amon, who will highlight how the commercialization of 5G, starting in 2019, will profoundly change the mobile industry and transform the global economy. Amon's IFA Keynote will take place in Berlin on Friday afternoon, 6 September 2019, and Qualcomm is expected to announce milestones related to 5G, mobile platforms, and other intelligent connected devices. "I am excited and looking forward to my IFA Keynote in Berlin. 5G commercialization marks the arrival of a new age of invention that will forever transform the devices we depend on every day and enrich our lives in 2019 and beyond. I believe this creates a truly global moment for consumers and tech enthusiasts around the world," says Cristiano Amon, President of Qualcomm Incorporated.
IFA GPC Brand Showcase
Haier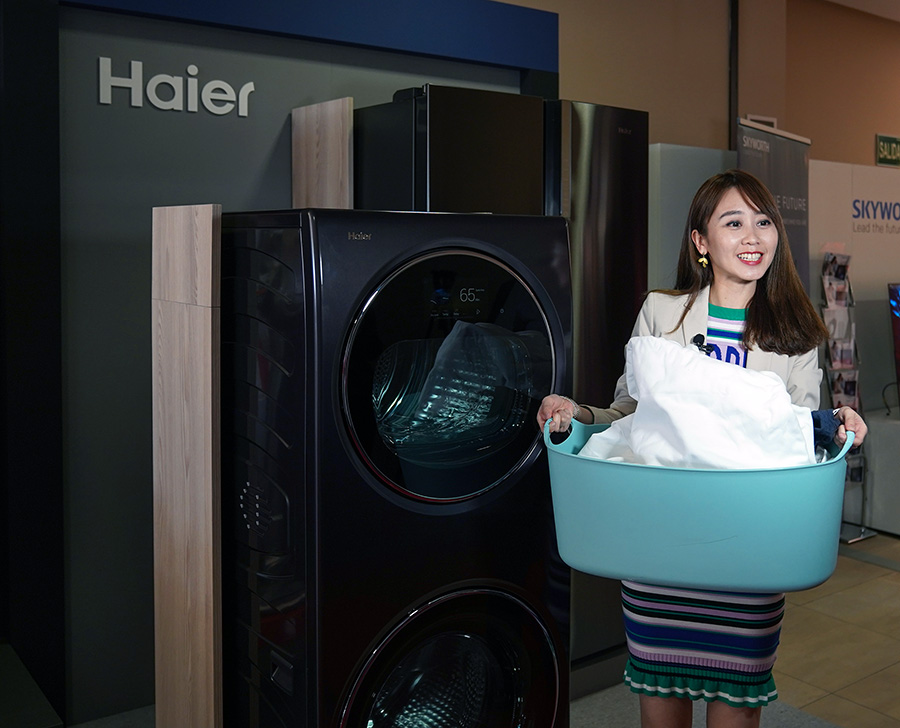 Haier is now the world's biggest home appliance group, recoding 15% growth per annum over the last three years. At the IFA GPC 2019 Yannick Fierling, CEO Haier Europe, spoke about the brand's recent acquisition of the Candy Group and the creation of new IoT solutions such as the Candy Snap & Wash app, where users simply snap an image of their laundry load, and the app will define the weight of the load and the fabric colours to sort the most relevant quick program. Haier also showcased the brand's latest 3 in 1 twin washing machine with integrated dryer.
Hisense gorenje
Hisense Electric recently took over the gorenje home appliance group, and have begun the construction of new television production facilities in Slovenia to manufacture a range of Hisense TVs including their latest U9 ULED premium TVs and 8K resolution panels. At the IFA GPC Hisense also showcased its latest Pure Flat refrigerators and partnership with Euro 2020.
Safera
Safera is a global leader in cooking fire prevention, and at the IFA GPC showcased their smart solutions, including the Safera stove guard and the upcoming Sense smart cooking sensor, which will monitor heat and air quality levels and not only send you alerts, but also when it's time to turn off your stove.
Sennheiser partners IFA
During the IFA GPC 2019, IFA and Sennheiser jointly announced that the audio specialist will become the official IFA Global Audio Partner to IFA 2019. Billed as the place where "consumer tech meets innovation", IFA with its international activities provides a perfect platform for Sennheiser to demonstrate its ambition to shape the future of audio.
"After many years as part of the IFA community, we are delighted to become the global Audio Partner of IFA," said Dr. Andreas Sennheiser, Co-CEO, Sennheiser Electronic GmbH & Co. KG. "This partnership is particularly exciting as we will not only participate in IFA Berlin but will also be proud to support the international activities of IFA. With a fast-growing market in China, we are especially looking forward to participating in CE China and its Retail University, as these provide outstanding opportunities to get closer to our customers in this vibrant marketplace, build ever stronger relationships and leverage exciting new opportunities."
Jens Heithecker, IFA Executive Director: "We are pleased to bring our longstanding partnership with Sennheiser to a new global level. For both partners, measurable positive effects are created."
Hand-on preview Sennheiser AMBEO Soundbar
Sennheiser were not only at the IFA GPC to announce their collaboration with the international technology show, but also to demonstrate the German audiomaker's first ever soundbar, which the company first announced late last year.
AMBEO is a technology that Sennheiser has been developing in the last four years to create a high-quality immersive 3D sound experience, from capturing sound in 3D to reproducing surround sound virtually. In the past Sennheiser has used its AMBEO technology in a number of small personal audio products and as an immersive 3D audio technology showcase exhibition in collaboration with iconic rock band Pink Floyd – "Pink Floyd: The Mortal Remains".
The AMBEO Soundbar incorporates Sennheiser's latest virtualization technology with a 13-speaker system to create 5.1.4 sound system capable of reproducing any spatial audio experience, from a football match at the Bernabeu Stadium to an opera at the Munich Opera House. The AMBEO Soundbar does this by using an external microphone to automatically calibrate itself to the spatial acoustics of a given room. As you sit in your preferred seat, the soundbar creates an atmospheric soundscape around you – for example we tried their football demo, where you could actually hear crowd noise around you, as if you were sat at the Bernabeu stadium during a match.
The AMBEO Soundbar is compatible with Dolby Atmos, MPEG-H and DTS:X and can also recreate stereo and 5.1 content in stunning 3D. Advanced connectivity includes integrated Google Chromecast, Bluetooth and HDMI eARC/CEC.
The Sennheiser AMBEO Soundbar is now available in Europe for EUR 2,499, and according to Sennheiser will be made available in Singapore in the last quarter of the year.
TBC