LG Electronics is proud to present its latest flagship smartphone, the LG G7+ThinQ, which combines AI capabilities, super bright display, and surround sound features into one.
It boasts the latest Qualcomm Snapdragon 845 Mobile Platform, and offers 6GB of RAM and 128GB of internal storage. This means it can run demanding tasks and apps with ease. The polished metal rim gives the smartphone a premium and sleek look, and is complemented by Gorilla Glass 5 on both the front and back for enhanced durability.
A New Cam-Era
The LG G7+ThinQ comes with an 8MP front camera and 16MP rear camera in both standard and Super Wide Angle configurations. These features are also enhanced from when they were first introduced in the LG V30S+ThinQ.
For example, the AI CAM now offers 19 shooting modes, an increase from its previous 8, for even more intelligence-optimized shots. On top of that, you can also further improve your photos by selecting from three other effect options for one that takes your photography to a whole new level.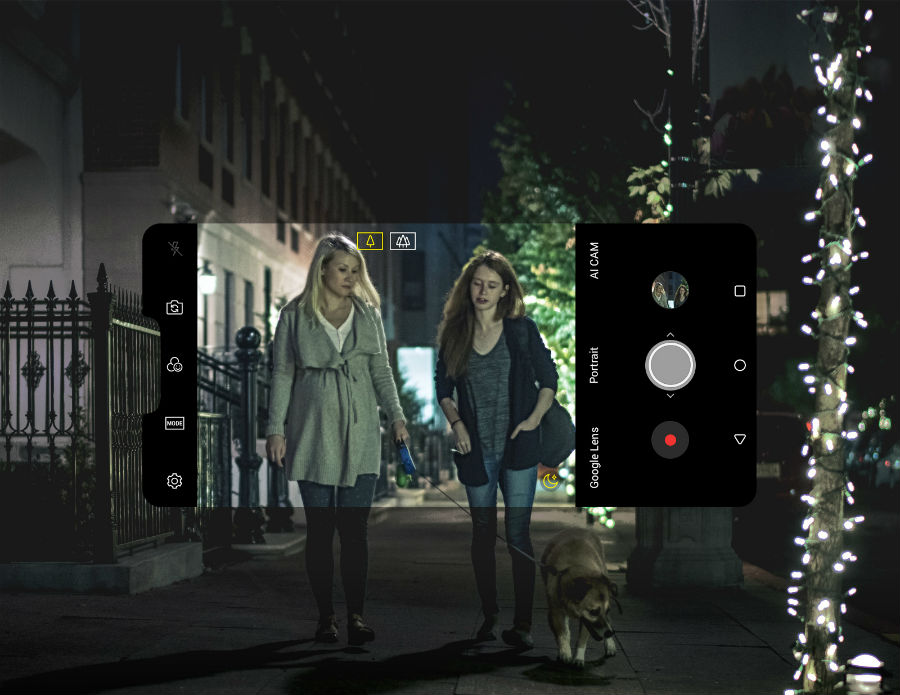 When it comes to low light photography, the LG G7+ThinQ's new Super Bright Camera brightens images up to four times more than typical photos shot in dim light. Through a combination of pixel binning and software processing, the AI algorithm adjusts the camera settings automatically in low light.
LG has also added new features that make photography on the LG G7+ThinQ even more enjoyable than ever. Live Photo mode records one second before and after the shutter is pressed for snippets of unexpected moments, or expressions that would normally be missed. Stickers is a mode that uses face recognition to generate fun 2D and 3D overlays such as sunglasses and headbands. A feature that will definitely appeal to those of you who can't get enough of Instagram and Snapchat's features.
Portrait Mode is new to the G series, but is bound to be a favourite. It generates professional looking shots with out-of-focus backgrounds, for all your portrait taking needs. This bokeh effect can be generated using either the standard or Super Wide Angle lens, giving shutterbugs even more creative options.
Google Integration For Greater Convenience
LG G7+ThinQ is one of the first devices to feature the upcoming Google Lens feature, which offers a new way to search for information using the latest in AI and computer vision. Google Lens is available with the Google Assistant and Google Photos. It works to deliver more information on objects such as landmarks, plants, animals, books, as well as to identify text. Users can also visit websites, add a business card to contacts, add events to the calendar, or look up an item on a restaurant menu.
Located just below the volume is a button that launches the LG G7+ThinQ's AI functions. A single tap of this button will launch the Google Assistant while two quick taps will launch Google Lens. Hold the button down to start talking to the Google Assistant.
With Super Far Field Voice Recognition (SFFVR) and the smartphone's highly sensitive microphone, Google Assistant is able to recognize voice commands up to five meters away. The smartphone's sophisticated Voice AI technology utilises two integrated microphones to filter out ambient noise to recognise the user's voice. When paired with the smartphone's Boombox Speaker feature, SFFVR turns the smartphone into a home AI speaker that can respond to voice commands from across the house.
Sharp, Crisp Imagery
The LG G7+ThinQ features a 6.1-inch QHD+ (3120 x 1440) display with a 19.5:9 FullVision screen ratio. On top of that, it has a bottom bezel which is almost 50% slimmer than the LG G6. Powered by LG's new LCD technology, Super Bright Display, the LG G7+ThinQ can even be viewed easily under direct sunlight. After all, it has a brightness that goes up to an industry-leading 1,000 nit, and displays 100% DCI-P3 colour gamut.
Depending on the type of content, the display can be set to 6 different viewing modes:
Auto

Eco

Cinema

Sports

Game

Expert
For example, in Auto mode, the phone automatically analyzes the content of games or photos and optimizes the display and power consumption. You can further finetune the image even further by adjusting the screen temperature and RGB levels individually.
The LG G7+ThinQ's New Second Screen gives users flexible options when it comes to setting up the display. The display can be fully expanded for a bezel-less look, or with a notification bar that you can personalise and change the colour of.
A Brand New Audio Experience
LG G7+ThinQ features Boombox Speaker, in a first for the LG G series. Boombox Speaker utilises the smartphone's internal space as a resonance chamber to deliver double the usual bass. The result? A powerful "boombox" sound without the need for external speakers. When placed on solid surfaces, like tables, the smartphone acts as a woofer to further amplify the bass effect.
The LG G7+ThinQ is also the first smartphone to offer DTS:X. This makes it capable of delivering virtual 3D sound for all content up to 7.1 channel audio with earphones. On top of that, it retains the popular Hi-Fi Quad DAC feature. As a result, it has an incredibly rich audio experience, especially when paired with high-impedance earphones.
Pricing And Availability
The LG G7+ThinQ retails at S$1,198, and is available from 2 June at M1, Singtel, StarHub, and other LG authorised retailers. It comes in New Platinum Gray, New Aurora Black, and New Moroccan Blue.