Mother's Day is right around the corner!If you haven't prepared anything, don't get a heart attack. We've got you covered with this Mother's Day gift guide, full of time-saving, thoughtful gifts that will make you the favourite child. Or, if you're the only child, will make your mom love you even more!
LG Hom-BOT Turbo+
Delegating all vacuuming duties to an automated robot alleviates one major household chore for mom. And if you've ever had to vacuum an entire house, you'll know just how troublesome it can be. Why not let someone – or something – else take over instead? The Wi-Fi enabled LG HOM-BOT Turbo+ robot will free up your mom's time, and keep your home tidy and dust-free.
Along with its fuss-free automated cleaning abilities, it also has a HomeGuard function, to set your mind at ease. The HomeGuard function helps you remotely keep an eye on your pets, kids, or any elderly folks that are at home. So you can take your mother out for a nice lunch without her having to worry about her dog!
LG TWINWash
Okay, a washing machine is very far from a grandchild. For example, unlike a grandchild, a washing machine doesn't take 10 years of training to learn how to do laundry. And with the LG TWINWash, you can get your laundry done twice as efficiently!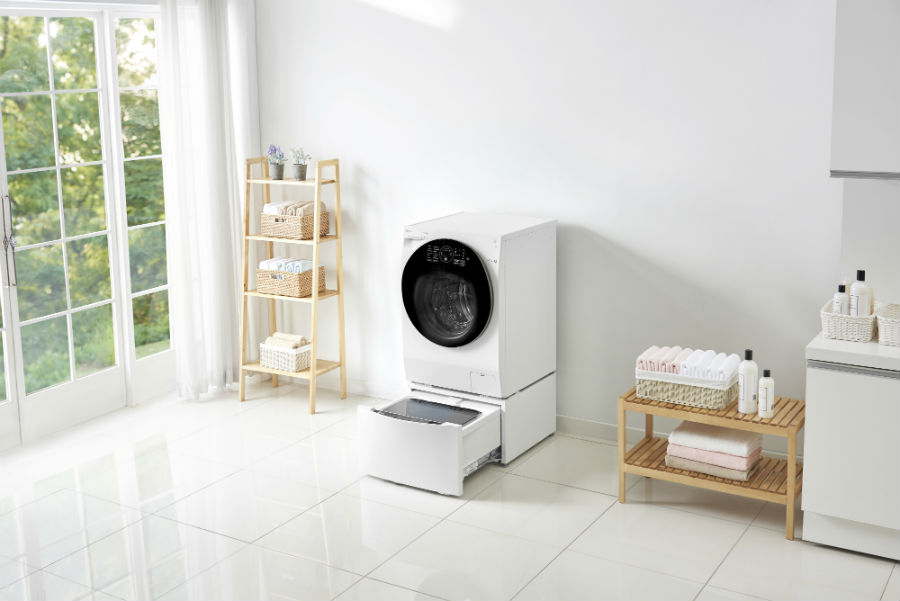 The LG TWINWash is a washing machine that washes coloured and white clothes separately, but in the same cycle. It comes with two washing compartments. The main washer handles bulky items like the main load, blanket, and curtains. Meanwhile the mini washer pedestal tackles smaller loads such as hand towels, delicates, and more. This saves your mom so much more time that can now be spent on maximising family time!
LG C7 OLED TV
Bring the theater experience home for your mom this Mother's Day. After all, between taking care of the house and home, and being an awesome mother, she probably hasn't had time to go out for movies. Now though, with the LG C7 OLED TV, you can take the action (or romance, or comedy, or drama) right to her home!
With perfect black levels and 4K resolution, your mom can now ogle her favourite actors in higher picture quality. (Sorry dad.) The slim form factor helps immerse you in a thrilling cinematic experience, whether you're watching an action movie, or your mom's k-dramas.
LG Styler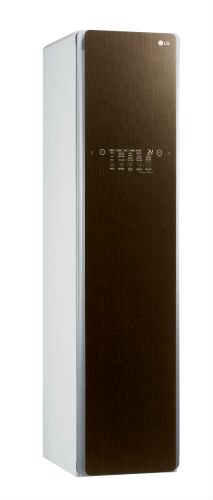 Add the finishing touches to your mom's closet with the LG Styler. It refreshes and removes odors from fabrics in just 20 minutes, so your mom can freshen up easily before heading out to relax. It utilises LG's TrueStream technology to help reduce allergens and wrinkles in clothing too, so your mom can look stylish with ease.
The LG Styler also has a dehumidifying function to freshen up walk-in wardrobes or rooms. The blend of features on the LG Styler offers a makeover for her wardrobe, and keeps things comfortable too.
LG Side-by-Side Refrigerator With InstaView Door-in-Door
Be a filial child and help your mom save on long-term household expenses with electricity-efficient appliances. Go above and beyond your childly duties by giving her an electricity-efficient appliance that will also make her life a heck of a lot easier!
With the LG Side-By-Side Refrigerator and its InstaView Door-in-Door feature, your mom can easily get a clear view of her groceries with a glance. All she has to do is knock twice on the glass panel! This causes the refrigerator to illuminate and reveal the ingredients within, without the need to open the door to check.
LG Gram 15
Help your mom stay productive on the go with this ultra-portable and powerful notebook. The LG gram 15 is physically light but packs some processing power, and perfectly blends display size and portability. At just 1,090g, it's one of the world's lightest laptops!
With minimal bulk and weight, your mom can easily surf Facebook and read her emails while on the go. All you have to worry about now is helping her set up her accounts and wallpapers.
LG V30+
Sure, she might only use it for Candy Crush and for forwarding chain-Whatsapp messages to you, but your mom deserves a new phone. Stay connected with her by capturing and sharing memories together, with the LG V30+.
It offers an immersive 18:9 Quad HD OLED FullVision Display, for a pleasant visual experience on the go. Whether she's texting, watching a video, or scrolling through her photo albums of her favourite kid (that's you!), she's getting a good visual experience.
LG SIGNATURE Air Purifier
Improve the quality of your mom's life directly with the LG SIGNATURE Air Purifier. Not only does it look sleek and stylish, it also keeps the air your mom breathes clean and pure.
It features a Rain View Window, so if she needs a break, she can relax and watch the air purification process to unwind. The air purifier is capable of detecting super-fine dust particles of up to 1.0 micrometers, thanks to the LG SIGNATURE Black Filter System. This means your mom's home will have the freshest of air quality, even during haze season. And what better present for your mother this Mother's Day than the gift of health!
Availability
LG HOM-BOT Turbo+

S$1,599

LG TWINWash

Main washer

Main washer dryer

Mini washer

LG C7 OLED TV

LG Styler

S$3,099

LG Side-by-Side Refrigerator

S$4,999

LG gram 15

From S$2,099

LG V30+

S$1,098

LG SIGNATURE Air Purifier

S$1,999