PSB Speakers is a brand long renowned for affordable excellence, both in loudspeaker and headphone design. Recently, at CES 2018, they introduced the innovative M4U TW1, true wireless earphones designed for listening to music, watching videos, or calls.
The M4u TW1 earphones not only sound superb, but have a unique shape that ensures comfort and security, even while walking and exercising. Whether you're at the gym, or on your way to work, the M4U TW1 will keep you on your feet with rich, natural sound.
Truly Wireless
Wireless, of course, means Bluetooth. PSB engineers utilise the latest advanced version of wireless audio technology to provide fast, easy pairing with any compatible device. The Bluetooth V4.1 delivers extended range, fewer drop-outs, and better battery life. It also gives the M4U TW1 an operating range of up to 10 meters! So if you need to stand up and walk around away from your device for a bit, you can do so freely.
Tap And Touch To Control
Once paired with your device, the M4U TW1 allows you to answer calls or control your music without even having to refer to your device! Simply use the high-clarity mic and one-touch sensitive button to play/pause, skip tracks, and answer incoming calls.
For added hands-free convenience, the M4U TW1 will even notify you when you're paired to a device or running low on battery with voice prompts.
Speaking of battery, the M4U TW1 features a rechargeable lithium-ion battery that provides up to 5 hours of listening, and up to 80 hours on standby. It also comes supplied with a USB charging cable and recharges in approximately two hours.
Comfort And Ergonomics
The design of the M4U TW1 pays particular attention to comfort and ergonomics. At 9.4 grams for each earphone, the first thing you'll notice is how easy it is to forget they're there. The innovative StayFit feature incorporates a unique ear hook design, paired with soft silicone ear tips. It comes with a range of extra silicone ear tips, to make it easy for you to find the perfect fit.
Its IPX5 water-resistant body and internal nano-coating also provides a double layer of protection. So you can wear them even for the most strenuous workouts.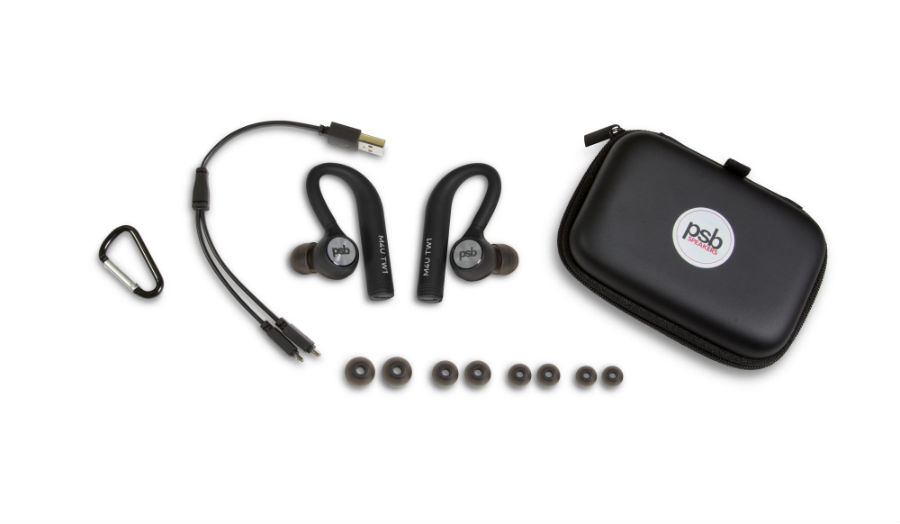 The M4U TW1 also comes with a protective rugged case, for storage and travel. It's built to resist the weather, and protects your earphones while you're on-the-go.
Best-in-Class Sound Quality
Be it loudspeakers for music, home theaters, computer audio, or headphones, PSB is synonymous with superb sound quality. The M4U TW1 uses custom designed, high performance 6mm dynamic drivers that deliver full frequency response with ultra-low distortion.
It pumps out synchronous audio with deep bass and lifelike details.
The M4U TW1 is the first cordless set of earphones from PSB Speakers. It's the result of over 40 years of advanced acoustic research. Whether you want lifelike detail, or need clarity in your calls, the M4U TW1 delivers.
The PSB M4U TW1 is currently available in Singapore at a suggested retail price of SGD$199. Get a pair for yourself at the Lenbrook Asia Showroom, located at Shaw Tower, or Lenbrook's online store.