If you've been looking for the perfect set of speakers to pump your party up, you've got no need to look any further! Earlier this week, Sony announced its latest line-up of Sony EXTRA BASS wireless speakers: the SRS-XB41, SRS-XB31, and SRS-XB21. These portable and durable speakers are designed to set the perfect party mood, wherever the party is.
All About That EXTRA BASS
These speakers are portable, durable, and most importantly, able to deliver some quality bass. They're designed to sustain and focus on "deep bass" and "punch bass", all of which are key elements to party music genres like EDM, grime, and hip-hop. No party's a party until you can feel the bass vibrating in your bones, right?
If you want to feel the bass on a whole other level, you can also give your party an additional boost with the new DSP (Digital Signal Processor). It creates a LIVE SOUND mode, a three-dimensional music experience that will make you feel like you're right in the middle of a music festival. With LIVE SOUND mode, you can feel the sound spreading both vertically and horizontally, like the singers are right there with you.
Durable, For Even The Rowdiest Parties
The new fabric material design comes in up to 5 colours, which is great for colour coordination and keeping that hashtag aesthetic. More importantly though, it also makes the speakers robust and washable, so you never need to worry about the odd spillage. They're also waterproof and dust proof, with an IP67 rating, meaning you can enjoy them at the beach, or at a pool party. You can even put them in the mud without worrying about damaging them! Though that's probably less likely than someone at your party spilling their drink on them.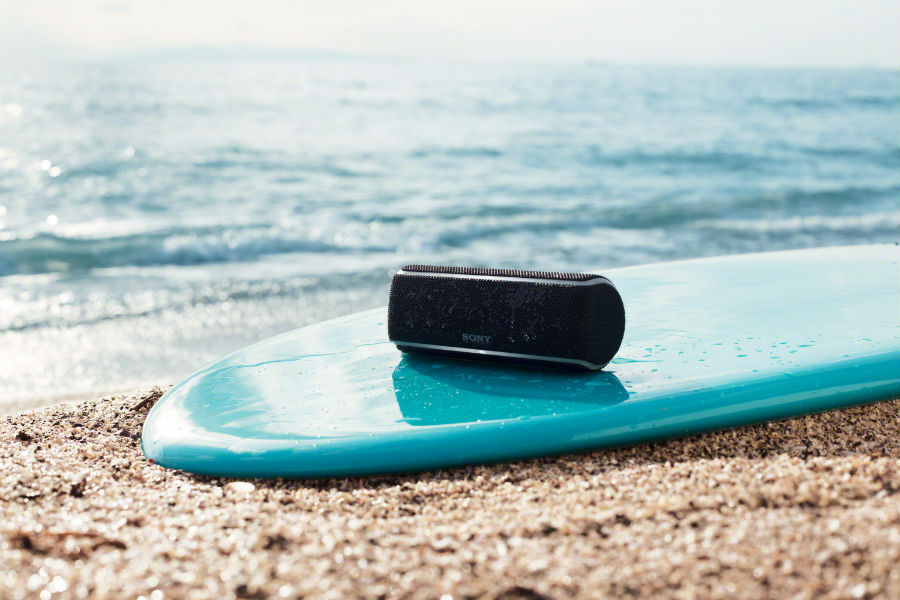 They're also wireless, and designed so you can carry them in your hand easily enough. With this compactness, and with their 24 hour battery life, you can bring these EXTRA BASS wireless speakers anywhere, for a party that lasts all night long.
The Bigger The Party, The Better
Sony speakers can now connect up to 100 different speakers together. You can fill a room or build a wall to create a massive EXTRA BASS sound experience.
You can also let your speaker be the center of the party, with the new "Party Booster" feature. It can be used like an instrument and can detect tapping from 5 different directions, thanks to the built-in accelerometer that generates a sound and lighting reaction. You can tap your speaker in different places to make different sounds, like a scratch, snare, kick drum, and more. Control the volume with force. Tap gently for a soft sound, or smack that, for a loud impact!
Time To Get Lit
These Sony EXTRA BASS wireless speakers don't just bring the ambience with music. They all come with their own light variants, to add some visual spice to the party. The SRS-XB31 has multi-colour line lights and flashing strobe effects, making it better than a disco ball. Similarly, the SRS-XB21 has a single colour line light, but still has all the visual impact. The SRS-XB41 takes things to a whole new level, with speaker, multi-colour line, and even flashing strobe lights!
All three models will liven up any atmosphere by adapting to the music that's currently playing. This, paired with the realistic sound element, will keep your party up and going all night long.
The SRS-XB41 will be available in Singapore from the second quarter of 2018. It comes in black, dark red, and dark blue

The SRS-XB31 will be available in Singapore from the second quarter of 2018. It comes in black, white, two-tone red, and two-tone blue

Last but not least, the SRS-XB21 will be available in Singapore from the second quarter of 2018. It comes in black, white, red, and blue