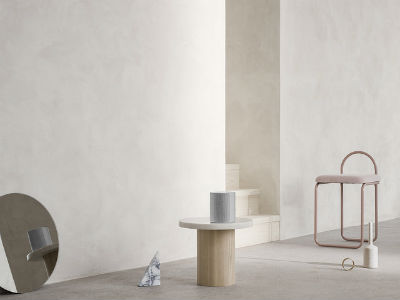 There's no place like home, and the same thing applies when it comes to listening to music. Headphones and earphones have made it easy for modern audiophiles to listen while on the go. However, a true audiophile knows that home is where the real audio quality is. And with the Beoplay M3, you can make music a prominent feature of your home.
Compact, But Holds Its Own
The Beoplay M3 is the most compact member of B&O Play's wireless home speaker family. But that doesn't mean it's a baby when it comes to pumping out music. What it does mean is that you can combine it beautifully with a really wide range of multiroom speakers. But you don't have to!
Powerful in its own right, the Beoplay M3 is designed by award-winning Cecilie Manz, and finely tuned by Bang & Olufsen acoustic engineers. Everything about its aesthetic and specifications makes it perfect to deliver a flexible and immersive listening experience in the modern home.
Blend In Or Stand Out – The Beoplay M3 Can Do It
Cecilie Manz, the designed behind the Beoplay M3, states that the Beoplay M3 is "all about character". It certainly shows, as the Beoplay M3 has a deceivingly simple silhouette that lets its features and materials shine. Infinite lines run around the smooth oval shape of the speaker, drawing attention and giving detail to simplicity.
The Beoplay M3 comes with a front cover in either premium, acoustically transparent wool blend fabric, or a pearl blasted anodized aluminium cover. Whether you're going for the warmer texture of the cloth, or the cool modern metallic look, the Beoplay M3 will make your home look good.
Listening to music is as streamlined as the silhouette promises. You can listen to music instantly with Bluetooth, and stream music directly from your smart device to the speaker. Alternatively, you can connect the speaker to Wi-Fi for a multiroom setup. The latter allows you to broadcast your music to as many B&O Play or Bang & Olufsen multiroom speakers as you have in your home. You can control every speaker with just a touch of your smartphone.
Custom Designed Drivers, Plenty of Amplifier Power, and More
Every aspect about the Beoplay M3's compact design is built to provide an incredible listening experience.
The main body is made of rigid polymer to house and encapsulate the acoustic chamber. It comes with a soft shore polymer on the base of the speaker for added stability.
As for what's inside, the Beoplay M3 features technology like advanced digital sound processing and adaptive bass linearization. It also has unique mechanisms to protect against thermal and mechanical overload.
In addition to that, the Beoplay M3 comes with built-in Chromecast support, and supports Beolink Multiroom, Apple Airplay, and QPlay 2.0. It will also support Apple's Airplay 2 when it comes out in 2018.
The Beoplay M3 launches in two colours: Natural, and Black, with seasonal colours to come. It will retail at SGD 449, and will be available at Bang & Olufsen Grand Hyatt and Takashimaya showrooms.