A partnership between the automotive and watchmaking industries seems like a pretty bizarre concept, doesn't it? After all, watches and cars are vastly different, in scale, function, and material. The Excalibur Spider Pirelli, coming out in two exclusive collections, is a collaboration between Roger Dubuis and Pirelli that challenges the unconventionality of this combination.
Artifacts From Real Races, At Your Fingertips. Well, Your Wrist, Anyway
Roger Dubuis is a watchmaking brand known for its bold, unconventional style. Its Excalibur collection has proven itself to be rather idiosyncratic so far.
For example, its Excalibur Knights of the Round Table watch. The aptly named watch is cast in 18K pink gold, and beautifully designed. Its most eye-catching feature is the masterfully crafted and intricate miniature knights set around the dial. Every knight is unique, and represents one of the 12 legendary knights of the Round Table.
With the Excalibur Spider Pirelli, the Roger Dubuis brand takes its fondness of "disruptive materials" to a whole new level. The strap of the watches in these two exclusive timepiece collections feature rubber inlays from certified Pirelli winning tyres. Pirelli is known for its high-end tyres that are used all the way in F1 races. They bring a raw, powerful edge to the Excalibur Spider Pirelli.
Excalibur Spider Pirelli – Automatic Skeleton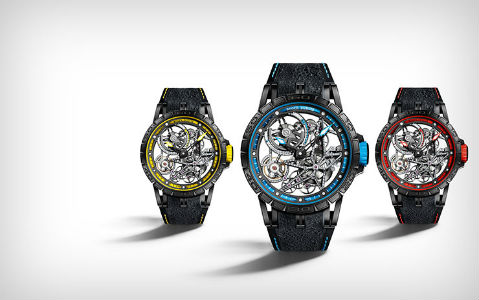 A black DLC titanium-touched skeleton case with contrasting touches in the famous colour codes of Pirelli. Just the casing alone makes the Excalibur Spider Pirelli – Automatic Skeleton stand out.
All 167 components of the watch are all meticulously handcrafted. The design and height of the famous Roger Dubuis micro-rotor, together with the raised position of the Astral Skeleton, create an almost 3D effect.
Those who can get their hands on one of the 88 limited edition pieces get to enjoy the privilege of being invited to high-end local Pirelli events!
Excalibur Spider Pirelli – Double Flying Tourbillon
The Double Flying Tourbillon model epitomises ruggedness and reliability, with its black DLC titanium skeleton case and vulcanised blue rubber accents. The transparent watch showcases the watch's RD105SQ hand-wound calibre to perfection. Now you can get a glimpse into what makes your watch tick – literally.
Available exclusively from Roger Dubuis boutiques, the 8 pieces in this limited edition come with an additional perk. You can get to experience the contact high of a motorsport event beyond just having the Excalibur Spider Pirelli on your wrist! A special, 2-day VIP programme organised by Pirelli at a motorsport event will be offered to buyers.