I'm here to share an exhilarating journey that goes beyond mere cameras – it's about reliving moments that resonate deep within. In the spirit of national day, we explored the Padang and National Museum and captured every ounce of the excitement with my Fujifilm X-S20. Join me as we dive into this pocket-sized powerhouse that's more than just a camera – it's a storyteller. Check out a mini vlog I made with the camera below!
This lightweight wonder effortlessly slips into my backpack, ready to document both the extraordinary and every day. The compact dimensions – at a mere 491g, don't let its size fool you; the X-S20 is all about quality, ensuring every shot counts.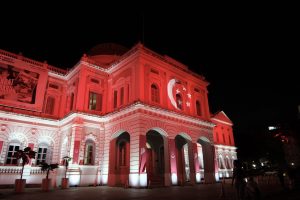 We heard that there was a night light show at the National Museum, and we went to check it out excitedly. On the building, they projected our national flag and some historical facts, which was extremely interesting. We stood there in awe for a while. With a unique filter array that banishes unwanted patterns and colours, my shots radiate authenticity. Even in challenging lighting, the X-S20 delivers stunning results, thanks to its back-illuminated design that works to enhance image quality while minimizing noise.
As we got hungry, we made our way to a nearby Korean restaurant that many Singaporeans love. Snapping a quick selfie before the food comes, the flip screen makes it so convenient and ensures we are all centralized in the photo.
The X-S20's subject-detection autofocus, powered by Deep-Learning AI Technology, ensures my subjects stay sharp. Plus, the updated autofocus algorithm guarantees precision, even in challenging low-contrast situations.
Refuelled, we walked to the Padang, hoping to get a glimpse of the NDP parade rehearsals. Surprisingly, we managed to capture a small snippet of it! Nighttime has its kind of enchantment, and the X-S20 is my partner in capturing it all. Its 5-axis in-body image stabilization system offers up to a mind-blowing 7.0 stops of compensation. Capturing the city's National Gallery is nothing short of spectacular.
Turning our focus to the Padang, everyone was fully focused on rehearsing for the NDP parade. We stood there watching for a long time. The new Auto subject detection function in AUTO mode takes care of settings, allowing me to focus on storytelling. The X-S20's high-capacity battery keeps me going, allowing me to capture up to 750 frames on a single charge. And guess what? Flipping on economy mode extends the battery life even further – up to a remarkable 800 frames.
The Fujifilm X-S20 is more than a camera; it's a piece of the story, preserving memories that feel as alive as the moment itself. I'm not just taking photos; I'm taking a slice of the experience with me.
To find out more about the X-S20 and click here.
X-S20 Body: $1,999
X-S20/XC15-45: $2,199
X-S20/XF18-55: $2,659