Redefining Canon "6" series
The first "Mark II" edition for the EOS R-series DSLR
The Canon EOS R6 Mark II is the second-generation model with several notable improvements like a 24.2MP full-frame sensor (up from 20.1MP) with new sharpness processing, 40 fps with AF tracking on the electronic shutter (the fastest continuous shooting speed in the EOS camera system). But the major upgrade is the video features which elevate the R6 Mark II to become a professional video powerhouse to cater for the demanding content creators.
The EOS R6 Mark II can record externally via HDMI in 6K RAW, or up to 4K 60p video oversampled from 6K, and a higher frame rate up to Full HD 180p. Unlimited continuous recording of 4K 30p is also supported. This latest model also supports USB Video and Audio Class protocols to deliver Full HD 30p video and audio to Windows and Mac OS in real-time, transforming it into a pro-grade webcam for live streams, remote meetings, and video recording.
There are several new video features introduced for the first time on the R6 Mark II. It is the first EOS camera to support focus breathing correction, which reduces the angle of view changes when focusing length changes. Also new on full-frame EOS cameras are 5-second pre-recording, and a hybrid auto mode that records 2-4 seconds of video during still image shooting to compile a daily digest movie. This feature was already present in many consumer models for years but having that on the R-series provides convenience in creating shareable content.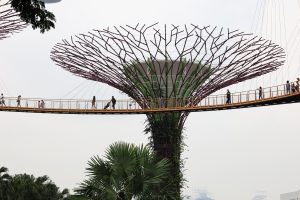 The kit lens has a maximum aperture of f/7.1 at the tele zoom end, which although seems painfully slow, is surprisingly usable. All thanks to the high native ISO speed of 102,400, shooting even at above 25,600 ISO still yields clean images with low noise. In addition, the built-in dual-sensing image stabilization can capture hand-held shots of up to 5 stops, and its macro function lets you capture up to 0.5x magnification. It is surprisingly versatile for general image and video capture.
During a test shoot, the EOS R6 Mark II paired with the kit lens performs well with fast auto-focus and impressively low noise at ISO 25600. I like the ability to adjust EV with the lens focusing ring while half-pressing the shutter so that I can finetune the exposure before snapping the shot.
One thing that keeps getting in my way is the touch AF, which always gets shifted when I did my walkabout because of accidental touches on the display. Fortunately, I can just reposition the AF area by touching the display quickly. There are many ways to circumvent this issue, but I like the ability to select my AF area quickly.
Video recording with the kit lens is not so ideal without a smooth zoom ring operation, and the image stabilizer is also not as effective when walking. I also miss the depth of field as the kit lens lacks a wide aperture to throw the background off focus. But the R6 Mark II feels sturdy with the sizable hand grip that will improve handling with larger lenses.
The Canon EOS R6 Mark II delivers more professional video production features and retains a solid performance for still image capture. It was intentional to conduct a shoot with the RF24-105mm f/4-7.1 IS STM to experience the limitations and potential of the camera body. While low-spec lenses could not maximise the capabilities of the R6 Mark II, the body definitely pushes the imaging boundaries to attain better shooting performance with entry-level lenses.
Rating: 4.5
We Say: A new mark of excellence in professional video production and a solid performer of still image capture.
S$3,899 (body only)
S$4,388 (with RF24-105mm f/4-7.1 IS STM)
sg.canon
Technical Specifications
Image Processor DIGIC X
Image Sensor 24.2 MP CMOS
Effective ISO 100-102,400 (Stills), 100-25,600 (Movie)
Continuous Shooting 40fps (electronic shutter)
Max Shutter Speed 1/16,000 sec (electronic shutter)
Movie ProRes RAW 6K (6000 x 3374) with HDMI RAW output, 4K UHD / 4K UHD Crop (3840 x 2160), Full HD (1920 x 1080)
Recording Media Dual Card Slots (SD, SDHC, SDXC), UHS-II cards compatible
Battery up to 10 hours playtime, 3 hours charging
Dimensions 138.4 x 98.4 x 88.4 mm
Weight 670g (includes battery and memory cards)