The newest collection of products and services from Lenovo is aimed at innovating and enhancing the user experience. The new portfolio offers consumers and business customers a more individualized technology experience with new form factors, gorgeous design-led devices, and creative applications of AI.
In accordance with its goal of attaining net zero by 2050, Lenovo's commitment to ESG is also demonstrated by the new portfolio. Lenovo is committed to promoting a circular economy by using more recycled materials in its goods and packaging and working with partners in the business community to improve the energy efficiency of its products, all in line with Science Based Target activities.
Premium Consumer Devices Spotlight Innovation in Unexpected Ways
To meet the diverse demands of modern customers, Lenovo unveiled innovative new products. With tremendous innovation, luxurious elegance, and performance for a range of experiences, the brand-new, cutting-edge Yoga Book 9i ushers in a new era for Yoga. The design-driven Yoga AIO 9i redefines what an all-in-one desktop computer might look like. The brand-new Yoga Slim 6i (14″), also known as the Lenovo Slim 7 (14″) in the US, is a beautifully crafted, lightweight, and powerful computer. This laptop is thin, light, and stylish, enabling users to work and create content with ease whether they are at home or on the go.
Additionally, Lenovo unveiled updates for its Yoga 9i (14″, 8) and Yoga Slim 7i Carbon (13″, 8), all of which are equipped with up to 13th Gen Intel Core processors, giving even more remarkable performance to increase adaptability and productivity. Additionally, the upgraded Yoga 6 (13″) 8 laptop has a stronger battery and the newest AMD Ryzen 7000 series CPUs to support longer remote work sessions.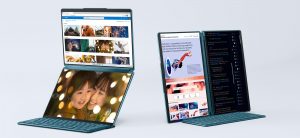 The feature-rich Lenovo Tab Extreme tablet and Lenovo Smart Paper smart notepad offer innovative features for use at home, at school, and in other situations. The Lenovo Tab Extreme is the company's largest and most potent tablet to date. It has a dual-hinge keyboard design2, and a special storage compartment for the bundled Lenovo Precision Pen 3 is made within the primary hinge of the stand.
A new technology called Project Chronos from Lenovo (official name to come) tracks a user's movement. It makes it simpler than ever for people to access virtual worlds since it allows them to engage with and carry out actions in 3D virtual environments without glasses or wearables.
Innovative Creations for SMBs
Lenovo unveiled a cutting-edge new ThinkBook Plus model with a dual rotating display that has an OLED panel on one side and a vibrant e-Ink screen on the other. This model reimagines Lenovo's rich tradition of the twistable form factor. Additionally, Lenovo presented its most recent ThinkBook 16p Gen 4 notebook, which is equipped with high-performance parts. With a magnetic pin connector, this device has a unique Lenovo Magic Bay modular accessory design that makes it simple to add optional Lenovo Magic Bay 4K Webcam, Lenovo Magic Bay LTE, or Lenovo Magic Bay Light accessories.
Additionally, Lenovo unveiled a new ThinkBook 13x Gen 2 Wireless Dock that combines a number of wireless technologies to produce a docking and charging solution that is almost cable-free. Lenovo has just announced the newest Tiny form factor in its lineup. A 1L space-saving desktop called the ThinkCentre Neo 50q was created especially for SMB clients.
Expanding the gaming experience
The battle-ready 2023 Lenovo Legion series of PCs, monitors and peripherals has raised the bar for PC gaming and given players the advantage they need to dominate leaderboards. The Lenovo Legion Pro 7 and 7i (16″, 8) and the Lenovo Legion Pro 5 and 5i (16″, 8) laptops each have the Lenovo LA AI chip, which is new for 2023 and the first specialized AI processor on a gaming laptop3. The Lenovo LA AI chip, which powers Lenovo AI Engine+, uses a software machine learning algorithm to fine-tune system performance.
On the desktop front, the new Lenovo Legion towers represent the pinnacle of extreme power and performance. The Lenovo Legion Tower 7i (34L, 8) and Lenovo Legion Tower 5i (26L, 8) both feature up to 13th Gen Intel® Core desktop processors and NVIDIA® GeForce RTX 40 Series GPUs, while the Lenovo Legion Tower 5 (26L, 8) offers up to AMD® Ryzen 9 processor and AMD Radeon RX 7000 series.
The 27-inch Lenovo Legion Y27f-30 FHD and 27-inch Lenovo Legion Y27qf-30 QHD displays, which are designed to suit the needs of both content producers and gamers, complete the lineup of the brand's newest monitors.
ThinkPad X1, ThinkPhone, ThinkVision and Lenovo Go Power Hybrid Working
Lenovo unveiled its newest ThinkPad X1 notebooks made of recycled materials, upgraded Lenovo Commercial Vantage software and a new Lenovo View application that offers cutting-edge computer vision technology for improved video picture quality and solutions for collaboration, security, and digital health. The ultra-bright ThinkVision P27pz-30 and P32pz-30 mini-LED displays are the flagship models in ThinkVision's newest line of monitors. These are followed by ThinkVision's new T-series VOIP monitors designed for hybrid work, which include integrated Microsoft Teams functionality, 5MP cameras, dual microphones, and speakers. Additionally, Lenovo unveiled its most recent 4K ThinkVision P-series displays for professionals and new, more affordable Lenovo L series monitors for homes. Completing an efficient hybrid eco-system are new accessories, including the unique Lenovo Go Desk Station, Lenovo Go 4K Pro Webcam, and Lenovo Professional Wireless Rechargeable Combo Keyboard and Mouse.
In honour of ThinkPad's recent 30th anniversary, welcome the Lenovo ThinkPhone by Motorola, which is designed to provide companies with a smartphone experience with the same known quality and durability found on every Lenovo Think-branded product. This gadget includes a set of productivity experiences called Think 2 Think, which allows business customers to enjoy seamless device integration between a ThinkPhone and a ThinkPad. It is equipped with the Snapdragon 8+ Gen 1 mobile platform, a bigger 6.6″ FHD+ display, and a 68W TurboPower universal charge that can charge both the phone and the PC, ensuring that the device works at optimum performance for years to come.
Consumer Devices Delivering Next-Gen Features for Performance, Versatility, and Convenience
The newest line of consumer products from Lenovo is packed with unique features and improvements intended to support individuals in connecting with their hobbies and achieving their everyday objectives. The sleek and small IdeaCentre Mini (1L, 8) desktop, the five new performance-driving and portable IdeaPad laptops (IdeaPad Pro 5i, IdeaPad Pro 5 Gen 8, IdeaPad Slim 5i, IdeaPad Slim 5, and IdeaPad Flex 3i Chromebook), the 9-inch Lenovo tablet (Lenovo Tab M9), and the flexible Lenovo 500 USB Type-C Universal Dock are all made to fit the on-the-go lifestyle of today's consumers. These new tools provide speed, variety, and convenience to meet their requirements wherever they are, whether they are working, learning, producing, or simply keeping up with friends who live elsewhere.
Supporting Services and Software
Lenovo provides a variety of device health, maintenance, and protection services in addition to these high-end hardware alternatives to help keep goods operating at their best and more secure. One such service is its most recent cloud-based security program, Lenovo Smart Lock4. Lenovo Premium Care Plus3 combines a number of its services into one package for enhanced simplicity while supporting the laptops that were just unveiled. This complete service includes Accidental Damage Protection, an extended battery guarantee, Lenovo Migration Assistant, and Lenovo Smart Performance, a self-diagnostic system health check available inside Lenovo Vantage. It also offers advanced hardware and software support.