After testing out Sennheiser's Momentum 4 Wireless, it is safe to say that I have been immersed in my world of music.
The most recent MOMENTUM 4 Wireless raises the bar because it has superior battery life and is designed to last a long time. Even after listening to music on it the whole day of work, gym, dinner, and travelling around, I was pleasantly surprised that I still had 90% battery left! I did not have to charge it the whole week at all. Honestly, amazing battery life. With 60 hours of playback duration and fast charging, the Momentum 4 is the perfect travel companion. Check out a short video I made as I brought the Momentum 4 out with me for my routine night walks and dinner!
Walking around Robertson Quay was made so much more enjoyable with these headphones. A headphone for audiophiles, it delivered brilliant dynamics, clarity and musicality. On my walks, I prefer listening to more upbeat songs with a deeper bass to keep me going, hence I set my presets to one with deeper bass.
In the Smart Control App, I utilised the built-in EQ, presets, sound modes, and Sound Personalization function to customise the sound to my unique hearing needs. I could also choose between Transparency Mode and Adaptive Noise Cancellation, or fine-tune the levels of each mode. When I am walking with my friends, I would turn up the transparency mode so I could still engage in conversations with them. When the surrounding noise such as traffic gets too noisy, I will then turn on ANC. All these are easily adjustable with just a touch.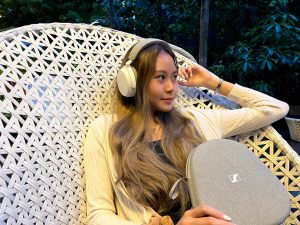 Aesthetically, the Momentum 4 is slim and lightweight, and not bulky at all. I tend to stay away from headphones as I assumed that most of them were bulky (doesn't look good on), but the Momentum 4 proved me otherwise. I love the sleek white design, with very comfortable cushions that allowed me to enjoy all-day comfort while wearing them. I wore them out while travelling the whole day, and the headband did not place too much pressure on my head. I would have to say that leaving ANC on for too long does induce a bit of a headache, but that was easily solved when I turned on transparency mode.
What made it extremely convenient was also the fact that the headphones came with a compact casing, complete with dedicated slots for charging cables. This makes travelling with headphones so convenient and simple. I did not miss a beat thanks to Smart Pause, which automatically resumes playback when the headphones are put back on my ears after being removed.
The new MOMENTUM 4 Wireless Headphones retail at S$499 and is available at the Sennheiser webshop and all authorised Sennheiser retailers.