Lenovo IdeaPad 5i Chromebook, Lenovo IdeaPad Flex 5i Chromebook & Lenovo L-series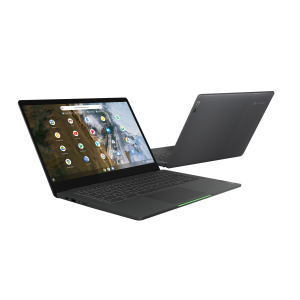 The dual-tone and narrow bezel design of the IdeaPad 5i Chromebook (14", 6) help make this new laptop a real head-turner. Built for young adults and students who prefer the ease of Google's cloud-based Chrome OS ecosystem for light computing, this delightful laptop is ideal for schoolwork, entertainment and enjoying streaming apps, such as Spotify and YouTube. Content looks true to life via Full HD on the 14-inch In-plane Switching (IPS) touchscreen display at 300 nits bright, while an enhanced user-facing stereo speaker system with a built-in amplifier provides full, crystal-clear audio as certified by Waves MaxxAudio. This laptop is offered in two hues, Sand and Storm Grey, and its light and slim chassis are made to be carried around anywhere.
The new convertible laptop packing Chrome OS features and access to all your files, photos, music and more in a compact package is the IdeaPad Flex 5i Chromebook (13", 6). Offered in two chic colours, Abyss Blue and Iron Grey, its flexible 360-degree hinge makes flipping to any mode a cinch for multitasking or managing smart home devices. Its 13.3-inch Full HD IPS LCD touchscreen with narrow bezel display and 250 nits of brightness lets you see the big picture without weighing you down starting at just 1.35kg (2.98 lbs) light. Stream audio that's remarkably clear and 40 per cent louder over the previous gen, thanks to its enhanced stereo speakers and built-in amplifier certified by Waves MaxxAudio through high-quality tuning presets for expert audio precision.
Prefer the flexible 'work and play from anywhere' lifestyle? A great companion for your compatible phone or laptop is the new super portable Lenovo L15 USB-C Mobile Monitor. Incredibly lightweight at just 860 grams, the Lenovo L15 USB-C Monitor virtually doubles the viewing space of any screened device with an extra 15.6 inches of Full HD screen real-estate. No matter what kind of video content you're trying to enjoy on your phone's small screen while remote, your viewing experience will be vastly improved by connecting to this larger, portable screen that can be tucked away in your bag's front pocket until it's needed.
Elevate online collaboration, video call experiences, and gameplay recordings, with the new Lenovo LC50 Modular Webcam. Designed to connect via a USB cable to one of the new Lenovo series monitors unveiled today, the webcam magnetically fastens securely atop a monitor's slim head – since everything just works better when it works together. This Full HD 1080p webcam with built-in tilt capability, dual noise-cancelling mics and 4x digital zoom transform nearly any room into an affordable video conference centre. It also features great audio-visual quality, and a physical lens shutter and a red LED indicator light that lets you know if the camera or mic is on.
Lenovo Go Remote Work Accessories
The Lenovo Go Wireless Multi-Device Mouse is the perfect companion for the multitasking user who frequently switches between devices. Pair up to three devices and effortlessly cycle between them with a push of a button. Remote professionals who constantly move between workspaces at home or the office will relish the Lenovo Go USB-C Wireless Charging Kit. Operating on a unique Power-by-Contact (PbC) technology, it can wirelessly charge typical 13" and 14" laptops. Lenovo Go Wired Speakerphone liberates ears from headset pressure and offers flexibility and excellent sound quality.
Managing personalised settings can often be a chore, especially if it requires opening multiple applications to adjust different criteria. Lenovo Go Central software helps users manage and control compatible accessories from a single application. Adjust mouse settings or manage audio configurations for headsets are easily achieved through the intuitive interface. Travelling long-distance or just between home and office locations can be a frustrating experience with often needed accessories. Throwing a smartphone, headset, mouse and power bank into a carry case along with a laptop can cause damage. Storing essential accessories in the sleekly designed Lenovo Go Tech Accessories Organiser protects them with compression-moulded compartments and splash-proof zippers. With dedicated sections for mouse, power bank, earbuds and power cable, the organizer also includes space for a smartphone and pens, so everything has an easy to reach the place.
Lenovo ThinkPad L 13 Gen 2 & ThinkPad L13 Yoga Gen 2
The ThinkPad L13 Yoga Gen 2 is our first Windows 10 convertible laptop powered by the latest AMD Ryzen Mobile processors. Delivering the speed and responsiveness needed in today's work-from-anywhere world, the 13.3-inch L13 Yoga Gen 2 delivers multimode versatility for up to 10.6 hours per day from its 46Whr battery. The optional Integrated Pen is designed to work on the touch-enabled display in the familiar ways' users do, with more accurate write, draw, scroll and swipe functions.
The ThinkPad L13 Gen 2 delivers a powerful, enjoyable and secure clamshell laptop experience. With the same core components as the L13 Yoga and up to 10.8 hours of battery life, the L13 Gen 2 is an ideal choice for today's hybrid workstyles.
Lenovo ThinkVision M15, Lenovo ThinkVision MC50, Lenovo ThinkVision T24m
ThinkVision M15 mobile monitor that delivers second-screen flexibility in a highly portable package, and the ThinkVision T24m-20 display and MC50 webcam together offer a thoughtfully designed high-quality affordable video conferencing solution.
An excellent companion to the X1 Extreme is the new ThinkVision M15 mobile monitor. Weighing just 860 grams (1.9 pounds), the M15 almost doubles the X1 Extreme viewing space with an extra 15.6 inches of FHD screen real-estate, easily connected via a USB Type-C cable which can also offer power pass-through for an elegant one cable solution. It can even connect to a compatible smartphone with a full-function USB Type-C port.
If a larger fixed monitor is needed for a dedicated workspace, the ThinkVision T24m-20 is not only a 23.8-inch FHD monitor but is an effective one cable USB Type-C docking solution that supports data, video/audio, ethernet signal transfer and up to 90W power delivery to compatible devices. It also supports more advanced functions such as a daisy chain for a multi-monitor configuration and a mirrored power button that can turn on a compatible connected PC. ThinkVision T24m-20 also features the Lenovo Display Control Centre software, called ThinkColor, that helps users seamlessly multitask and make advanced screen adjustments through single or multi-display windows in a simple point-and-click user interface.
Designed to fit any current ThinkVision P or T series monitor, the new ThinkVision MC50 Monitor Webcam is perfectly suited to transform the T24m-20 into an affordable video conferencing hub. The FHD 1080p webcam with built-in dual noise-cancelling microphones delivers great audio-visual quality and has a clever smart traffic light that illuminates a red light on top of the webcam when the user is in a conference call, thereby informing colleagues or family members that the user is "busy"!
Visit Lenovo's MWC homepage for more information.