NXT recently interviewed acclaimed wedding photographer Raymond Phang for his impressions on the Canon EOS R5 full-frame mirrorless camera. Note that an edited extract of this interview appeared in NXT Magazine's February 2021 edition, and we are reproducing the full interview, with images.
All images and video copyright Raymond Phang Photography and used with permission.
NXT: You mention that photography was your hobby before it became your profession, when did you start taking photographs, and how did you develop your style with wedding photographs?
Raymond Phang: I started taking photographs, weddings in particular, in the year 2003. When I was in National Service, I was also very involved in the photography aspect on top of training and will take photographs for my unit's events and group photos.
Looking back at the photographs taken for my first few wedding shoot, I can't help but cringe. Haha!! It started off with those cheesy photoshop effects of black and white images with selective coloured highlights. There's also a lot of images shot tilted on purpose. Slowly with more wedding shoots, I feel more connected with emotions to capture the candids moments and focused less on the photoshop effects.
Then I met my very own special someone, who is also a little bit crazy and very funny. She's not the romantic person who can stand infront of the camera and pose for lovey dovey shots! Every time I tried to take photos of her, she'll be quick as a hummingbird to raise her hands to cover her face. Otherwise, she'll do all sorts of silly funny unglamorous actions – everything but a proper smiling face. So that was the gateway to my signature crazy and funny conceptualised pre-wedding shoots. We started thinking of funny concepts to shoot with elements of the couple's personality and stories injected so that the photos are special to them. One look at the photos, their friends and family can relate immediately and know yes, it's them.
Your most notable pre-wedding photographs seem similar to how a commercial/editorial shoot is conceptualised, where the picture 'tells a story', is it harder to speak and deal with wedding couples or marketing clients?
Our conceptualised pre-wedding shots are very niche in the market as it's a style not everyone can see themselves doing – acting out a scene and looking funny, for example. We didn't really market it out but we let couples come to us instead because those who love the idea will naturally convert themselves and come to us naturally wanting to have this style of photos taken without us having to market the ideas to them. It takes some commitment from the couples as they have to share with us a "biography" of how they met, their quirks, likes and dislikes, even secret fantasies in order for us to come up with a concept suitable for them. Yes, there are many people who like our conceptualised pre-wedding photos but are often daunted to pose when asked to do such a shoot knowing the procedure, or their partners preferring to have beautiful bridal shots taken with beautiful sceneries in the background. Those who did the shoots with us are really one-of-a-kind dream makers like us who pushed for the impossible. Many of whom became very close friends of ours even until today.
You've been using the Canon EOS R5 since it came out, can you speak to us a bit about this?
Yes! It's really one of the best cameras from Canon, and I have no regrets waiting and sticking with Canon, and finally when this model was released, I was first in line to get it! I super love the AF tracking function which is one of my favorite features. I'm not a wildlife photographer, I don't photograph birds or animals which can be unpredictable in terms of their movements, but I found that this feature is very useful even in weddings where I can lock on to the couple and get pin-sharp focused shots during the March-In and various parts of the day. You know sometimes couples can get the jitters and literally "run" in the Wedding March. If the march-in aisle is a short one, like in some hotels, and you didn't manage to get any shots in focus, you're in trouble because on an actual day wedding celebration, there's no repeat. The eye AF tracking is so good I can let it work on its own while I concentrate on framing my subjects.
Have you used Canon's RF system before the EOS R5?
I've tried the EOS R but it didn't become my staple as there were no dual card slots in the camera. It's one of my most important camera features as I use it as a safety net to record the photos simultaneously into two cards, in case my number one card fails, especially when a wedding day celebration can never be repeated or it will be extremely costly to repeat a commercial shoot.
How do you find the EOS R5 when compared to a Canon DSLR? Do you feel the battery life is decent, considering the EVF draws power?
Comparing to a DSLR, battery life is definitely shorter but still decent. During a full-day wedding shoot, a change of battery is recommended. I've also bought some spare original Canon batteries to standby for shoots when I have to be on-site for longer hours, especially during wedding luncheons where there's no break in between to charge those batteries. A battery grip (with additional batteries) works wonders in such a situation.
Does the inclusion of a CFexpress card slot help you in recording 4k/8k videos?
Definitely, its a must as it allows the EOS R5 to record 4k/8k videos because of the sheer amount of data that's generated. It also helps to clear the buffer faster when we shoot images in bursts, especially for my commercial shoots where I shoot in RAW format and sometimes I have to shoot multiple bursts, yes the CFexpress helps.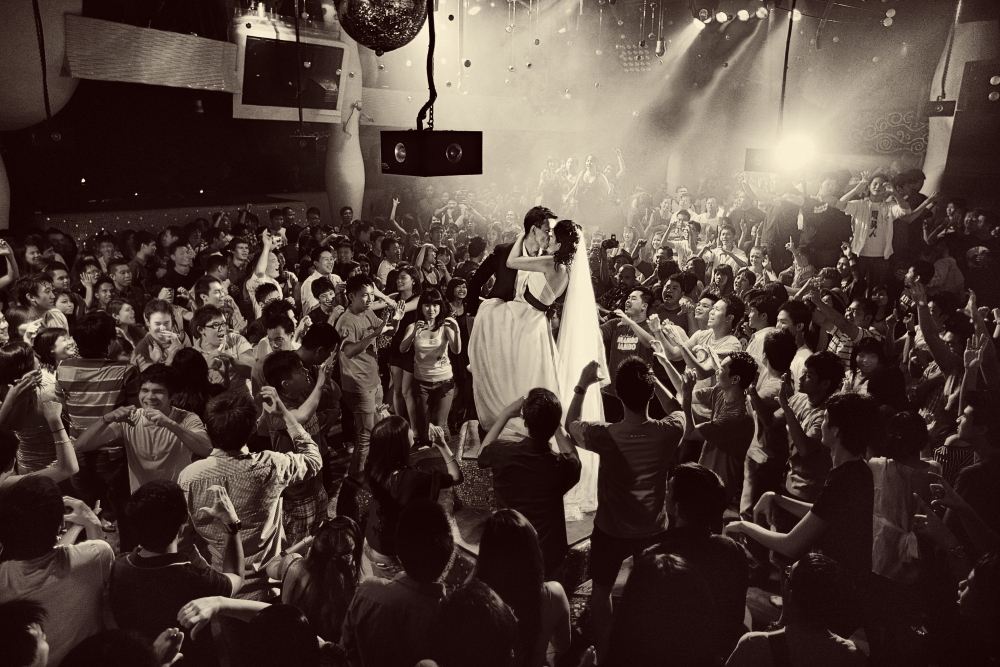 Speaking of 8k videos, have you experienced capturing videos in this resolution, and what's your take on capturing 8K videos?
I haven't explored 8K videos since my primary focus is photos, and we don't use video in our deliverables to clients but we did play around with the 8k videos function and those clips that we shoot and experiment with are astonishingly clear with incredible details and super sharp. It's like watching super high-resolution photos in motion. Mind-blowing!
You mentioned in your video that you found eye-tracking to be excellent and in your video you had a subject moving diagonally towards the camera, which isn't an easy shot for previous generation eye-AF.
Yup, I did a shoot with the house lights on set switched off which I purposely made it quite low light to stress test the camera and there were fruit loops cereal flying around and people running! The AF tracking was excellent! I still managed to get a clean shot with pin-sharp focus! Previous generation technology wouldn't be able to deliver that, with hits and misses. Previously to do such a shoot, I will have to set up a killzone where I have to prefocus and the subject runs into the designated spot so I can shoot. Nowadays with the eye-AF, there's no need for that anymore.
How do you find using a relatively compact mirrorless full-frame camera, and the new lenses?
My hands are big hence I don't mind big cameras as they fit nicely in my hands so I immediately purchased the battery grip. That said, it helps a lot too that I am able to tear away the grip and work with a small compact camera because there are some shoots and some locations that require us to be discreet, and being seen with a big camera might get us in trouble with the security so I like the flexibility of having compact size camera and having the choice of adding grip for more comfort. To me the new RF lens are in a league of their own. The sharpness from the lens and the ability to shoot with open and still get sharpness corner to corner is crucial for any photographer out there. When you marry the number of details the lens can capture with a high-resolution imaging sensor on the  EOS R5, the end result is an insane amount of detail when you zoom in that you never thought possible previously.
Does its high ISO/Low noise feature enable you to use fewer lights on a location shoot?
Oh yes, it's another one of my favorite features! Especially when they like to dim the ballroom lights during March-In for wedding dinners. It used to be a killer for photographers with inadequate gear, as they'll end up with extremely noisy & blurry images, or in-your-face shots when they blast direct camera flash on the couple. I really hate that as it kills all the ambiance and mood. With this high ISO/low noise feature, I get almost noiseless usable images, combined with the AF tracking – images that are in focus!
Does the EOS R5 make your workflow easier with its WiFi connectivity and ability to transfer directly to the cloud?
Yes, there is built-in WiFi and Bluetooth so I can sync my phone or iPad to the camera. Images that are shot can be viewed on the iPad or can be sent to the client for confirmation on the spot without having to wait until we're back in the studio to download.
Would you recommend the EOS R5 to enthusiast photographers? It's quite a versatile multi-use camera for indoor, outdoor, sports and portraiture photography, but some users will balk at the price.
Yes definitely! In fact, I've been poisoning my friends and asking them to try the camera! I've had couples who are photography enthusiasts asking me about the EOS R5 as well. I've always believed in making good investments. Take the price and divide it by a year at least. It'll all make sense. Like my wife always says: "if it's a lot of improvement, if it helps you in your work, just get it!"
With the latest Canon DIGIC X processor on a new 45MP Full-frame CMOS sensor, the Canon EOS R5 is a trendsetter, especially as it is also the first consumer mirrorless camera to support 8K video capture. At up to 20 fps, it's blindingly fast, and with a powerful In-Body Image Stabilizer can capture high-quality images and videos in any situation.
The Canon EOS R5 is now available at all Canon authorised dealers at the recommended retail price of S$6,199 (body only), for further information, visit sg.canon.