Hi friends! I am back again with another article describing my experience using the Lenovo Yoga Slim 7i Carbon! This laptop fits into my life like a glove! Also, I got a good deal to share with you guys! Don't say bojio ok!
Video
Watch the video below for my user experience on the new Lenovo Yoga Slim 7i Carbon. I hope you find this video interesting and insightful. If you are interested to find out what I like about this laptop, please keep reading!
Feather-light Weight
The Lenovo Yoga Slim 7i Carbon feels like a feather because it only weighs 966g, but for its weight, it is really durable. It went through several tests that proved its military-grade standard and it will be able to suite your lifestyle! Especially if you are someone as clumsy as me! Even if you are someone that isn't clumsy at all, an assurance wouldn't hurt, right?
Just a funny story to share, I recently got a new addition to my family – my puppy! He is only four months old and he is really curious about everything! Once, I placed the Lenovo Yoga Slim 7i Carbon on the dining table and I left to get some stuff. He somehow got curious and pushed the laptop onto the floor! I was worried sick! But thankfully, the laptop is still in pristine condition without defects whatsoever, since this laptop is shock-proof. What can I say?
Beautiful Moon-white Exterior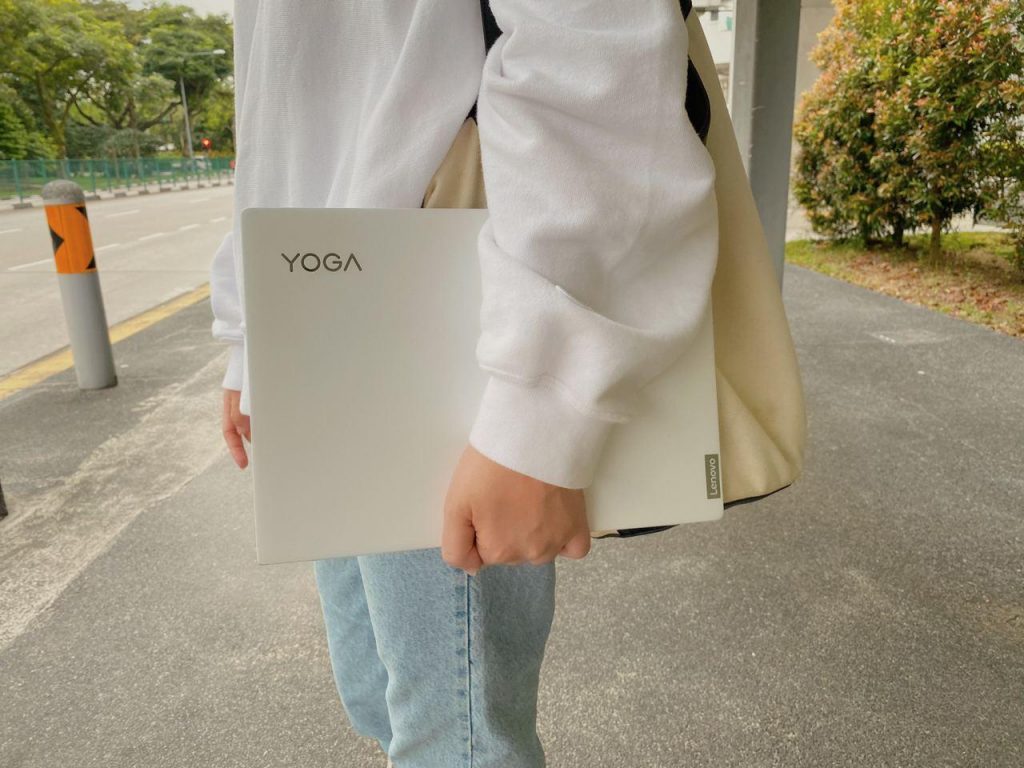 The moon white colour has a soft, smooth and subtle sheen that makes it look so elegant. Together with the anti-fingerprint finish, this laptop will stay pristine through everyday usage!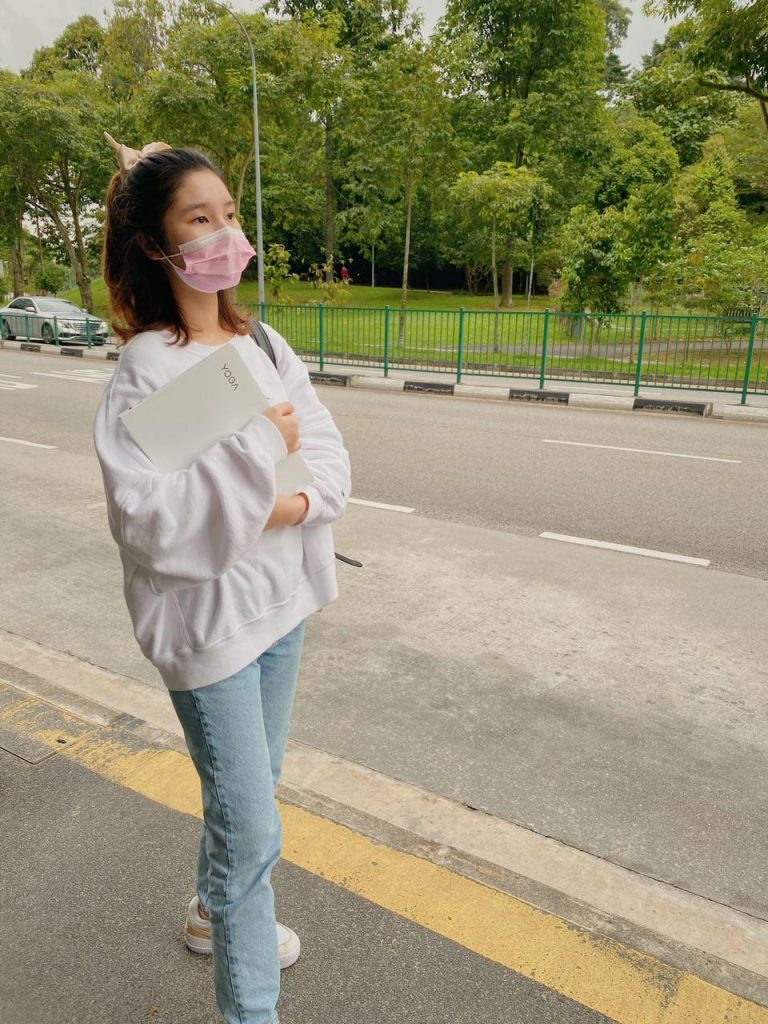 This laptop also fits into my wardrobe perfectly since I am mostly seen wearing light-coloured clothing pieces!
Rapid Charging

From 5%…
To 100% within an hour!
The Lenovo Yoga Slim 7i Carbon is equipped with a rapid charge boost for faster charging and this feature is important for me, since I'm juggling an internship and school. On top of fatigue, I am always forget to charge my batteries, so I really appreciate the rapid charge boost feature!
To add on, I have a real-life story to share! I did my research on this laptop before getting my hands on it and I was aware about its rapid charge boost feature, but I wasn't going to risk not charging my laptop. But a week ago, I got back home after a long day and was so tired I forgot to charge my notebook! The next day, I panicked and quickly charged it while I got ready for my day! I took around 45 minutes to get ready and it was almost half charged within that time frame. But what I was really impressed with was that it lasted me the whole day (12-15 hours) without a second charge! I even brought the charger out, thinking I would need it!
Backlit Keyboard and Better Screen Display
I enjoy this backlit keyboard feature on the Lenovo Yoga Slim 7i Carbon because it allows me to work confidently and comfortably in low light environments! It is also automated and able to detect low-light conditions to provide you with the immediate convenience.
The screen display is fantastic because the display of the screen lighting can filter out harmful blue-light (TÜV Rheinland-certified Eye Care). The 13.3-inch display is terrific, with QHD resolution that displays crisp and sharp text even in low light environment while protecting your eyes. It is also Dolby Vision certified and optimised with 100% SRGB colour gamut and 300nits brightness, for vibrant visuals.
Lenovo x Poly Students Laptop Deal
Are you a Polytechnic student planning to get a new laptop in 2020? If yes, Lenovo got you covered! Polytechnic students (SP, TP, NYP, NP, RP) now get to seize the latest Lenovo laptop and enjoy savings up to 40%. This is an amazing deal! I am currently a year 3 student in Nanyang Poly and I am considering in taking advantage of this deal Lenovo has! You may visit this website to find out more! https://www.asiapac.com.sg/lenovo/