JBL launched the Quantum series in CES 2020, the brand's first gamer-centric range of gaming headsets and desktop speakers, and the flagship Quantum One gaming headset features an interesting mix of audio technology that's sure to appeal to anyone looking for a quality audio PC experience.
The Quantum One connects to your device either via USB or 3.5mm audio cable and is compatible with a range of devices, including Macs, gaming consoles and tablets, though to enjoy its full range of features you have to use it with a PC via USB and download the JBL QuantumEngine application suite to fully customize your Quantum One. Physically the headset looks suitably 'gamer' in aesthetics, mainly in flat black plastic, with RGB lights behind the JBL logo on each earcan and running along the sides. JBL has taken steps to ensure long-wear comfort with thick memory foam cushions on the headband and earpads, but they do accumulate heat in our weather, so are best used when you have the air-conditioning.
Connect the Quantum One to your device via audio cable, and you get a standard stereo headphone experience with a neutral sound performance, though if you connect it to your gaming console or Mac via USB to provide power, you can then activate active noise cancelling, which is decent but not particularly powerful, though it does help as the Quantum One's major weakness is that it doesn't have good passive noise-cancelling. We also found that the Quantum One was excellent for Zoom and Google Meet video conferences, where the removable boom mike picked up our voice clearly.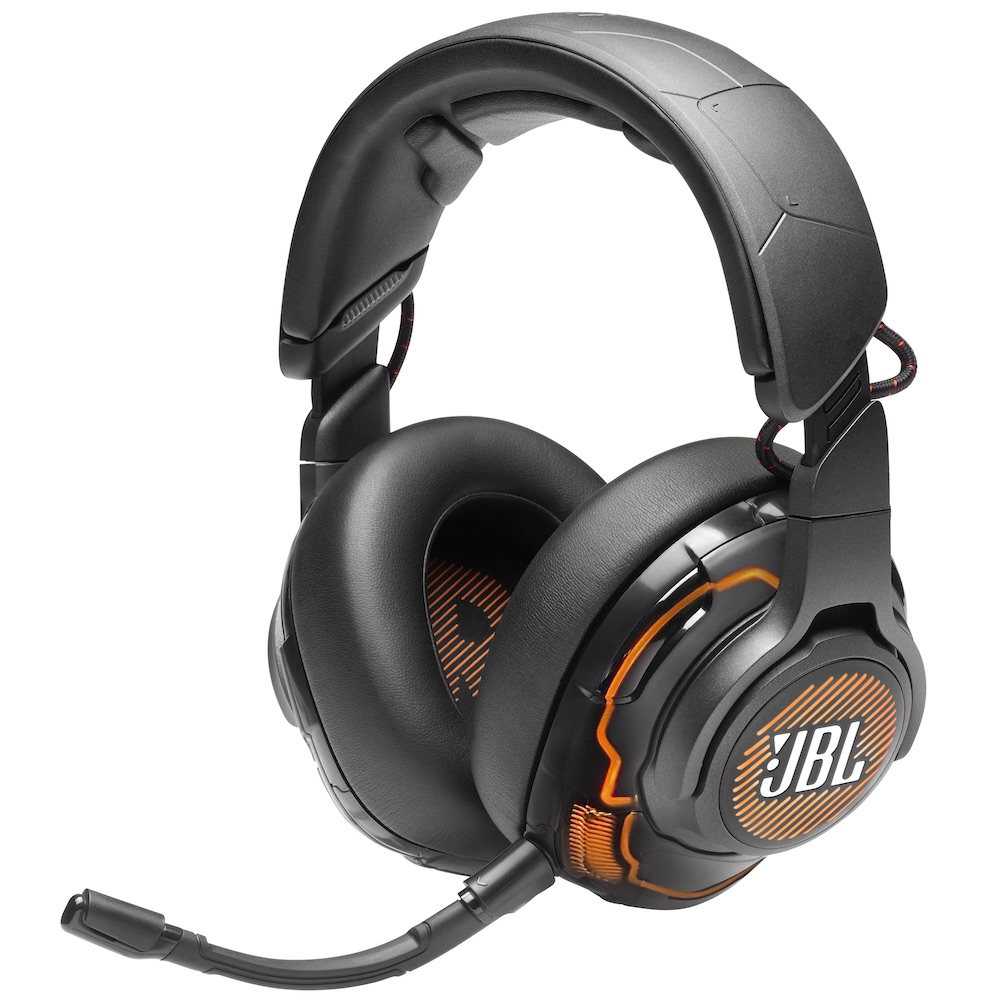 With JBL's QuantumEngine software, you get to experience the real versatility of this headset. The app enables users to tune your preferred sound profiles, configure the RGB light effects on the headset, access Dolby DTS sound, or when in QuantumSphere 360 mode: customize head-tracking and configure spatial sound to your head and ears. To a beginner more used to stereo sound, spatial audio sounds a bit weird, as instead of the same audio note coming equally from both earcans, you hear something much subtler, such as footsteps walking from your right to left, which is particularly useful for sneak games like Assassin's Creed. We tried out the early access version of Subnautica: Below Zero, which has lush atmospheric sounds, and as you're diving underwater, you can hear rain impacting on the sea's surface 'above' you! Both Dolby DTS and QuantumSphere 360 work with streaming applications such as Spotify and Netflix.
We say
JBL's new flagship gaming headset sets a high benchmark in an increasingly crowded market, though only PC users will get the full experience.
4.5 stars
S$369
First published in NXT Magazine August 2020, which can be purchased at https://www.magzter.com/SG/Kingsman-Media-Pte-Ltd/NXT-/Lifestyle/