The eighth-generation Apple iPad features the powerful A12 Bionic chip that brings the Neural Engine to the entry iPad for the first time.
This makes the new iPad up to two times faster than the top-selling Windows laptop, up to three times faster than the top-selling Android tablet and up to six times faster than the top-selling Chromebook.
The A12 Bionic introduces the Neural Engine for next-level machine learning capabilities, including people occlusion and motion tracking in augmented reality (AR) apps, enhanced photo editing, Siri performance, and more. In combination with A12 Bionic, the power of iPadOS, and Apple Pencil (1st generation), the new iPad is perfect for drawing, note-taking, marking up documents, and more.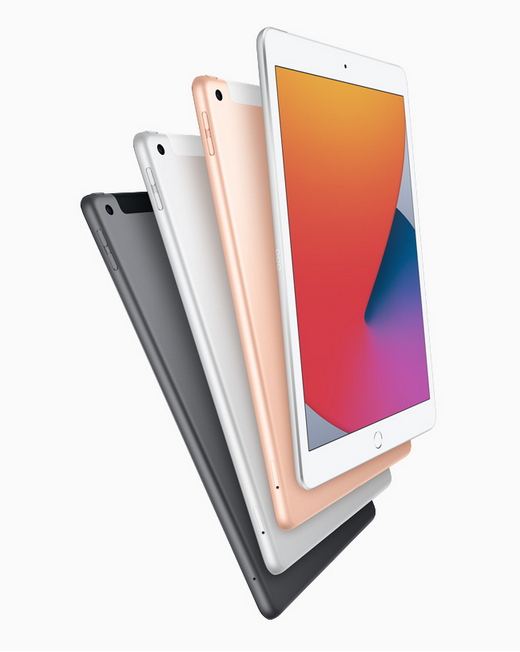 With its thin and light design, iPad is portable and durable with ultra-fast wireless performance, support for gigabit-class LTE connectivity, and all-day battery life, giving customers the freedom to work, learn, and connect at home or on the go. With Touch ID, unlocking iPad is simple and secure using just a finger, to keep important information safe.
iPadOS 14 is available for all supported iPad models including the new eighth-generation iPad. iPadOS 14 brings new features and designs that take advantage of the unique capabilities of iPad, its large Multi-Touch display, and versatile accessories. iPadOS 14 further integrates Apple Pencil into the iPad experience for better note-taking capabilities and new ways to work with handwritten notes.
When taking notes on iPad, Smart Selection uses on-device machine learning to distinguish handwriting from drawings, so handwritten text can easily be selected, cut, and pasted into another document as typed text using the same familiar gestures. Shape recognition allows users to draw shapes that are made geometrically perfect and snap right into place when adding diagrams and illustrations in Notes.
Data detectors work seamlessly with handwritten text, recognising phone numbers, dates, addresses, and links, making it easy for users to perform actions like tapping a handwritten number to make a call.
iPadOS 14 also brings Scribble to iPad, allowing Apple Pencil users to handwrite directly in any text field, making actions like replying to a quick iMessage or searching in Safari fast and easy — all without ever needing to put Apple Pencil away. Scribble uses on-device machine learning to convert handwriting into typed text in real time, so writing is always kept private and secure.