It's now pretty well documented how Fujifilm's Instax instant camera system has turned out to be such a smash hit over the years with consumers, and its popularity doesn't seem any signs of abating, with Fujifilm selling 8.5 million instax cameras worldwide in the last three quarters of 2019.
And since you've probably read the main feature of this issue, you'll realise that other camera makers have noticed, hence the introduction of either Zink-based cameras or cameras like the Leica Sofort that license Fujifilm's instax film system.
Fujifilm are of course always innovating to meet their competition and that's why they came up with the hybrid digital/analog instax system that was first used on the Share printer series, then the SQ10, SQ20 and now the LiPlay – they bring the best of both worlds – digital image capture, LCD monitors for selection and editing, then instant printing on the spot, that matches or exceeds their rivals.
The LiPlay is actually quite a decent digital camera despite its small CMOS sensor, we've viewed some of the photos we snapped with the LiPlay on our large PC monitor and noticed that it captures good contrast while colour saturation is excellent. With a rear LCD screen you can do some editing and choose from 30 frames and 6 filters, plus there's three side-mounted shortcut buttons on the camera that you can program via the mini LiPlay app to access your favourite frames. Hit print and the instax hybrid system will use an internal array of OLED lights to 'snap' your picture to an exposed Instax mini photo, which then pops out in about 12 seconds but does take a couple of minutes to fully develop.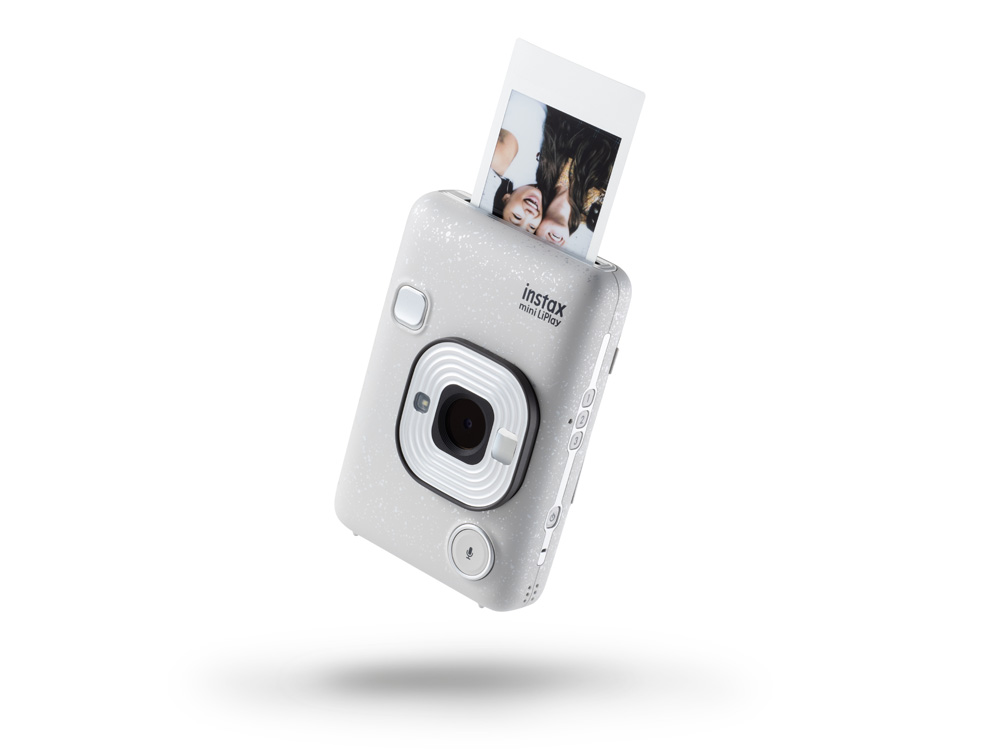 The results are actually pretty good – there's an obvious old-school photo-like reflectiveness and even on such a small photo the resolution lets you make out fine details. When we compared the photo with the digital image on our monitor we noticed that the colours on the photo were slightly faded, but the tones were kept.
For the LiPlay to record audio you need to ensure the LiPlay is connected to your smartphone over Bluetooth and have an account with Fujifilm's Instax servers in Japan. Press the record button just before your snap your photo to record up to 10 seconds of sound, or add the sound clip later when you're editing. You can then select where to place the QR code the LiPlay will generate on the photo, then hit print. What happens is that the LiPlay will actually generate a QR code to Fujfilm's server (sound.instax.com) where your specific sound clip will be sent to.
This means that anyone who uses a QR code reader app to view your photo will be able to access your sound-clip, so yes, don't record audio that you might regret later.
Verdict
Rating: 4.5/5
The Instax Mini LiPlay is actually a bit more versatile as it can also perform as a smartphone printer, and is simple to operate with well-featured app. It captures quite decent images and a 32GB microSD card will give you storage for abut 27,000 photos (so you don't have to print everything you shoot). Plus the voice/sound recording is quite novel.
S$249
Fujifilm Instax Mini Film from S$16.50 (10 sheets)