Toshiba, through its joint venture with Carrier, announced the launch of the Tosh x Shiba campaign, aimed at promoting the Toshiba YouMe, Singapore's first 5-tick low Global Warming Potential (GWP) Inverter Multi Split (IMS) air-conditioner (AC) in conjunction with World Environment Day on 5 June. Together with brand ambassador Tosh Zhang, Toshiba is leading the change to help Singapore move toward a more environmentally sustainable future.
Toshiba Appoints Tosh Zhang as Brand Ambassador
Toshiba brought together Tosh Zhang and the universally loved Shiba Inu as brand ambassadors for the Toshiba YouMe. Tosh, best known for his roles in the smash-hit series Ah Boys to Men, and man's best friend Shiba have come together to promote the Toshiba YouMe – Singapore's first 5-tick low GWP Inverter Multi Split AC.
Toshiba will be launching a contest on Instagram (@toshibaacsea) for an opportunity to win a unique staycation at Sentosa in a Big Tiny house. The winner will get a chance to experience the YouMe first hand in a beautiful mobile house, designed to lessen impact on the environment through less resource consumption.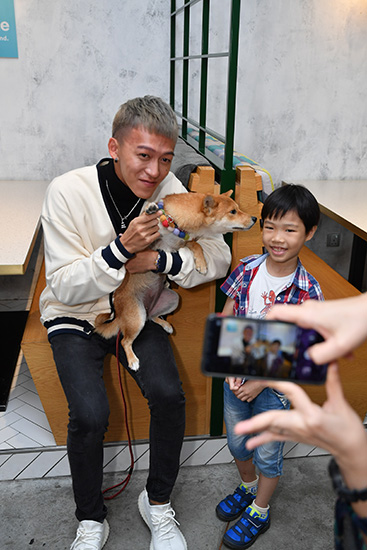 Toshiba YouMe, the World's Best Friend – Reducing the Impact on Global Warming
The Toshiba YouMe is inspired by the Japanese word 'Yume', which means dream. Dreams are often founded in reality and are more than merely slumbering illusions. Dreams are aspirations for people and their loved ones at work and home alike. Dreams are extensions of ambitions to live life to its fullest and to give future generations a world worth exploring.
The Toshiba YouMe works on sustainable technology to reduce the impact on global warming while delivering the lowest energy consumption for any 5-tick IMS in Singapore. Harnessing the energy of smart engineering, digital control technology and advanced chemistry, the YouMe is hyper-efficient. The R32 system releases up to 72% fewer CO2 emissions compared to an equivalent R410A system, based on a study conducted on Toshiba IMS products.