HARMAN International introduces the JBL LIVE series – with versatile in-ear, on-ear and over-ear models, set to redefine your listening experience.
Created with the everyday go-getter in mind, the JBL LIVE series is equipped with powerful JBL Signature Sound, sleek aluminium finishes and sophisticated touch-control features. With four different models to choose from, the perfect headphone is within reach for any on-the-go lifestyle.
The LIVE 400BT, LIVE 500BT, and LIVE 650BTNC models are designed to be compatible with Google Assistant and Amazon Alexa voice service technologies. Activated through the My JBL Headphones app, a simple tap on the left earcup would allow your preferred voice assistant to find you new songs, provide directions, or queue a calendar reminder for an important occasion – providing convenient solutions to elevate your day.
For those who like to be tuned in to their surroundings, the JBL LIVE 400BT, LIVE 500BT, and LIVE 650BTNC headphones are embedded with sophisticated TalkThru and Ambient Aware technologies. With TalkThru, music is lowered at the touch of a button, allowing for conversations without removing the headphones. In Ambient Aware mode, users can control the amount of external sound to allow in, remaining aware of their environments while being plugged to the music.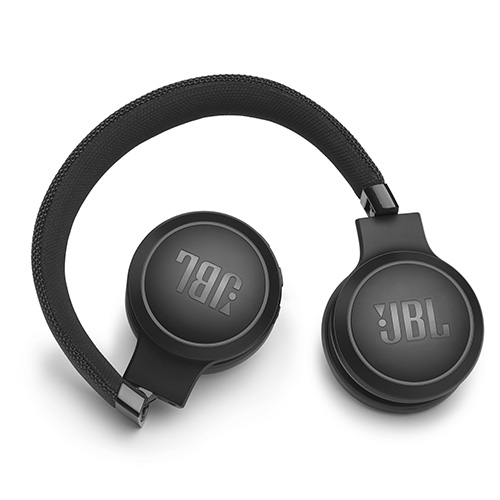 Press Play and Mute Distractions, with the LIVE Series' Flagship Model – The JBL Live 650BTNC
Headlining the JBL LIVE series is the flagship LIVE 650BTNC wireless over-ear headphones, sure to impress with its innovative design and immersive sound. Useful for a myriad of situations—whether on a long flight or in a busy café – the headphones feature in-built Active Noise-Cancelling technology to filter out ambient sounds, so you can revel in good tunes, uninterrupted and undisturbed.
Equipped with powerful 40mm drivers, the headphones deliver JBL Signature Sound punctuated with enhanced bass for you to immerse in a rich audio experience. It is also optimised with Google Assistant and Amazon Alexa to help get you through the day, and accompanied by a Multi-Point Connection feature so you can effortlessly switch from one Bluetooth device to another. Its TalkThru and Ambient Aware technologies also allow for a seamless listening experience from dawn to dusk.
Promising durability and comfort, the LIVE 650BTNC comes with a fitting fabric headband and soft ear cushions, conducive for long listening sessions. Rock out to 30 hours of music streaming with Active Noise-Cancelling turned off or 20 hours with Bluetooth and Active Noise-Cancelling on— and a quick 15-minute charge extends the fun for another two hours.
Pricing and Availability
The JBL LIVE Series is available for purchase at all leading retailers.
JBL LIVE 200BT: $109
JBL LIVE 400BT: $169
JBL LIVE 500BT: $219
JBL LIVE 650BTNC: $249