This Hari Raya Haji, skip the queues and delight your guests with homemade goodies. Roast your very own meats or bake batches of swirl cakes, cookies, pudding trifles and the like in the comfort of your own home. With TURBO's ovens, following recipes is a cinch.
TFM series: Big-capacity Ovens for Several Batches of Baking
The TFM oven series is huge, and the ovens' 65-litre capacity is ideal for baking several batches of Hari Raya Haji goodies at the same time.
The TFM8627 comes with seven functions and the TFM8628 with eight functions. Both models are equipped with a ventilation fan. As the ovens' top and bottom elements are enabled by effective heat control, you can now ensure even cooking throughout. The TFM628T also comes with eight multi functions with touch control. Cleaning of the oven is easy — simply give the surfaces a wipe to get rid of any residues or stains.
The TFM8627 is priced at $699, TFM8628 at $749 and TFM628T at $899.
TFX6605 and TFE6608: Italian Solutions that are Value for Money
Both of Italian make, the TFX6605 and TFE6608 are the epitome of style and performance. With a capacity of 54 litre, the ovens can be used to cook multiple Hari Raya Haji classics simultaneously.
The TFX6605 comes with five functions and the TFE6608 eight. Both ovens boast a fingerprint-resistant stainless steel finish, and hence are sleek in design. Their turbo fans help to circulate the air, a nifty feature that allows the surfaces of meat and cookies to brown beautifully. The TFX6605 is priced at $888 and TFE6608 at $1,098.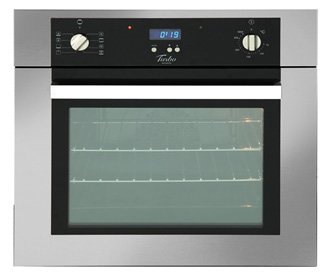 From 13 May 2019 to 5 June 2019, with any purchase of Turbo's Built-in oven, buyers will receive a Free Nano Ceramic baking tray worth $72.