Edwin, how long have you been working for Canon?
I've been working 19 years in Canon this year. It's been a very exciting journey. Frankly these 19 years have gone by rather rapidly – just day by day then after some time 19 years have past.
The camera industry has undergone such a change during your time at Canon – from the end of analogue and film cameras to the birth of digital photography, then the smartphone cameras leading to the end of affordable compact cameras, to the new mirrorless system Canon has just launched. Can you speak a bit about this change and how it affected you?
Well I think that's what keeps it interesting – its not doing the same thing everyday as there are always new challenges. I'm a trained marketer, marketing is what I trained to be and I find that whatever I studied in university is still applicable on a daily basis. So is very relevant to the field I'm in and I actually set up my career to move into this line as it marries my training, my interest – not just in marketing but also my interest in consumer technology – people who know me also know I'm a gadget-phile and so to be able to work on this equipment and participate as the industry transforms rapidly from analogue to digital brings new challenges. Even in the field of marketing itself, the customer journey has also evolved. So every day is a new marketing challenge that has kept me on my toes and has made my job more exciting.
Of course, the transition from analogue to digital itself has been very interesting with a phenomenal growth stage in cameras as people upgrade from film to digital and Canon making our cameras more accessible, even our DSLRs. Of course the market evolves over time and in constant flux, and today we see interest in mirrorless, especially in Full-Frame cameras. Our recent introduction of the EOS R and RP is a response to the market and we've seen great traction with these cameras. We are excited, but it's not just the EOS R and RP camera bodies itself but the whole new optical system that really gets me exited, the promise of the new RF lenses – you've seen what these lenses can do and it's exciting times for the industry.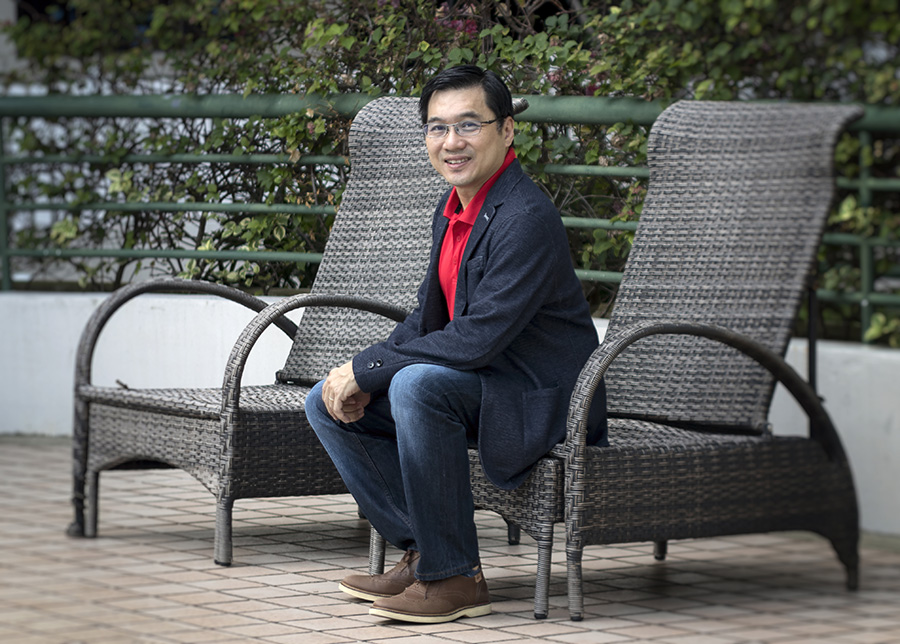 The move towards the RF lens system – does that mean the end of the EF lens series?
Well I think its still early days. We currently have cameras across different line-ups, from compacts to interchangeable lens systems like the EOS M series, the EOS E series and the EOS R series. We are here to support photographers in all forms and fashion depending on theisr needs and requirements – we will respond with an adequate product line that will suit their needs but as to how the market pans out in five to ten years its still early days. We've seen an interest in customers moving into Full-Frame mirrorless with the EOS R and RP but there's still a market for EOS users with optical viewfinders, there's still a market for lightweight EOS M series cameras and there's still a market for premium compacts like our G-series. As long as the market is there Canon will continue to develop products to suit these needs.
Why was Canon late to the Full-Frame mirrorless market?
I don't believe Canon was late to the market in that sense. It was more like when was the right time for us to commercialise our products, not about the latest bells and whistles and having the latest technology, but more about getting the features that are most relevant for the market at that point in time. As a commercial entity we have to ensure that at the time we go in there's a critical mass ready for the technology itself. In the last few years we saw the growth of the mirrorless market with more consumers wanting the technology and we responded. I don't think in the market evolution we are looking at a single point in time but from a long run perspective. Canon has a rich history in photography, its a part of our DNA. With digital cameras Canon were not the first to market this technology, but look at where we are today – the market leaders, which is what we intend to be. Long run we know what we are doing and will respond with the right products at the right time, when the market is ready for the introduction.
Which Canon camera is your favourite and which are you currently using?
Well, I think all Canon cameras serve a different need – the EOS R is a very interesting camera which is very different for a user like myself who is used to using Optical Viewfinders but it gives a lot of promise with its fantastic ability to focus in low light. When Canon introduced the EOS R I had the opportunity to try it out in Japan and we were visiting a Japanese garden in twilight conditions, which if you were using optical viewfinders you probably can't focus in the low light conditions but the R was able to see exactly and focus very quickly. So the promises of what the new technology can brings is very exciting. Each generation gets better and better capabilities and the cameras of today – when I first started in the business itself the noise (image noise from low light conditions – ed), well you took it as part of the character of the camera itself but these days the ISO capabilities let you can achieve so clean images at phenomenal high ISO, its amazing what you achieve today. That's evolution and I think users will just enjoy the technology as you go ahead. So I'm always excited with new, better and better technologies in each generation. I've played with different and own different cameras in my personal 'arsenal' and the current main camera I'm using is the EOS 80D, but the next step is to transit to Full-Frame like everyone else and the new capabilities of the EOS R and EOS RP will be exciting for me.
Owning an EOS 80D would peg you as an intermediate photographer, but what sort of photographic genre do you like?
Well I don't shoot commercially that's why I work for Canon itself! I've always said that if you are not good enough to become a professional photographer then better do marketing! I try to improve my craft as I go along and shoot a variety of subjects as and when I can, I might be shooting a lot of my family and force them to be my subjects, but as they'e gotten older its been harder and harder to get them to model to you. I've shot everything in-between including action like the Formula One race and landscapes. I'm continually trying to hone my skills. Photography is not just a job for me, it is still my passion. When I joined Canon 19 years ago I was already interested in photography and a Canon user so its a very natural progression for me to do what I'm doing because even today I'm interested in photography, in imaging and the strong belief in the Canon Brand is still there. So to me, its easy to do what I'm doing when you're passionate about the brand and subject.
I'm a bit of a traditionalist and I still believe that taking a photo is about 50% of the experience, the other 50% comes from printing. I do make it a point to print out to try to print out my subjects because nothing beats having the print in your hand, looking at it and recollecting the moment. Its somewhat sad these days that people are spending big bucks on the latest cameras with Full-frame capabilities, high-resolution but all their outputs are on their digital devices, like a tablet, and the only thing they do is share on social feed, wether Facebook or Instagram. It saddens me because you're not capitalising on the full capabilities of your system or showcasing your images in the way they should be. Yes I do share images on social media as well, but I also have photo books, about 12 photo books from the last couple of years. The whole feel of opening the book, looking at the images and feeling the paper, the scale of it, I get the excitement, I get the memories. At home I do put up pictures, pictures that I'm proud of, the satisfaction you get from seeing your own works on the wall. So I do encourage people to do that.
With owning photo printers, its all about the ability to control what you see, what goes up on the wall. When you send your image to a print shop you are dependent on the operator but these days with the printers we have the quality is phenomenal, but its also about the ability to control what you see, what goes up on the wall. If you like your image a bit warmer, you can dial it in to your liking, print it out and see how it looks. These days its not expensive to print.
We try to engineer our products around the user experience, so for example with the Mini Photo Printer, it's so easy to get images from your phones printed out and you can share with your friends.
Smartphones have made it more convenient for people to carry a camera around without using an actual camera, but as a reverse, as more people take photos they come to realise that, "hey you know, images speak to me, I want better control of my images" and realise that they need the right gear for it. The better smartphone camera systems are usually with flagship devices that cost over a thousand dollars now, but a basic Canon camera that's worth a few hundred dollars and its capabilities will outweigh many smartphones out there. There's now a realisation from consumers taking more images from their smartphones that if they want to take better photos then they need to use a better system, so we see more people going into premium compacts, into interchangeable cameras. People who buy a camera today are more serious, are willing to spend more and to invest in a whole system. Nothing beats a smartphone in the pocket for convenience, but as you progress into photography, you'll definitely want to consider a camera.
What are your thoughts on how smartphones increasingly process images to create effects like bokeh?
I don't have anything against bokeh or overcooked HDR. At the end of the day there's no definite standard when it comes to images that appeals to all, its what speaks to you. But what's important is that it is your starting point, your raw ingredient. Let's use a cooking analogy, say you're cooking a good meal for yourself. You'll, of course, want to start off with a good cut of meat, like a wagyu steak or salmon fillet, that tastes good by itself. But if you start with, say a bad cut with cartilage, no matter what seasoning or processing you use you'll never be able to change the flavour itself. That's where the big difference is with smartphones – its not about the processors in the phones that can digitally enhance images, but the raw engine itself. Cameras these days with their large data capacity and light capture are starting at a better point. If you want to create bokeh in an image you can use a lens, use an in-camera processor do it in Photoshop, there's a variety, but the raw data is the big difference, the amount of information captured that a smartphone just wouldn't be able to give you, from dynamic range to ISO control.
It's important not to jump on the technology band-wagon too soon. What Canon realised when analysing the market is that our EF lens have been around for 42 years and we had a total relook and realised that the limitations of the system meant that we could not ride up for the next centuary. Is it by coincidence that when Canon and a competitor both launched their new lens system almost simultaneously, both chose a large diameter optical system? With what we've built into the RF lens, there's a lot of roots for development, for better optical quality, more compact high-quality lens. We've seen this in some phenomenal lenses we launched with the EOS R – the 50mm 1.2 RF has very good sharpness, not just at the centre but edge-to-edge. We have some interesting game-changing lenses in the lineup.
Could you tell us a bit about Kyosei and how this philosophy is embedded in Canon Singapore?
Kyosei is Canon's corporate philosophy, it means living and working for the common good but it's more than that to us, and we try to incorporate it in everything we do. Its really about creating value for customers and the community. But its more than just CSR, it's about playing a meaningful part of playing a valuable role in our community, such as gainful employment. So we look at it as holistically in everything you do.
For us, we don't believe that the acquisition of a Canon camera is not the end of the transaction, it is actually the beginning of a long term relationship. That's how we value our customers. We do have complimentary classes to guide users on how to use their cameras and printers, but beyond that, it's also about enriching the community with courses to upgrade your skills, travel trips, and creating a sense of community.
The annual Canon PhotoMarathon is our signature event that makes this journey very exciting, and it's great to see the same people participating every year. Its actually caught me by surprise how the PhotoMarathon has taken a life of its own and grown over the years, and that while the idea of the PhotoMarathon originated in Canon Singapore's offices its been adopted by many Canon offices around the region. When we first came up with it we wanted to make it exciting and immediate, so instead of participating photographers submitting something from their archives, the marathon idea was to keep people on their toes, with the themes only unveiled on the day and participants are given three hours for each theme to come up with their entries. But it's not just the contest, its also an opportunity to see how other photographers shoot, how they interpret the theme and how they compose, and that's how you grow as a photographer.