RJ's latest collaboration with Bandai Namco brings a hit of nostalgia and style, with the PAC-MAN Level III watch. The third in the PAC-MAN series marks a new style in a tribute to the game, and keeps in line with the brand's playful spirit.
Chomp Chomp Chomp
The watch itself has a black dial with a mirror-polished finish, making it a departure from its predecessors, the PAC-MAN Level I and Level II. The polished titanium bezel encircling it reveals a familiar looking maze. In the maze, PAC-MAN sets off on a race to chomp ghosts and hunt for cherries and Pac-Dots.
The game's scene is depicted by 27 hand-crafted components, which are separated into three levels shown on the dial. The blue aluminium that walls off the maze is sanded on the edges, and polished on top. Within those raised walls is black lacquer, to heighten the 3D effect.
Everybody's favourite retro characters, from PAC-MAN to the ghosts to the cherries, are made by carefully affixing pixelated appliques on the dial. Each applique is meticulously filled by hand with several different colours of lacquer. The brand's monogram has a satin finish, and is framed at 12:00.
Both the game and timepiece have depth, thanks to the contrasting finishes of the dial's components.
On the outside, the watch's 46mm titanium case is coated in black PVD surfacing and contains an automatic winding movement. Articulated lugs secure a blue rubber strap that matches the blue accents on the dial.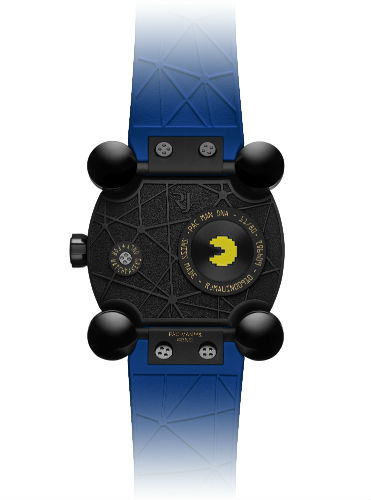 On the back of the watch, there is a medallion of the legendary titular PAC-MAN, intertwined with a stellar pattern that continues on to the entire watch and strap.
The PAC-MAN Level III Watch comes in a limited series of 80, symbolic of the year the famous Japanese arcade game was released. It's available from June 2018.