Fujifilm's X-series mirrorless cameras have gained a lot of recognition amongst photographers for not only their advanced photography performance, but also for their portability compared to the traditional DSLR form factor, so it is a bit disconcerting when the new flagship X-H is physically the largest X-series camera ever though it is still smaller similar prosumer APS-C DSLRs.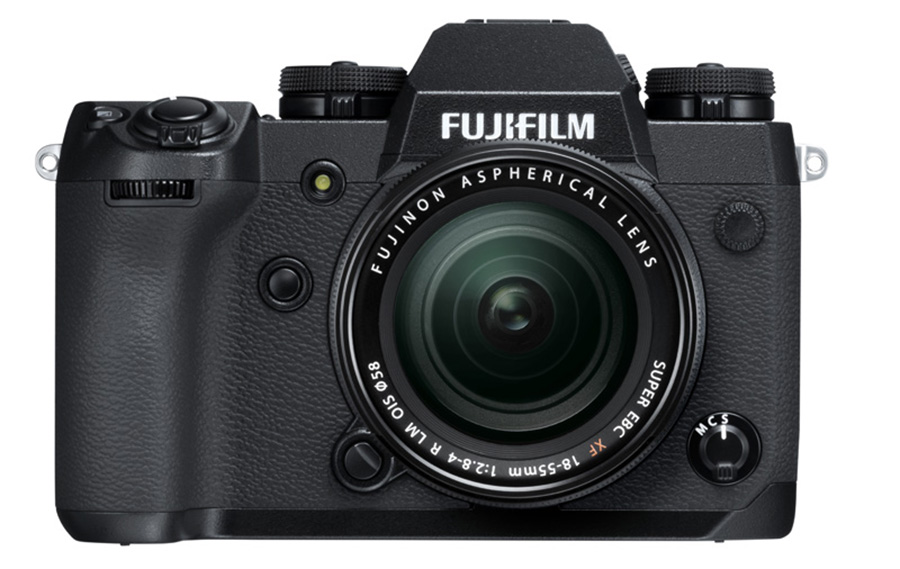 The X-H1 sits above both the X-T2 and X-Pro2 in Fujifilm's lineup and it's bigger, tougher build is indicative of the type of photographer who will find the X-H1 appealing – professional snappers who want something that can take a few knocks. There's also the fact that the X-H1 needs to accommodate the first ever five-axis in-body image stabilization system (IBIS) in a Fujifilm camera. With the stabilizer, flicker reduction modes for indoor photography and improved autofocus, the X-H1 is a really good camera for low-light, in fact we used it during CanJam 2018 without a flash and the results were impressive at high ISO settings. The location of the primary settings on two lockable dials means that you can adjust easily adjust everything on the fly without worrying that a bump might shift your settings, plus the tilting 3-inch touchscreen enabled touch focus and easier menu scrolling.
For videos Fujifilm have added a host of capabilities including the ability to capture 4K@30p, DCI 4K, F-log recording to SD card and high-speed 1080/120p video mode. There's also the inclusion of ETERNA to the camera's simulation mode. ETERNA simulates cinematic film to create rich shadow tones and understated colours that adds an emotive texture to the visuals.
Verdict
Rating: 4.5/5
The Fujifilm X-H1 is a great all-rounder APS-C camera that's made for rugged use and does everything well, including high-speed photography and video capture. Where it lacks is that it's a bit pricey that makes it run up against some very serious Full-frame cameras, though this may be more than made up for with the images you'll be able to capture thanks to the IBIS.
Interview With X-Photographer Mindy Tan
Fujifilm's X-Photographer Mindy Tan took the X-H1 to Korea and Japan to explore the secret and illegal art of female tattoo artists. You can view her short documentary video Forbidden Tattoos here. We spoke to Mindy about shooting her first ever video documentary and using the Fujifilm X-H1.
"The X-H1 is definitely a more capable camera in terms of focusing than the X-T2 that I usually use, and I could feel that it was a lot faster especially in low light conditions or when you have to track a moving subject, like a bride walking down a church aisle. When I went to South Korea to shoot my documentary I shot a lot in very low light and at ISO 12,800. When I used spot focusing the X-H1 could detect even just a glimmer of light and focused accurately. I also liked the fact that all the dials are outside on the top of the camera, so that once you've gotten use to the layout you actually don't have to take your eye off the viewfinder to find the controls, just intuitively feel either to the left, right or front.
It is heavier than my X-T2 and feels to me to be about the weight of a Nikon D750. On the other hand I found that because of the form factor the handgrip had a sharper edge, which actually gave me a more secure grip on the camera and I felt more in control, especially when I was using a heavy lens.
I did the video as I really wanted to try out the image stabilization, because if you've seen how videographers set up a mirrorless camera for video, they often use external stabilization rigs or gimbals. I actually never liked adding additional equipment to my existing camera so since I was told by Fujifilm that the H1 had a very good stabilizer I thought I'd try it out. I was also asked to do a video about myself, but I really prefer to feature my documentary work, so I figured out a way to try something new.
It was really kind of hit and run – I wasn't expecting anything went I went off to do the project and I mostly shot the video by feel. In fact with the tilting screen I mainly shot my videos from stomach level – it just felt natural and intuitive and was pretty comfortable, I didn't have to keep the camera at eye-level. I didn't really want to do extensive editing and all I actually did was just cut, trim and compose on Adobe Premiere with minimal post-processing – everything you see was basically how I set up the camera. I also didn't use any lights, and in fact I actually used two X-H1 cameras during the documentary shoot – with one mounted on a tripod to give me a different perspective, but in the end I was very happy with the videos from my handheld camera.
I'm very use to using Fujifilm's Chrome film simulation mode, but after experimenting with the Externa I did fine-tune it to my preference by increasing the black and contrast.
From doing this video I realised that videos give viewers more 'information' than photographs, so I'd like to do more short videos. I think with videos I'm able to go closer to the subject to reveal more intimate details. I want to get close to the subject to tell their story and character."