Chinese mythology mingles with 1940s aviation glamour in the hands of the new Graham Chronofighter Vintage Nose Art Ltd – Kelly. This classy hand-painted pin-up lady comes with an ever faithful companion that matches this year's animal theme. What better way to ring in the Year of the Dog than with an adorable Samoyed?
Designed For Luck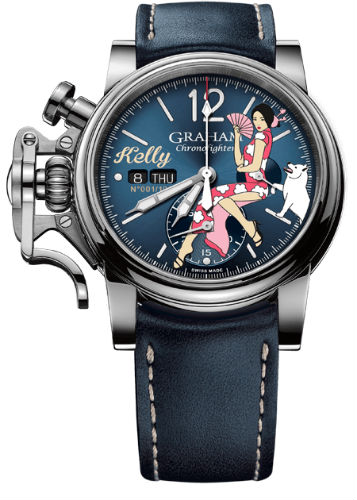 It's not just by chance that Kelly's dog hangs out between three and four o'clock on the dial. These are two of the new year's lucky numbers, and his presence there can only bode well.
To add to the auspicious theme, Kelly's figure-hugging cheongsam is in a striking red. Kelly herself is posed delicately, holding a fan to her face in a manner that will set hearts fluttering.
Red is also echoed in the slim needle of the chrono hand, for a subtle yet auspicious look.
Kelly and her dog are the perfect accompaniment to any lanterns or couplets that may cross the wearer's ptah during festive celebrations!
Redefining Asian Fusion
This Swiss made Graham timepiece has an automatic chronograph G1747 movement. You can even watch the intricate movement through the clear case back! It also has the family's iconic trigger mechanism, keeping the watch true to its roots. A hand-sewn blue calf-leather complements the midnight blue dial that Kelly and her Samoyed are resting on.
There are only 100 pieces of this special watch, each signed off by Kelly at nine o'clock. The number for each watch is right beneath the date and day indication. Why nine o'clock? Because that's the third of this year's lucky numbers, of course!
Find out more about the Graham Chronofighter Vintage Nose Art Ltd – Kelly at the official Graham page.