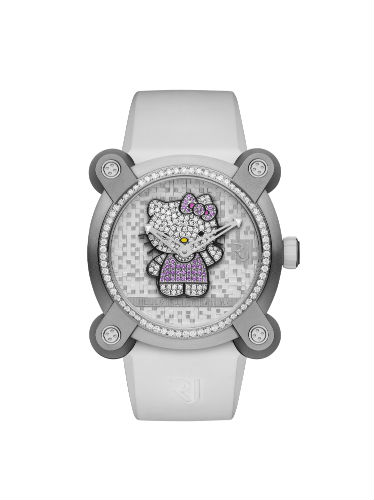 You probably know Romain Jerome as that luxury watch brand that incorporates pieces of the original Titanic into their watches. Or the brand that lets you wear Pikachu on your wrist. Recently though, Romain Jerome has joined forces with Sanrio to create the Romain Jerome X Hello Kitty watch collection as their first foray into women's only watches.
Paying Tribute To An Iconic Feminine Figure
With her bow, cute features, and sweet, friendly nature, Hello Kitty is a global icon of femininity and friendship. It's therefore fitting that she is the first figure that Romain Jerome turns to as their first women's only collection.
There are three variations in the Romain Jerome X Hello Kitty collaboration, with varying levels of sparkle to suit every whimsy. The setting for the Romain Jerome X Hello Kitty watches is based on the Romain Jerome Moon Invader case. It's one of the brand's most distinctive cases, but is also neutral enough to ensure that the appliqued Hello Kitty on the dial remains the center of attention.
How Sparkly Do You Wanna Go?
The RJ X Hello Kitty watch comes with a silver-finished 3D dial, a hand-filled Hello Kitty applique, and a mechanical, self-winding movement.
If you want to add just a little pizazz, you can go for the RJ X Hello Kitty sparkle, which features 70 diamonds (0.71 carats) set around the bezel. It shares all other features with the normal version.
On the other hand, if you just want to go all out, the RJ X Hello Kitty Full Sparkle will be perfect. It has the same diamond-embedded bezel, but the applique in the center gets the diamond treatment as well. Well, technically diamond and sapphire. There are 112 diamonds (0.343 carats) and 45 pink sapphires (0.14 carats).
Though there are three models, each model is limited to only 76 pieces.
For more information, check out the official page.