Bowers & Wilkins's new eight-strong line-up of floor standing, stand-mount and centre-channel loudspeakers delivers the best-performing, most elegant range in the class. The new range, a first for the 700 Series, features thinner cabinets with a curved front baffle and drive units mounted in external "pods" that create a clear visual and functional connection to the Diamond range of the 800 Series.
Upgraded drive units, new acoustic forms
In a significant step forwards for acoustic performance, Bowers & Wilkins now offers its iconic Solid Body Tweeter-on-Top technology in four models in the new 700 Series.
The Tweeter-on-Top form itself has been comprehensively re-engineered in the new range. Machined as ever from a single, solid block of aluminium, the new 700 Series Tweeter-on-Top enclosure has been significantly lengthened, reducing distortion and ensuring an even cleaner presentation.
Biomimetic Suspension
Replacing the conventional fabric spider found in the suspension of almost all loudspeakers built over recent decades, the Biomimetic Suspension dramatically reduces unwanted noise from the output of the spider as the midrange cone operates.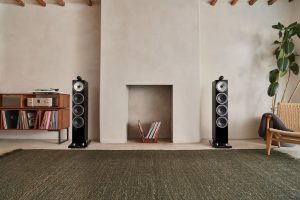 Models with mid/bass drive units – 707 S3, 706 S3, 705 S3 and HTM72 S3 – have been upgraded too, with new motor systems and improved chassis for a cleaner output.
Bass, meanwhile, uses the latest generation of Bowers & Wilkins famous Aerofoil Profile bass cone technology, based around a composite 'sandwich' of materials with a carefully formed variable profile aimed at delivering cleaner, lower distortion bass.
Optimised for performance
Ensuring that these drive units are given the best possible platform to succeed, the new 700 Series range introduces upgraded, 800 Series Diamond-inspired speaker terminals that feature more substantial contact connections and are better laid out for use with a spade-terminated speaker cable.
These feed carefully upgraded crossovers that continue to use Mundorf capacitors as before, enhanced with multiple bypass capacitors and improved heat sinking for even cleaner performance.
The new 700 Series range will be available from September 21 and for more information on the products you can click here.