The everyday compact mirrorless that every Canon compact enthusiast can enjoy.
The Canon EOS R10 is the first entry-level APS-C mirrorless camera system to offer consumers a remarkable camera with good handling performance without paying too much. In the last issue, we reviewed the EOS R7. This time around, the EOS R10 provides a user experience that is easier to handle, with fewer features to mull over, while achieving similar shooting performance.
The sensor size of 24.2 megapixels is slightly lower than the EOS R7's 32.5 megapixels, but there are sufficient pixels to play around with during post-production. The EOS R10 also inherits the EOS R3 autofocusing technology that harnesses deep learning-based subject detection capabilities to track subjects across the entire image area. The EOS R10 can fire up to 23 frames per second in electronic shutter mode, just a hair fewer than the EOS R7. In mechanical shutter mode, the EOR R10 matches the EOS R7 with 15 fps.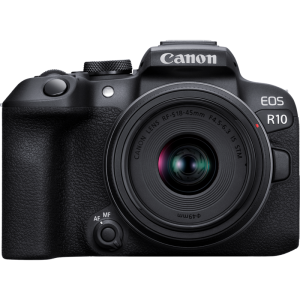 Content creators who are particular about video quality may want to look at EOS R7, as the EOS R10 does not support Canon Log 3 gamma often used for colour grading and HDR video production. Still, owners will enjoy 4K UHD Fine 30p video achieved by 6K oversampling, as well as 4K HDR PQ video recording. Other user-friendly features not commonly found in DSLRs include in-camera panorama shots to stitch photos, and Depth Compositing mode to merge focus-bracketed images to create an image with a large depth of field.
Together with the new camera body, Canon has also released new kit lenses. The RF-S 18-45mm f/4.5-6.3 IS STM pairs well with the EOS R10 to offer a lightweight combo. The relatively small maximum aperture might be a challenge when paired with the EOS R10 which does not come with an in-body IS (Image Stabilizer) mechanism. The RF-S 18-150mm f/3.5-6.3 IS STM is definitely a better combination to elevate the shooting performance.
The overall handling of EOS R10 is snappy and smooth. The buttons and touch screen are responsive and keep up with the shooting demands of a seasoned user. But I am going to recommend the EOS R7 more, which comes with far more pro-level features for a small price upgrade. However, existing EOS R-series owners can afford to get the EOS R10 for redundancy without breaking the bank.
We have taken some of the lifestyle shots with EOS R10:
Rating: 4.0
We say An all-rounder mirrorless camera system to kick-start a photography passion, we advise investing in better lenses that will elevate the image quality and shooting performance many-fold.
S$1,309 (body only)
S$1,469 (with RF-S 18-45mm) S$1,909 (with RF-S 18-150mm)
Technical Specifications
Canon EOS R10
Image Processor DIGIC X
Sensor Size 24.2 MP APS-C CMOS
ISO 100-32000 (Stills), 100-12800 (Movie) Max Shutter Speed 1/16,000 sec Viewfinder 0.39-inch OLED 2.36 million dots Size 122.5 x 87.8 x 83.4 mm
Weight 429 g
RF-S18-45mm f/4.5-6.3 IS STM
Focal Length 18-45mm
Maximum Aperture f/4.5-6.3
Lens Construction 7 elements in 7 groups Filter Size Diameter 49 mm
Size (DxL) 69.0 x 44.3 mm Weight 130 g