Hello, it's a BMW iX3 again, the car I test drove in the January 2022 issue of NXT. That was actually the 2021 car, and what we have here is the 2022 edition, which has had a facelift and some technical upgrades.
The BMW X3 family is a popular model for BMW Singapore, and with the introduction of this year's iX model, there's been some additional changes. Externally, the biggest change is to the front treatment, with more aggressive brake intakes and a slimmer headlight profile, which are Adaptive LED headlights. The enhanced sporty look extends to the rear, with a new pattern of LED lights and a more prominent diffuser. This styling update brings the iX3 more in line with both the i4 and the iX, which we will soon test drive.
An M Sport package is now standard for the interior, in line with the enhanced sportiness of the exterior, with sports seats fitted as standard, and the use of an Anthracite-coloured headliner and interior trim strips in the new Aluminium Rhombicle dark finish. There is also a choice of three optional interior trim strip variants.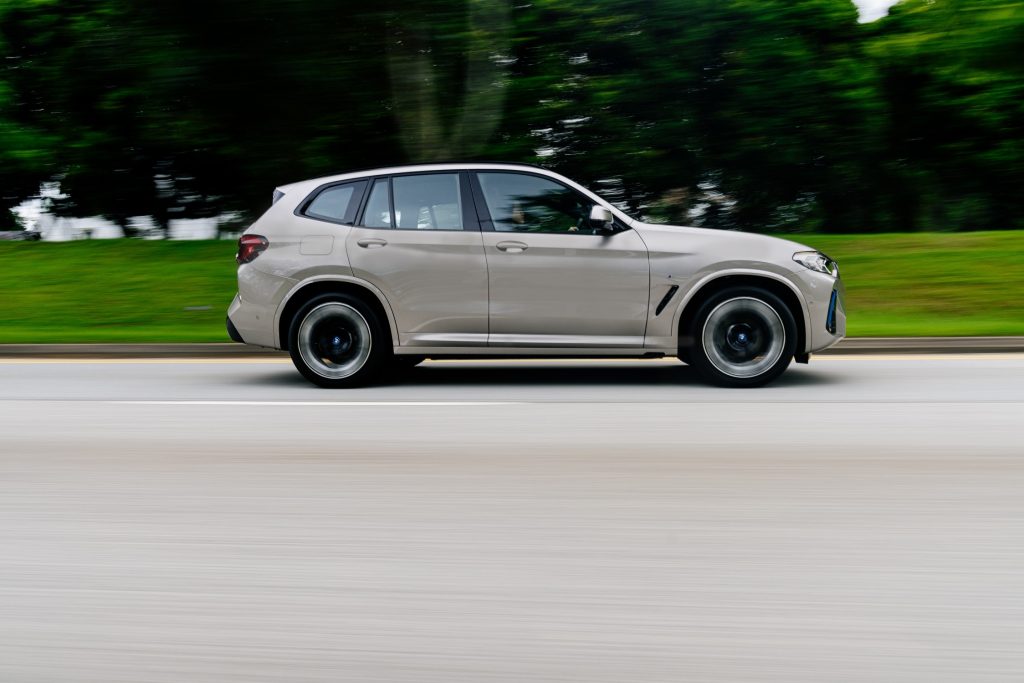 The driver's cockpit has been significantly changed, with a new steering wheel that's less 'chunky' than the 2021 model, and the central console has been cleaned up, with a simmer gear selector and a little bit more chrome in the trim, but there has been a significant change to what BMW calls the Live Cockpit Professional, with additional cloud based features including BMW Maps, and I did find this quite smooth in finding locations and plotting routes, though if you do wander off the plotted course the car's audio feedback actually sounds a bit upset!
The central touchscreen has been upgraded to a 12.3-inch panel, and there's a host of driver assistance aids and settings that you can toggle through, including setting the strength of the regenerative braking system and the proximity and parking system. There's also Harman Kadon speakers, Qi Wireless charger and USB ports, a HUD, Gesture Controls and a 'simulated driving sound', and when you start or shut down the car, you'll hear a sequence that Hans Zimmer helped compose.
There is very little by way of driving performance between the 2021 iX3 and the 2022 iX3, with the same 0-100kmh performance of 6.8 seconds, though BMW have stated that there should be a wider acceleration band. The drive is the familiar BMW rear wheel drive feel, a little understeery with a lighter front, which is something regular BMW drivers will find very familiar. Parking this car is easy with Parking Assistance Plus, as the car's central processor smoothly stitches camera, ultrasound and radar data to give you a very accurate live representation of your car's position in a car park, so you don't have to guess how close your left rear bumper is to the curb – the car will tell you.
The 2022 BMW iX3 was launched in Singapore with a retail price of S$281,888. At the time of this review, COE Premiums have been unpredictable, and PML (Performance Motors Limited) was not able to quote an on-road price.
Technical Specifications
Electric motor 210kW
Drivetrain Rear drive
Power 210kW (286hp)
Torque 400 Nm
Acceleration (0-100kmh) 6.8 seconds
Top Speed 180 kmh
Battery 80kWh
Range up to 460km
We say:
With updated looks, a sportier interior and updated electronics and software, the iX3 is a great drive.
Rating: 4.5/5 stars