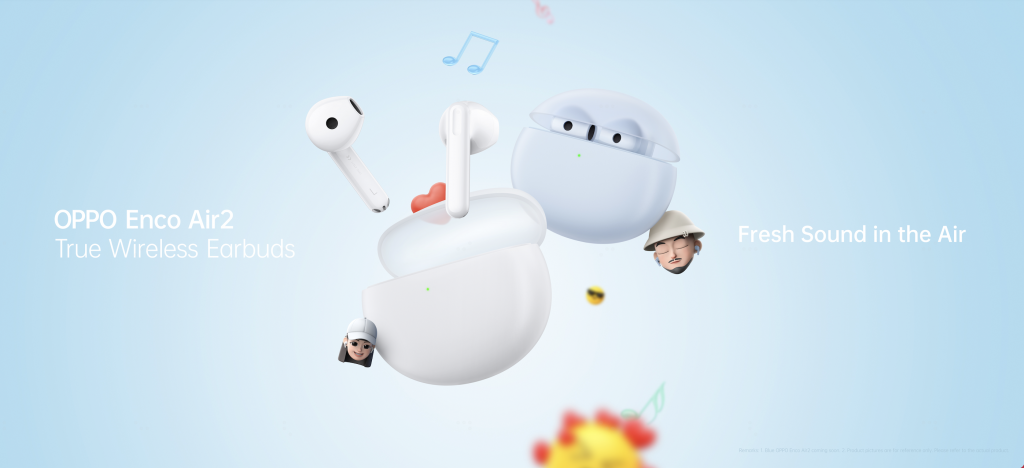 OPPO has launched the brand-new OPPO Enco Air2. Featuring a 13.4mm dynamic driver with multiple sound effects, the OPPO Enco Air2 has set a new quality standard for true wireless earbuds in the entry-level price tier.
Quality Audio at Entry-Level Price Tier
Understanding that audio quality is a fundamental user factor that cannot be compromised for earbuds, audio quality has been made the core of the OPPO experience. The brand-new OPPO Enco Air2 delivers an excellent audio experience that excels its entry-level price range.
Adopting a 13.4mm composite titanised diaphragm driver, the OPPO Enco Air2 provides users with deep, powerful bass, crystal-like midrange, and silvery treble — the perfect combination for an immersive audio experience. The earbuds are also built with a bass booster to further enhance their bass performance. Be it pop, rock, or EDM, these earbuds are bound to deliver a live concert-like experience.
Leveraging OPPO's unique understanding of music and a strong foundation in audio tuning, the OPPO Blu-ray Team powered the OPPO Enco Air2 with exquisitely balanced audio and two brand new Enco Live sound effects, the Bass Boost and Clear Vocals that is capable of meeting any audio preferences.
Irresistibly Aesthetic
Creative and unique in its aesthetics, the OPPO Enco Air2's translucent case lid design is made to accentuate its users.
Continuing the previous generation's highly-acclaimed translucent case lid design, the glassy, almost-transparent charging case radiates vibrancy and individuality. Given its unique design with soft colours and a compact body, the OPPO Enco Air2 can be paired with everything.
In addition, each earbud only weighs 3.5g — a lightness that is at the top of industry standards. Moreover, the earbuds' pressure against the tragus, concha cavity, ear canal, and other parts are tested via wear tests, providing excellent and snug wear with ultra-light pressure that can barely be felt. The almost non-existent ear pressure means these earbuds can be comfortably worn for an entire day.
Lag-free and Smooth: The Comprehensive User Experience
The OPPO Enco Air2 True Wireless Earbuds can deliver music playback for up to four hours without the charging case, and playback of up to 24 hours when used with the charging case.
It also supports the binaural low-latency with Bluetooth 5.2 transmission, which can ensure Bluetooth stability. Users can enable Game Mode with just triple tap to enter low-latency mode — specially designed to improve problems such as out-of-sync audio and visuals, interference, and more.
Furthermore, the OPPO Enco Air2 is also the receipient of the TÜV Rheinland High Performance and Low Latency Certificate that guarantees an entertainment experience that is on par with traditional wired earbuds.
For audio quality on calls, the OPPO Enco Air2 is geared with AI Noise Cancellation that ensures a smooth and unimpeded call experience even in a noisy environment. The earbuds feature updated smart touch controls where different number of taps can execute various practical controls, and OPPO smartphone users can even use the OPPO Enco Air2 as a remote camera control for hands-free convenience.