Father's Day is around the corner! And with the soccer season kicking off, what better way to show your appreciation for your dad than to bond with him over his favourite sport? Here are 8 gift ideas to make soccer season more enjoyable than ever for your dad!
LG C8 OLED TV: For HD Action Right From The Couch
The LG C8 OLED TV offers impressively crisp imagery for dads everywhere to watch their matches without missing any action. The new α (Alpha) 9 processor supports high frame rates of 120 frames per second. This means smoother and clearer motion images. Which in turn means saying goodbye to blurry shorts or halo effects as the ball moves from player to player.
With true-to-life images, 4K Cinema HDR, and sound powered by Dolby Atmos, dads everywhere will feel like they're right there at the stadium, experiencing the game live. And all this from the comfort of your couch at home!
Thanks to the new intelligent voice-activated control, everyone (not just dads!) can also use simple voice commands to turn the volume up and down, or change the picture mode.
Recommended retail price: SGD$4,699
LG 32GK850G Gaming Monitor: For The PC Gaming Dad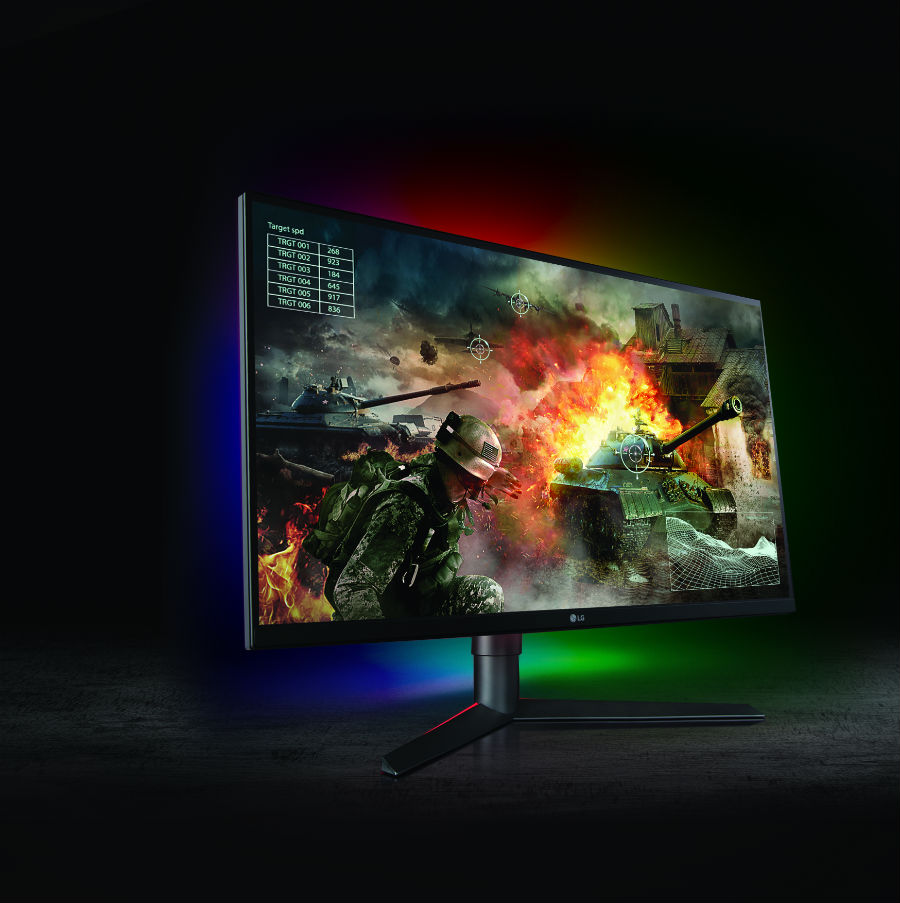 If your dad happens to prefer the desk to the couch, perhaps you can get him a gaming monitor instead! Or maybe you're the dad, and you'd rather watch your soccer matches on a computer screen. Or even play your own versions of soccer!
If that's the case, then this will be the Father's Day present for you (or your dad). The LG 32GK850G gaming monitor offers high refresh rates of 144Hz and incredibly fluid graphic motions, thanks to the NVIDIA G-Sync feature. This feature eliminates stuttering and screen tearing, ensuring seamless gameplay and streaming quality.
It even comes with new built-in sphere lighting to allow dads everywhere to create a soft ambient light, for the perfect gaming atmosphere.
Recommended retail price: SGD$1,399
LG SK10Y Sound Bar: For When The Whole Stadium Yells GOAAAL
As any soccer fan can tell you, watching soccer is a full sensory experience. It's not just about the visuals! There's nothing to cement the rush of adrenaline like hearing everyone in the stadium (and yourself) yell at goals.
Pair the LG C8 OLED TV with the SK10Y sound bar that supports Dolby Atmos for an immersive sound experience! The sound bar is equipped with multiple speakers, including a pair of powerful up-firing speakers. This produces an audio experience that envelops from every angle. What better way to get your dad pumped up?
Recommended retail price: SGD$1,999
LG Side-by-Side Refrigerator: What's A Match Without Snacks?
There's a chance your dad will be too cool to watch soccer matches with you. He's got all his kakis after all! That's fine though, because he'll have to provide snacks for all of them. If you provide the refrigerator, he'll have to provide the snacks. Win-win? Win-win.
With the LG Side-by-Side Refrigerator with InstaView Door-in-Door feature, your dad and his buddies can easily glance through the collection of beverages and snacks. All they have to do is knock on the sleek mirrored glass panel for the interior to illuminate! The innovative double-layered door system will also allow your dad to access his beverages quickly and conveniently. On the practical side, this means there's less cold air lost as the door opens, which in turn means tremendous energy savings in the long run. On the more fun side, this also means your dad won't miss that much action when he goes to get a new drink!
Recommended retail price: SGD$4,999
LG Styler: For The Hardcore Fans
If your dad's a hardcore fan with jerseys and crest scarves to complete his ensemble, he'll need an LG Styler for sure. The LG Styler helps him preserve his fan gear in tip top condition for every match!
The LG Styler's TrueSteam technology uses steam to gently sanitize and deodorize, eliminating over 90% of allergens and bacteria. The shortest cycle of the Refresh Mode lasts only 20 minutes. So now your dad can now wear his favourite lucky jersey and accessories for all his matches while smelling fresh and clean!
Recommended retail price: SGD$3,099
LG HOM-BOT Turbo+: For That Inevitable Clean Up After
After the excitement (hopefully not disappointment) of the night's matches, there's always the inevitable clean up. Especially if your dad invited his buddies over. Still, there's no reason for it to dampen your game fun. Just let the LG Hom-Bot Turbo+ do all the work for dad, so he can roll right into bed after.
Not only is the robot vacuum efficient at hoovering up messes, it's also the first WiFi-enabled vacuum cleaner to boast monitoring functions. With its HomeGuard feature, it can snap and send 5 photos of a preset area to your dad's smartphone when motion is detected. This allows dad to head out to stock up on refreshments with peace of mind, leaving the HOM-BOT Turbo+ to clean up on its own.
Recommended retail price: SGD$1,599
LG G7+ ThinQ: For The Dad On The Go
With the new LG G7+ ThinQ, your dad can now stream the matches on the move and watch all the action even if he's not home. The smartphone's 19.5:9 FullVision screen ratio and brightness of up to 1,000 nit allows him to enjoy all the action in clear details, even if he's stuck outdoors and under direct sunlight. The smartphone is equipped with DTS:X for a virtual 3D sound with earphones plugged in. So your dad will feel like he's right in the middle of the action.
Recommended retail price: SGD$1,198
LG Signature Air Purifier: To Keep The Air Fresh
Boost the quality of indoor air with the LG Signature Air Purifier. This air purifier comes with the Black filter System, that eliminates dust particles as tiny as PM 1.0. No more worrying about the haze spoiling your watching experience.
It features a transparent, aesthetically modern Rain View Window for users to enjoy the air purification process. Equipped with an advanced Watering System feature, this air purifier harnesses the power of water to filter out harmful chemicals and contaminants. And it does all this while quickly bringing the room to comfortable humidity levels! The powerful Watering Engine rotates at a high speed and can eject 18 litres of water an hour to wash clean the inhaled air. Your dad and his guests will definitely appreciate and welcome the clean air!
Recommended retail price: SGD$1,999