We've always been big fans of Otterbox, as they make damn good phone cases that last forever – perfect for bumbling buffoons like me. Samsung fans have felt neglected by Otterbox for a while, but no more. OtterBox is saying goodbye to saying #Sorry and replacing it with #MoreGalaxyLove by releasing a full lineup of cases for the Samsung Galaxy S9 and Galaxy S9+.
Guardians of Your Galaxy
OtterBox proudly offers its full lineup for Galaxy S9 and Galaxy S9+ with the Pursuit Series, Symmetry Series, Defender Series, Commuter Series and Strada Series Folio cases as well as Alpha Glass screen guards. There's also a wider range of colors and graphics than ever before so that you can find a case that fits exactly to your taste.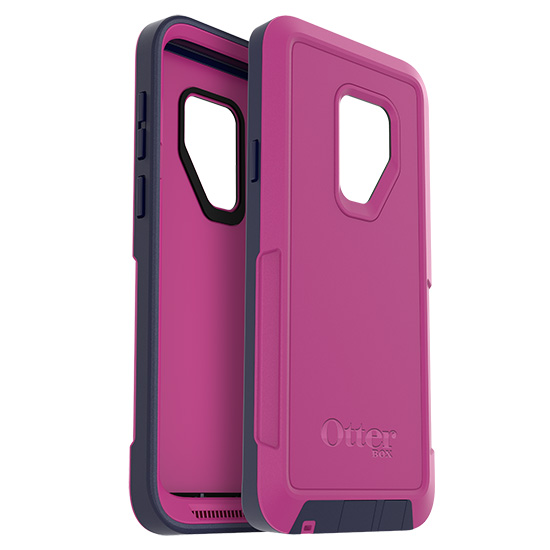 The Pursuit Series makes its debut for the Galaxy S9 and S9+, the thinnest and toughest OtterBox case ever. A two-piece case that snaps around your device to protect against drops, dings, dust, and grime. Perfect for all the guys who still need to go outfield during reservist. The case also features audio scoops for amplified sound and comes with a lanyard for added security while carrying.
For more Galaxy pop, the Symmetry Series comes in a wide variety of colors and graphics. Or you could pick a transparent, clear style if you so desire. The Symmetry Series is designed to be easy to slip on and off the device and in and out of pockets with a slim, single-piece form. All the while keeping your Samsung Galaxy safe.
The classic and rugged Defender Series is a tough case is designed with an open screen to suit the curved display and is fully compatible with Alpha Glass. It also boasts a shell with a rigid exterior and flexible interior for drop protection, and a tough, textured outer layer provides additional shock protection and blocks out dust, dirt and grime. It's definitely for the hardcore crowd whose phones are in constant mortal danger.
Finally, the slim Commuter Series is a more casual case that keeps your Galaxy S9 and Galaxy S9+ covered with two layers of slim protection. The thin case slips easily in and out of pockets for on-the-go use, all the while guarding against bumps with a tough exterior shell and blocking out grime with the shock-absorbing slipcover's port protection.
Availability
The Pursuit Series, Symmetry Series, Defender Series, Commuter Series, Strada Series Folio, and Alpha Glass are available now at:
Leading Consumer Electronic stores
Mobile stores
Samsung Experience stores
Prices are as follow:
Device
Series
SGD (RRP)
 
Device
Series
SGD (RRP)
GS9
Defender
$89.00
 
GS9 Plus
Defender
$99.00
Commuter
$69.00
Commuter
$79.00
Symmetry
$69.00
Symmetry
$79.00
Pursuit
$129.00
Pursuit
$149.00
Strada
$79.00
Strada
$95.00