In celebration of World Oceans Day, Ulysse Nardin has opted for a vibrant azure blue colour scheme, symbolizing their affinity for the marine world. They have refreshed two of their exceptional timepieces: the Diver X Skeleton and the Diver Net. These watches maintain their robustness and precision even in the depths of the ocean, with the Diver X Skeleton boasting a dynamic skeletonized design and the Diver Net offering innovative durability.
Ulysse Nardin's connection to the marine realm traces back to 1846 when they created their first marine chronometers, crucial for guiding ships and explorers' lives. Today, the oceans are facing significant threats, and their survival depends on sustainable environmental management. To support this crucial cause, Ulysse Nardin collaborates with the NGO OCEARCH and shark activist Mike Coots, utilizing their expertise in watchmaking and innovation.
In terms of aesthetics, the azure blue accents beautifully contrast with the anthracite shades of the Diver X Skeleton and Diver Net. However, what truly sets these timepieces apart is the responsible use of raw and recycled materials without compromising the high standards of Haute Horlogerie.
The urgency of ocean conservation is emphasized by staggering statistics, such as the depletion of ninety per cent of large fish populations, the destruction of fifty per cent of coral reefs, and the annual dumping of nine million tonnes of plastic into the ocean. In response to this crisis, Ulysse Nardin took the initiative last year by introducing the Diver Net, crafted from upcycled materials. This exceptional watch, made in collaboration with various start-ups, incorporates environmentally friendly components, including Carbonium®, Nylo® (recycled polyamide from fishing nets), and 95% recycled steel.
The Diver Net Azure is powered by the renowned UN-118 movement, featuring a silicon balance spring, escapement wheel, and anchor in DiamonSil. The timepiece is water resistant up to 300 meters and adorned with blue accents on the dial, display indications, and bezel markings, while the rubber strap reflects the colours of the ocean.
Equally impressive is the Diver X Skeleton Azure, a cutting-edge diving watch with a titanium DLC case, capable of resisting water up to 200 meters. Its dynamic skeletonized design showcases an X motif in deep black and azure blue, providing a captivating view into the watch's intricate mechanism. Carbonium® is used for the barrel cover and the unidirectional rotating bezel, enhancing the watch's strength and lightness.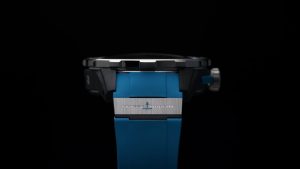 Both watches demonstrate Ulysse Nardin's dedication to accuracy and watchmaking innovation, emphasizing the importance of protecting the ocean and the need for reimagining our approach to environmental preservation.
Ulysse Nardin Diver Net Azure retails for SGD 17,700 while Diver X Skeleton Azure retails for SGD 37,100 including taxes.