LG Electronics has launched its revolutionary line of 4K UHD LG SMART Monitors, marking the brand's entry into the smart monitor market. These innovative monitors (models 32SQ780S, 32SQ730S, and 43SQ700S) aim to transform home life by providing a wide range of productivity and entertainment applications without the need for a PC connection. With a sleek design and the ability to stream your favourite content anytime, the LG SMART Monitor offers the ultimate tool for a more innovative and enjoyable experience, whether working remotely or relaxing at home. The 32SQ780S and 32SQ730S models, followed by the availability of 43SQ700S all are from late April onwards.
Emphasizing multifunctionality, the LG SMART Monitors offer users a single display solution that connects seamlessly with their desktop, laptop, or gaming device, simplifying tasks by consolidating them in one location. Powered by LG TV's cutting-edge webOS 22, these models provide seamless access to popular streaming services such as Disney+, Netflix, Prime Video, and YouTube without the need for an external computer. This embodies LG's philosophy of "Work Smart, Play Better."
Engineered with the latest technology, the LG SMART Monitors boast a 4K UHD (3840 x 2160) display that delivers exceptional picture quality, supporting HDR 10 and covering 90% of the DCI-P3 colour gamut for the 32SQ780S and 32SQ730S models and 80% for the 43SQ700S model. With integrated dual-channel stereo speakers, the monitors provide clear and dynamic sound, enhancing the viewing experience for movies, sports matches, and video games. The USB Type-C™ port enables power delivery, data transfer, and connected device charging (up to 65W) through a single cable, streamlining connectivity.
The LG SMART Monitors offer unmatched convenience through the LG Content Store, allowing users to install various programs for enhanced productivity and efficiency. Additionally, the monitors feature the LG ThinQ™ Home Dashboard, enabling user-friendly webOS-based IoT services to control home appliances effortlessly. Users can also mirror their smartphone screens on the monitors using AirPlay 2 (for Apple devices) or Screen Share (for Android devices), facilitating seamless device transition.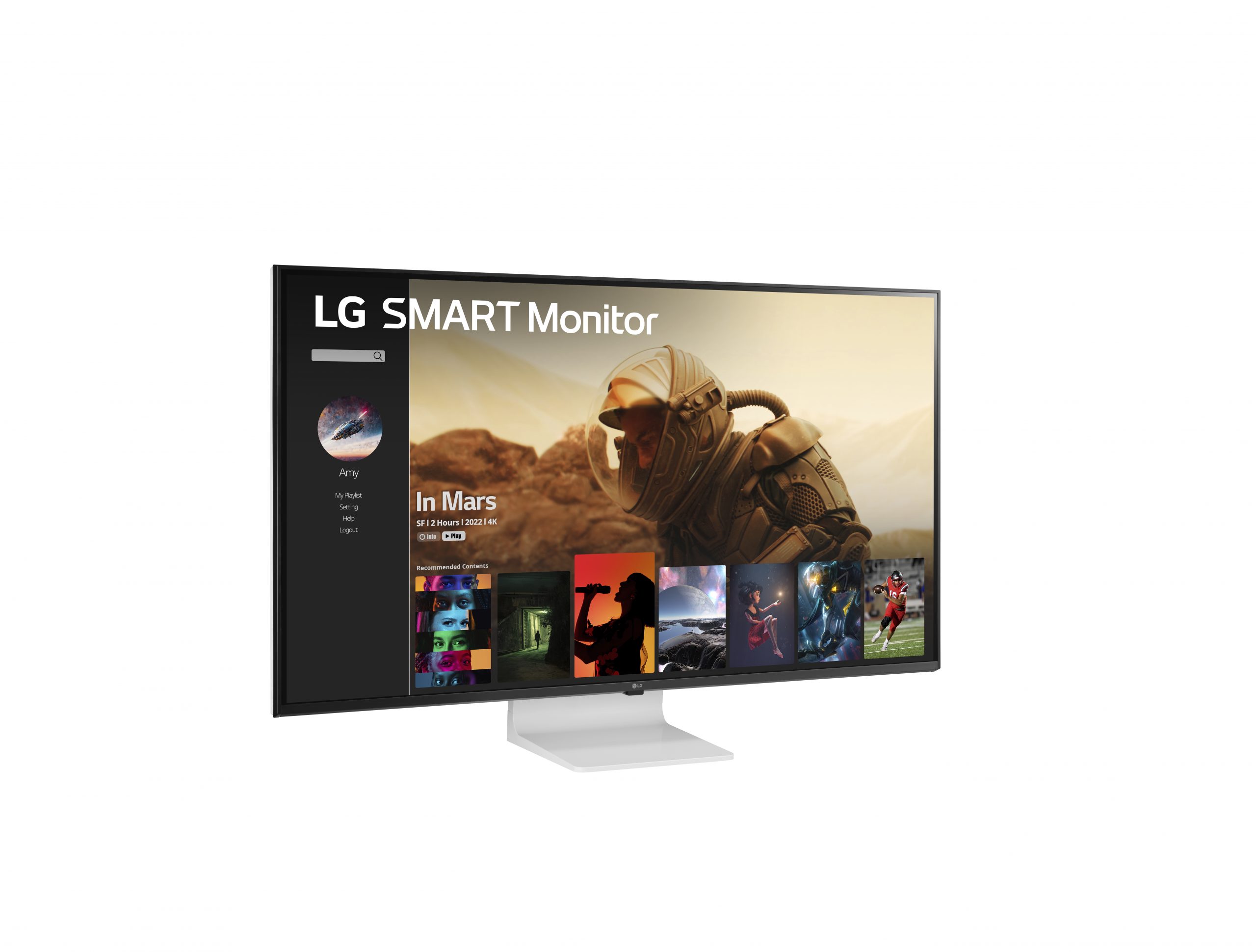 As the flagship model, the 32SQ780S offers enhanced flexibility and comfort with the LG Ergo stand, allowing users to adjust the 32-inch display effortlessly to the perfect viewing angle. The monitor's Ergo stand accommodates vertical and horizontal modes and can be installed without occupying significant desk space, offering customizable setup options. Similarly, the 32SQ730S features a height and tilt adjustable stand for ergonomic positioning, while the 43SQ700S comes with a slim and modern frame.
In addition to its larger 43-inch display, the 43SQ700S features an IPS display that delivers crisp images and precise colours at wide viewing angles. The monitor is equipped with 10-watt dual-channel stereo speakers, providing immersive audio compared to the 5-watt speakers in other models. All SMART Monitors are compatible with the Magic Remote, which utilizes AI voice recognition technology to control the displays' operation, adding further user convenience.
The LG SMART Monitors (32SQ780S and 32SQ730S) are available now through LG official brand stores – KrisShop, Lazada, Shopee, and at all authorised retailers – Best Denki, Challenger, COURTS, Gain City and Harvey Norman.