HomePod (2nd generation), a potent smart speaker with next-level acoustics and a stunning, iconic appearance, was unveiled by Apple. HomePod provides superior computational audio for a revolutionary listening experience, including support for immersive Spatial Audio tracks. HomePod is jam-packed with Apple technologies and Siri intelligence. Users can now establish smart home automation using Siri, receive notifications when a smoke or carbon monoxide alarm is detected in their house, and check the temperature and humidity in a room – all hands-free. Convenient new methods to handle daily activities and operate the smart home are now available.
"Leveraging our audio expertise and innovations, the new HomePod delivers rich, deep bass, natural mid-range, and clear, detailed highs," said Greg Joswiak, Apple's senior vice president of Worldwide Marketing. "With the popularity of HomePod mini, we've seen growing interest in even more powerful acoustics achievable in a larger HomePod. We're thrilled to bring the next generation of HomePod to customers worldwide."
Refined Design Across Aesthetics and Acoustics
With a backlit touch surface that lights from edge to edge and a seamless, acoustically transparent mesh fabric, the new HomePod has a stunning aesthetic that fits well with any setting. HomePod comes with a colour-coordinated braided charging cord and is available in white and midnight, a new shade manufactured from a mesh fabric that is 100 per cent recyclable.
HomePod produces amazing audio quality with astonishing high frequencies and deep, rich bass. A powerful acoustic experience is achieved by combining a custom-engineered high-excursion woofer, a strong motor that moves the diaphragm a stunning 20mm, a built-in bass-EQ mic, and a beamforming array of five tweeters around the base. Software and system-sensing technology are integrated with the S7 processor to create even more powerful computational audio that fully utilizes the device's acoustic system.
With the use of room sensing technology, HomePod can detect whether it is against a wall or freestanding by listening for sound reflections from surrounding objects. It then adjusts the sound in real time. Listeners have been immersed in crystal-clear voices and rich instrumentation thanks to the five tweeters in its beamforming array's precise directional control, which separates and beams direct and ambient music.
With Apple Music, users can access a library of over 100 million songs, enjoy Spatial Audio with a single HomePod or a stereo pair, or build an engaging home theatre with Apple TV 4K. Siri allows users to search for music information by artist, song, lyrics, decade, genre, mood, or activity.
Elevated Experience with Multiple HomePod Speakers
Several strong features are unlocked when two or more HomePod or HomePod small speakers are used. Saying "Hey Siri" or touching and holding the top of the HomePod allows users to play the same music on various HomePod speakers, different songs on separate HomePod speakers, or even use the HomePod speakers as an intercom to broadcast messages to neighbouring rooms using multiroom audio with AirPlay.
Two HomePod speakers placed side by side in the same area can also be used to form a stereo pair. A stereo pair not only divides the left and right channels but also plays each channel in unison, resulting in a larger, more expansive soundstage than conventional stereo speakers for an exceptional listening experience.
Seamless Integration with the Apple Ecosystem
Users may send whatever is playing on their iPhone, like a favourite song, podcast, or even a phone call to a HomePod using Ultra Wideband technology. Any resident of the house may bring an iPhone close to a HomePod to effortlessly control what is playing or receive personalized music and podcast recommendations. HomePod can recognize up to six voices, allowing each family member to hear their playlists, request reminders, and schedule activities on the calendar.
Customers can make HomePod the audio system for all devices connected to the TV thanks to eARC compatibility on Apple TV 4K. HomePod and Apple TV 4K pair seamlessly to provide a powerful home theatre experience. Additionally, consumers may manage what is playing on their Apple TV hands-free using Siri on the HomePod.
Users may utilize Find My on HomePod to locate their Apple devices, such as an iPhone, by playing a sound on the missing device. Users may utilize Siri to find friends or family members who disclose their location using the app.
A Smart Home Essential
With the use of Sound Recognition, HomePod can listen for smoke and carbon monoxide alarms and, if one is heard, send a notification straight to the user's iPhone. Users may construct automation that closes the blinds or turn on the fan automatically when a particular temperature is achieved in a room thanks to the new built-in temperature and humidity sensor, which can detect interior surroundings.
Customers may use Siri to manage a single device, build scenarios, such as "Good Morning," that employ many smart home accessories simultaneously, or set up recurrent automation, such as "Hey Siri, open the curtains every morning at sunrise." When a Siri request is made to manage an item that might not immediately reflect a change, such as a heater, or for equipment situated in another room, a new confirmation tone is played. Customers may now add additional sounds to scenes, automation, and alarms by remastering and better integrating ambient noises like the ocean, forest, and rain into the experience.
The revamped Home app, which offers new categories for climate, lights, and security, makes it simple to set up and handle the smart home and features a new multicamera view, allowing users to easily navigate view, and organize accessories.
Matter Support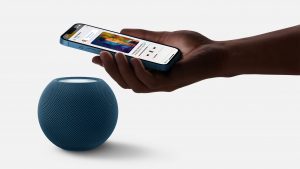 With the introduction of Matter last year, smart home goods may now operate in many ecosystems while still retaining the greatest levels of security. Along with other business titans, Apple is a member of the Connectivity Standards Alliance, which oversees the Matter standard. As a vital home hub, HomePod connects to and manages Matter-enabled items and provides users with access while away from their residences.
Privacy and Security Features
One of Apple's guiding principles is the protection of user privacy. All communications in the smart home, including camera recordings with HomeKit Secure Video, are always end-to-end encrypted to prevent Apple from accessing them. When Siri is utilized, the request's audio is by default not saved. These features give users peace of mind that their privacy is protected at home.
HomePod and the Environment

The plating of several printed circuit boards on the HomePod uses 100 per cent recycled gold, a first for the device, and the speaker magnet is made entirely of 100 per cent recycled rare earth elements. HomePod is beryllium, mercury, BFR, PVC, and other heavy metal free and satisfies Apple's strict energy efficiency requirements. Apple is getting closer to achieving its goal of eliminating plastic from all packaging by 2025 thanks to redesigned packaging that does away with the outer plastic wrap and contains 96% fibre.
Apple now operates carbon-neutrally on a global scale, and by 2030, the company aims to achieve complete carbon neutrality throughout the whole manufacturing supply chain and the full product life cycle.
Customers in Singapore can order HomePod (2nd generation) for S$429 and HomePod mini for S$139 from apple.com/sg/store and in the Apple Store app starting March 30, with availability in stores beginning April 6.
For more information on Apple's products click here.