As the Lunar New Year is approaching, Swiss luxury watchmaker Hublot has invited Wen Na to craft a new Year of the Rabbit painting and present the Spirit of Big Bang Black Ceramic Rabbit. The fusion of traditional Chinese culture with Contemporary Haute Horlogerie has given rise to new ideas: Wen visualised 12 double-hours from the Heavenly Stems and Earthly Branches and combined them with traditional elements of the Lunar New Year.
We therefore can find festive lanterns, firecrackers and lion dance in the artwork, to create an intriguing world to usher into the new year. The time is brimming with wonder and excitement at each double-hours, giving full expression to Hublot's Art of Fusion spirit.
In traditional Chinese culture, the rabbit is considered sacred and auspicious, and thus the Year of the Rabbit 2023 is recognized as "the lucky year". Hublot wanted to give green light to an artist in order to celebrate this Lunar New Year.
Wen Na created a New Year-themed painting in her vibrant artistic language, using unbridled imagination to visualise 12 double-hours in a unique way. A group of charmingly naive rabbits, which are having fun with a lion dance, or holding firecrackers or indulging themselves in other traditional Chinese activities, marking the wonderful moments as time goes by. This scene depicts a vigorous and prosperous Year of the Rabbit and also conveys the atmosphere of the Lunar New Year, an occasion for family reunion.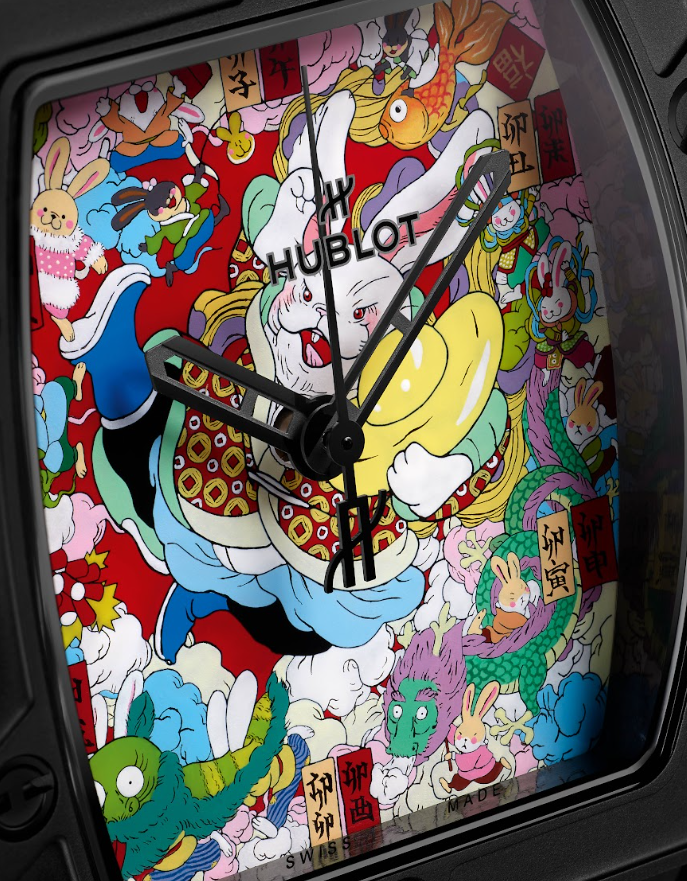 Enlighted by Hublot's Art of Fusion brand concept, Wen drew inspiration from the ancient calendar of Heavenly Stems and Earthly Branches, an old and mysterious Chinese cultural treasure. The 12 double-hours are fused with the images of rabbits to deliver a sense of joy and reunion. Meanwhile, she believes that refined arts in our world come in diverse forms, of which the essence lies in the hustle and bustle of everyday life. In her painting, a group of quick-witted rabbits bring to life the traditional customs associated with the Lunar New Year, including performing dragon and lion dances, putting up or changing door gods, hanging up festive lanterns, and giving and receiving red packets (a Year of Rabbit gift with money stuffed into red envelopes).
There always is something to enjoy at each double-hours – from the Zi Hour to the Hai Hour. The twelve Earthly Branches are also used to record the year and the month, thus implying that every day and every month is a good time in the world of Hublot time.
Moreover, in Wen's mind, rabbits are not just gentle and cute.
She gave rabbits a more modern look by presenting them in a slightly playful style. While in keeping with the theme of the Year of the Rabbit and the quintessence of traditional Chinese culture, she changed the usual image of the gentle rabbits and recreated amusing rabbits that are energetic at different double-hours in an artistic way, injecting fresh vitality into the new year and aptly interpreting Hublot's innovative and pioneering spirit of "be different". A contemporary reinterpretation of the classics.
The whole visual is thus captured in her mind, which is then realised in the canvas, with powerful images interpreting the rhythm of minutes and seconds, and conveying joyful emotions in a new year. The creation is the result of a fusion between Haute Horlogerie know-how and traditional art and culture, between the essence of Eastern and Western cultures, and between the past and the present.
Coming from China, Wen Na is acclaimed as one of the leading young contemporary Chinese artists for her distinctive artistic style. She graduated with a major in printmaking and developed an indissoluble bond with "fusion of arts" during her university years. From mural paintings to sculpture and from art to music, Wen has constantly experimented with the fusion of various art forms, leveraging unique aesthetic concepts to inspire new thinking about modern art.
The "fusion of arts", which Wen believes is the driving force behind inspiration and imagination and also is in line with Hublot's Art of Fusion brand concept. With its ingenuity and craftsmanship, Hublot has combined seemingly diametrically opposed materials and joined hands with the most talented practitioners in alternate fields to push the boundaries of what is technically and aesthetically possible to set new trends for watchmaking.