Over the course of IFA 2022, LG has presented their new largest OLED TV (97G2), air purifier – PuriCare Objet Collection Aero Furniture and UltraGear premium gaming monitor (45GR95QE) to empower the daily experiences of their consumers. Now consumers can step into immersive visual experiences in a clean and appealing space.
Immerse yourself in LG's 97-inch OLED evo Gallery Edition TV
The 97G2 features a 97-inch screen that uses LG's self-lit OLED technology to provide immersive viewing experiences on a big scale. With the introduction of its largest-ever screen size, the company's 2022 OLED TV selection now includes 42-, 48-, 55-, 65-, 77-, 83-, 88-, and 97-inch models.
OLED TVs use self-lit pixels that can be individually turned on and off to generate perfect blacks, astonishingly lifelike colours, and limitless contrast. OLED's lack of a backlight enables the development of novel form factors such as flexible and rollable televisions.
LG will debut the 97G2 at IFA 2022 as part of its extended array of premium TVs, which comprises an increasing variety of outstanding, ultra-large screen sizes built for exceptional home viewing experiences. The business will also highlight the breadth of its cutting-edge display technologies at its IFA exhibition, with models from its exceptional OLED, Micro LED, and QNED TV lines on the display.
The 97-inch LG OLED evo Gallery Edition TV, one of the highlights of LG's IFA booth, uses the company's OLED evo technology, (Alpha) 9 Gen5 AI Processor, and powerful picture algorithms to deliver lifelike visuals and a truly immersive, dramatic watching experience. The 97-inch G2 series model also has LG's flush-to-the-wall Gallery Design, which provide a seamless, integrated design that instantly elevates even the most opulent home movie theatre.
The 88-inch LG SIGNATURE OLED 8K (model 88Z2) and 86-inch QNED TV are the stars of LG's dazzling lineup of 8K TVs at IFA (model 86QNED99). Both ultra-large versions combine jaw-dropping size, the greater sharpness of the 8K (7,680 x 4,320) resolution, and LG's most advanced display technologies to enhance the immersion of material of any genre. The 88Z2's nearly 33 million self-lit OLED pixels provide an incredible amount of detail, as well as deep, profound blacks, limitless contrast, and vivid colours that remain true over a wide viewing angle. Meanwhile, LG's Quantum Dot NanoCell and Precision Dimming technologies are used in the 8K 86QNED99 to produce clear, bright images on its amazing 86-inch screen.
Also on show in Berlin is LG's massive 136-inch 4K Micro LED (3,840 x 2,160). This innovative home entertainment solution presents first-class picture quality on a spectacular scale, pairing micrometre-sized self-lit pixels with a modular design
Opening a new era of personal taste with LG
The LG Aero Furniture is elegant and compact, with a relatively small size that makes it ideal for smaller spaces such as a single bedroom, study, or studio, while users can customize the color of the unit's base (from Crème Rose to Crème Yellow) and the shape of its table-top (Round or Track) to suit their personal tastes or match their home décor.
LG's creative new product has a smooth upper surface that is useful for storing household items or exhibiting ornamental objects. It also includes easy-to-use controls on the underside for turning the gadget on and off, as well as adjusting its airflow settings and mood lighting capabilities. A set of small indicators signifying Wi-Fi connectivity, air quality, air flow strength, and upgrade status are subtly positioned towards the edge of the table-top and flush with its surface.
Furthermore, the new Aero Furniture incorporates a number of intelligent elements to provide a more personalized user experience. The table-built-in top's wireless charger allows users to charge their smartphones and wireless earphones while also creating a pleasant ambience with the mood lighting feature. Aero Furniture's mood lighting, which comes in eight distinct colours, can be simply adjusted with the LG ThinQTM app. Furthermore, LG's one-of-a-kind air purifier is built with sustainability in mind, with components constructed from reusable plastic recovered from obsolete appliances and electronics, and shipping in reusable packaging.
LG's latest air purifier provides personalised comfort at home, with performance that can be adapted to any preference, in addition to its stylish look. The Aero Furniture's multi-stage filtration, which includes LG's Ultra-fine Filter, Dust Collector Filter, and Deodorization Filter, significantly enhances indoor air quality. Users will also breathe fresher air thanks to LG's UVnanoTM technology, which decreases the presence of viruses and bacteria on and around the fan blades of the Aero Furniture by up to 99.99 per cent.
LG will also release limited-edition versions of its new air purifier in the near future. In addition to models with distinctive table-top decorations designed by well-known artists such as the famed South Korean painter Kim Sun-woo, the company will release models made with newly developed sustainable materials.
Fitting of gamer's demands with visual performance, speed and features with LG's first curved OLED display
The new LG UltraGear OLED 45-inch gaming monitor is the company's first curved OLED display with a 240Hz refresh rate, and it is built for immersive gaming experiences, with the visual performance, speed, and functionality that serious gamers need. The 45GR95QE is not only LG's first 45-inch curved OLED gaming monitor with a 21:9 aspect ratio and WQHD (3440 x 1440) resolution, but it is also the company's first display to combine a 45-inch screen size with an 800R curvature, which helps increase users' sense of immersion. The 45GR95QE, a true gaming powerhouse, will be on exhibit at IFA 2022 alongside LG's amazing 48GQ900 UltraGear OLED gaming monitor.
As one might imagine, the company's newest gaming display increases realism and responsiveness while providing superb visual quality and unrivalled performance. With a 240Hz refresh rate and 0.1-millisecond Grey-to-Grey (GTG) reaction time, the 45GR95QE offers 98.5 per cent DCI-P3 colour space coverage, improved HDR10 performance, and compatibility for HDMI 2.1 – including features like Variable Refresh Rate (VRR) – and DisplayPort 1.4. The new UltraGear display, with its huge size, 21:9 aspect ratio, borderless design, and 800R screen curvature, transports gamers into their favourite PC or console games in a way that few other monitors can. Furthermore, it is the perfect size for most desk configurations and provides smooth multitasking with features like Picture-by-Picture (PBP) and Picture-in-Picture (PIP).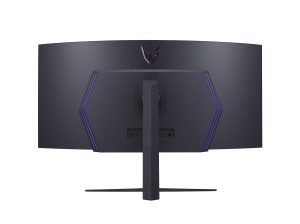 The 45GR95QE is the UltraGear brand's first curved OLED gaming monitor, offering the same superb OLED picture quality as its predecessor (model 48GQ900) but adding an 800R curvature and LG's Anti-glare & Low Reflection coating. These important improvements help to raise players' sense of immersion in the game by immersing them in the onscreen action while removing unpleasant visual distractions. LG's industry-leading OLED display technology also reduces eye strain, which is particularly beneficial for individuals who enjoy losing themselves in extended, continuous gaming sessions.
UltraFineTM Display Ergo AI
LG's UltraFine Display Ergo AI is set to make its debut at IFA 2022. The breakthrough 32UQ890 is the first LG monitor capable of autonomously altering its posture throughout the day to offer continued ergonomic comfort. The UltraFine Display Ergo AI can continuously analyse the user's posture using a built-in camera and powerful AI, making small changes to screen height (0 160mm) and tilt (-20o +20o) to prevent users from remaining in a single position for too long or falling into poor posture over time. The AI Motion, Continuous Motion, and Periodic Motion modes of the 32UQ890 improve ergonomics. AI Motion, which will be on display at LG's booth at IFA, monitors the user's eye level and changes height and tilt when a change is detected.
The LG UltraFine Panel Ergo AI features a 31.5-inch 4K (3840 x 2160) IPS display with 95 per cent DCI-P3 coverage and superb HDR image reproduction. The 32UQ890 is a tailored, comfort-enhancing workstation solution for busy professionals, including a premium, high-resolution screen and an adjustable stand that can be intelligently adjusted by LG's AI technology.
Visitors of IFA 2022 (September 2-6) can experience all the listed latest LG products in Hall 18, Messe Berlin.