In the coming month, Technics proudly released the two new true wireless earbuds models, the EAH-AZ60 and the EAH-AZ40 which is available in Malaysia, Singapore, Thailand and Indonesia. These two new models cater to consumers' new 'work from anywhere' lifestyle. Subsequently, in early 2022, Technics will release its new EAH-A800 overhead wireless headphones.
With more than 50 years of Hi-Fi audio engineering experience and presence across Eastern South Asia, Latin America and the Middle East regions, the all-new EAH-AZ60 and EAH-AZ40 earbuds models are designed with Technics' premium sound quality that consumers have come to love and appreciate. Equipped with an impressive acoustic housing design and advanced digital technologies, these earbuds offer a pure, immersive sound experience within a compact design.
With more and more people switching to a hybrid workplace, Technics quickly noticed a need to have quality earbuds during video conferences and calls. With this, they designed the new JustMyVoice Technology that actively detects and captures your voice while analysing and isolating surrounding noise allowing for crystal clear voice communication.
Both earbuds' models deliver excellent sound and call quality, perfectly suited for any lifestyle, especially for those who have adapted to a new 'work from anywhere' routine. For the EAH-AZ60, it is also equipped with Industry-Leading Noise Cancelling Technology, and High-Resolution Audio Quality with Bluetooth and LDAC technology.
The EAH-AZ60 model
The unique design of the Technics acoustic chamber, harmoniser and 8mm drivers delivers rich, expansive sound with smooth and detailed highlights allowing listeners to hear every detail. The Acoustic Control Chamber optimises airflow to create a powerful bass and enhances sounds in the mid-ranges. The newly adapted harmonizer generates smooth treble, enabling an unprecedented range of natural sounds. Inside the advanced 8mm dynamic driver is a biocellulose diaphragm that is both strong and flexible allowing for a pure, authentic sound, from clear lows to fluid highs.
Additionally, the EAH-AZ60 supports High-Resolution Audio Quality with Bluetooth and LDAC technology, delivers a wide dynamic range of sound with fast response and high definition.
Industry-leading Noise Cancelling (EAH-AZ60)
Available only in the EAH-AZ60 model, Technics' Dual Hybrid Noise Cancelling Technology, composed of Feedforward and Feedback Noise Cancelling, captures both the noise outside and inside the earbuds. When paired with the digital and analogue processing, this combination creates best-in-class*2 noise cancelling performance perfect for blocking out distractions, whether at home or outside.
The EAH-AZ40 model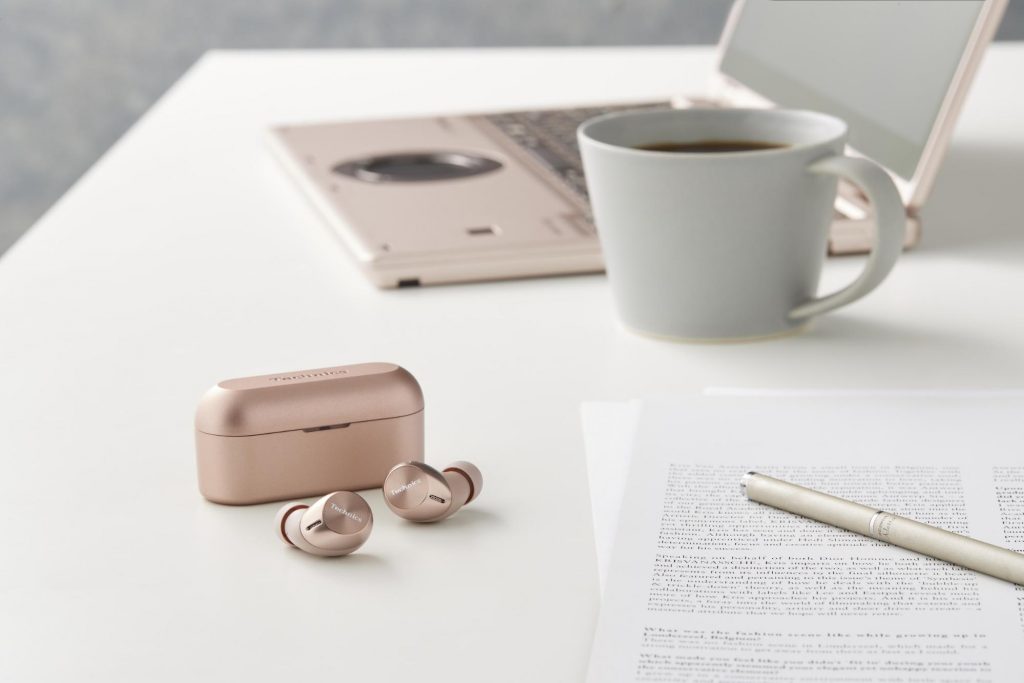 With a slightly smaller, yet advanced 6mm dynamic driver, this newly developed model has been integrated with an Acoustic Control Chamber and Harmonizer to offer clear sound with a sense of range and depth while maintaining a small compact design.
Natural Ambient/Attention Mode
Both models are equipped with unique ambient sound modes which can be set to either 'Natural Ambient' or 'Attention' mode. The Natural Ambient Mode captures all surrounding noise, allowing the user to listen to music or talk on the telephone while paying attention to their surroundings. Attention Mode, captures sounds in the human voice frequency range, ensuring the listener can hear human voices nearby, such as announcements at the airport or a family member's voice at home.
All-Day Comfort Fit Design
The new drop shape of the earbuds is designed to maximize contact with the user's ear canal for an optimal fit, while the outer portion of the earbud is thinner than previous models, preventing it from falling out of place.
IPX4 Water Resistance Finish
Listeners can take the new Technics true wireless earbuds virtually anywhere. Both the EAH-AZ60 and EAH-AZ40 models boast water-resistant performance in line with the IPX4 standard and are unharmed when splashed with water from any direction.
Colour Choices for Every Style
True wireless earbuds have become a staple accessory from work to workouts to travel and relaxation. Users can choose from a variety of colours from both models. The EAH-AZ60 model is available in black and silver, while the EAH-AZ40 is available in rose gold, black and silver.